Late last week Federal Home Affairs Minister Jason Clare introduced a bill to parliament that takes Australia one step closer to an R18+ classification for videogames. No sooner had the classification bill been introduced than the Coalition responded by calling for an inquiry into the bill.
These are just the latest developments in a saga that's been running for the best part of a decade. But if everything goes to plan, we could see R18+ games on Australian shelves by January 2013.
So why do we even need an R18+ classification for video games? Well as it stands, the highest rating that can be applied to a videogame in Australia is MA15+. Games with content exceeding the MA15+ definition must be "refused classification". And any game that is refused classification cannot legally be sold or played in Australia (of course this doesn't stop players ordering such games from overseas).
In an increasingly sophisticated game market, Australia's lack of an R18+ rating has led to a number of games being refused classification.
Most of these are mainstream releases that are readily available to adults in other countries. One such game is Syndicate, which was refused classification in Australia in December 2011 because of "violence that was high in impact". This first-person shooter is readily available to adults in other jurisdictions – it's available in the UK, for instance, with an "18 certificate".
Publishers who want to sell games that have been refused classification in Australia are then forced to modify the games to make them suitable for an MA15+ audience.
Imagine if there was no R18+ classification for film. Well-known titles such as Dirty Harry, Pulp Fiction and Fight Club would be banned in Australia, or shoe-horned into a lower classification because they fall outside the MA15+ category guidelines.
It's been a long and bumpy road for people who want to see a change to Australia's videogame classification laws.
As Jason Clare commented while introducing the bill to parliament, a campaign to introduce an R18+ rating for games has been underway for ten years.
The back-and-forth debates between the pro- and anti-R18+ camps has been going on for just as long, leaving much of the games industry with a real sense of R18+ fatigue.
But in December 2009 a discussion paper was released by then Home Affairs Minister Brendan O'Connor, which opened the issue to public consultation.
Almost a year later, in November 2010, a report about the consultation showed that of the 58,437 submissions, 98% were in support of introducing an R18+ rating.
Despite this, and despite a telephone poll showing 80% of respondents in support of the new classification, the then South Australian Attorney-General Michael Atkinson continued to oppose the changes. (Changes to the classification scheme can only be made if there is a consensus among all state and territory attorneys-general.)
But following the 2010 South Australian election, Mr Atkinson stood down and John Rau took over as South Australian Attorney-General. Mr Rau is a supporter of an R18+ classification for videogames, much to the delight of gamers in the pro-R18+ camp.
And then, in July 2011, at a Standing Committee of Attorneys-General meeting, all states except NSW voted to support draft guidelines for an R18+ rating. The NSW attorney-general initially abstained but has since indicated his support for the change.
So with support from the states and territories, and a bill currently in the parliament, the way seems clear for the introduction of an R18+ rating for videogames.
But, of course, the journey is not yet over. It will take months before we see R18+ games on Australian shelves. For one, the passage of the bill through parliament can be complex and involve more debate and potentially even more community consultation. The Coalition's request of an inquiry – as announced in a tweet by Labor MP Ed Husic – will send the bill to a Standing Committee for further discussion.
Once the Bill passes the House of Representatives it must then go to the Senate, where it will follow a similar process. The bill may be sent off to a Senate Committee, with even more discussion and potentially consultation and reports.
This process can take weeks to months, and may be stalled by the passage of other pieces of legislation and the sitting pattern of parliament.
According to a spokesperson from the Attorney-General's Department the bill is due to come into effect from January 1, 2013. Each state and territory then needs to decide whether it will allow the sale of the R18+ games in its jurisdiction. This will require the states and territories to modify their own legislation, which could take several months.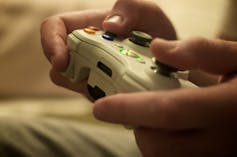 Existing games can be reclassified if submitted for reclassification by the publisher, the minister, or an "aggrieved person" – someone whose interest goes beyond personal or intellectual concerns.
Games such as Left 4 Dead 2 – which was refused classification because of violent content that did not fit into the MA15+ rating – could be reclassified within a new R18+ rating – assuming they are resubmitted.
But there is no guarantee that all games that were refused classification will be granted an R18+ classification under the new guidelines.
One game, Marc Ecko's Getting Up: Contents Under Pressure, was refused classification in 2006 after the Classification Board ruled the game "promotes anti-social behaviour". Specifically, the player progressed through the game by spraying trains and walls with graffiti – an offence under Australian law.
The draft guidelines approved by the attorneys-general would still refuse classification to games that actively encourage drug abuse or criminal behaviour. For this reason, Getting Up would probably still be banned under a R18+ classification.
The battle for an R18+ classification for videogames in Australia has been something of an epic, but the journey's not over yet. There are still plenty more rocks and potholes to navigate before we start seeing R18+ games in local stores.
Further reading: