The first Australian National Playwrights Centre (ANPC) was founded in 1973 – the age of bongs, thongs and social wrongs. Australian drama was by then well into its Biggest Renaissance Ever. The Pram Factory and Nimrod Theatre had been going for three years, La Mama for five. Whitlam had doubled the arts budget and "Nugget" Coombs, the first Chair of the Australia Council, was managing the ballooning expectations this gave rise to.
The year before, David Williamson's The Removalists won the UK's George Devine playwriting award. Three years before, Alex Buzo's Norm and Ahmed was in court in Victoria and Queensland on obscenity charges.
The drama of the period resembles the fashion of the period: confronting, emphatic, following norms of its own devising. It not only reflected the 1970s, it was a visceral expression of it, like cloche hats and pant suits. Fast, funny, rude and crafty, Australian playwriting helped drag Australia by the ears into the second half of the twentieth century.
Maybe it wasn't quite that simple. Nevertheless, the ANPC and its successor, Playwriting Australia (PWA), founded in 2007, are driven by the memory of this golden era. It was a time when playwrights seemed to really matter.
For those who don't know the theatre business well, PWA is a nationally-focused arts organisation dedicated to the development of Australian stage drama. "Development" is an anodyne word for a crucial part of the playmaking process that is invisible to the outside eye.
The achievements of the ANPC are many. Michael Gow's The Kid (1983) was first assisted there, as were Richard Barrett's The Heartbreak Kid (1985), Alma de Groen's The Rivers of China (1986), Gordon Graham's The Boys (1990), Dallas Winmar's Aliwa (1999), Stevie Rogers' Ray's Tempest (2004), Patricia Cornelius' The Berry Man (2009), and Phil Kavanagh's Deluge (2015). But these outcomes get lost in what comes later: the kudos of stage production and the glitz of opening night. It's a thankless job. When PWA is doing well, no one talks about it much.
Each year, PWA run a National Play Festival in a different city. In a country that remains a collation of individual states fighting over everything from road costs to education curricula, PWA's national embrace is key to its impact. It is hard to think of Australian theatre artists gathering together on any similar occasion except awards nights.
The play festivals follow a similar format – a public showcase of four to six new Australian plays in rehearsed readings with a series of industry-only discussions. They run for a fortnight, and include workshops, rehearsals and four days of public performances. Showcased plays are curated from ones that Playwriting Australia has developed through its script workshop program.
With 102 artists involved, this year's Play Festival, held in Melbourne last week was one of the largest. It was also gender balanced and culturally diverse. Seven of the 13 writers were non-Anglo, and 15 of the 25-strong acting company were Indigenous or from culturally diverse backgrounds.
The social representativeness of PWA's activities is self-conscious, but a useful reply to the winner's mentality that has gripped Australia like a fever. We're supposed to be a multicultural nation. PWA actively reflects this aspiration.
Traditionally, the Play Festival opens with a keynote address by a theatre elder. In previous years Joanna Murray-Smith and Andrew Bovell have delivered what, in effect, have been State of the (playwriting) Nation orations. This time, it was Michael Gow. .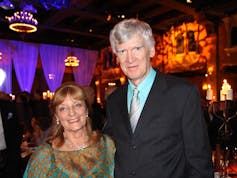 However, there was a buy-one-get-one-free deal in a speech by David Williamson at a dinner for seventy playwrights hosted by the co-founder of Playbox (now the Malthouse) Theatre, Carrillo Gantner and his wife, Ziyan Gantner.
Characteristically, the ex-thermodynamics lecturer didn't pull his punches, calling Australian playwriting "an endangered species" in comparison to television drama and independent film. In the guts of his philippic, however, was a lucid articulation of the role of the playwright:
The great ability of our sharpest playwrights is that they have an extraordinary ear for the social and political realities of the moment, and for the direction of the trends into the future. At their best they can articulate, before the rest of us, what is going wrong or right with our society and why. It's a hugely important source of information about ourselves and if we kill it off… then we are killing off possibly the most exciting and penetrating truths about ourselves. Truths that we sorely need.
At a guess, I would say that few people would disagree with this position. As the world goes to hell in a handbasket, the role of stage drama in raising to consciousness the social and emotional verities of our times is inarguably central.
What is less clear is how to do it. Writing a play is not like sewing a pair of trousers. The theme of this year's Play Festival was "craft", which is a term with two sides to it. On the one hand, it suggests competence, skill, stuff that is reliably made. On the other, it stands in opposition to "art" as comparatively quotidian and uninspired.
Somewhere in the tension between these two words lies the work of the playwright. With the short block of unfurnished time that modern audiences allow, they must fill the unforgiving minutes with drama that is watchable, meaningful, intelligible and fun.
But again, how? The answer is: with great difficulty. Writing drama is really hard. The risks are enormous, the opportunities few. PWA is therefore an important part of the inspiration pipeline. Not simply a service provider, it must be an Archimedean point of self-understanding for the profession as a whole.
And it is. Unheralded and often unnoticed, PWA promotes not only the practical skills playwriting requires, but the values that inform them. This was beautifully expressed in a recent speech by Todd London, one-time Artistic Director of New York's New Dramatists, where he presented eight "lessons learnt" from working with artists in a service capacity. The one I like best is London's last: We are Always Starting Over.
The artist always starts from scratch. Not just raising the chisel to the stone, but making or mining the damn stone, whacking at it, shaping it, cracking it down the middle. Then back to the mines… Every year brings the same cycle of deadlines, the reiteration of this selection process and that program… It's Sisyphus all over again… I learnt how to deal with it from artists and my service colleagues… We need fellow travellers, writers groups, drinking buddies, salons, shared studios…. "communities of spirit".
Arguably, PWA incorporates all of these things, and if the winds of reform are to stand a chance of warming the cold neglect of Australian playwriting, it will be in part through its efforts and care.