Recent weeks have seen an escalation of violence against the Rohingya in Rakhine, the poorest state of Myanmar. A tide of displaced people are seeking refuge from atrocities – they are fleeing both on foot and by boat to Bangladesh. It is the latest surge of displaced people, and is exacerbated by the recent activity of the Arakan Rohingya Salvation Army (ARSA).
Religious and ethnic differences have been widely considered the leading cause of the persecution. But it is becoming increasingly hard to believe that there are not other factors at play. Especially given that Myanmar is home to 135 official recognised ethnic groups (the Rohingya were removed from this list in 1982).
In analysing the recent violence, much of the western media has focused on the role of the military and the figure of the de facto leader Aung San Suu Kyi. Her status as a Nobel Peace prize laureate has been widely questioned since the latest evidence of atrocities emerged.
She continues to avoid condemning the systematic violence against the Rohingya. At least the media gaze has finally shifted somewhat towards their plight.
But there remain issues that are not being explored. It is also critical to look beyond religious and ethnic differences towards other root causes of persecution, vulnerability and displacement.
We must consider vested political and economic interests as contributing factors to forced displacement in Myanmar, not just of the Rohingya people but of other minorities such as the Kachin, the Shan, the Karen, the Chin, and the Mon.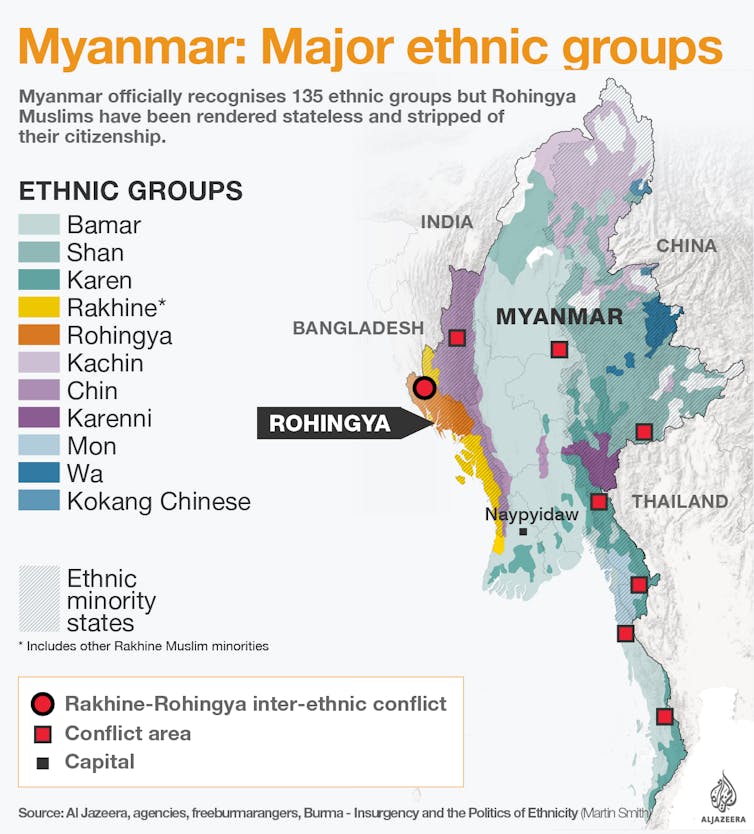 Land grabbing
Land grabbing and confiscation in Myanmar is widespread. It is not a new phenomenon.
Since the 1990s, military juntas have been taking away the land of smallholders across the country, without any compensation and regardless of ethnicity or religious status.
Land has often been acquired for "development" projects, including military base expansions, natural resource exploitation and extraction, large agriculture projects, infrastructure and tourism. For example, in Kachin state the military confiscated more than 500 acres of villagers' land to support extensive gold mining.
Development has forcibly displaced thousands of people - both internally and across borders with Bangladesh, India, and Thailand - or compelled them to set out by sea to Indonesia, Malaysia and Australia.
In 2011, Myanmar instituted economic and political reforms that led it to be dubbed "Asia's final frontier" as it opened up to foreign investment. Shortly afterwards, in 2012, violent attacks escalated against the Rohingya in Rakhine state and, to a lesser extent, against the Karen. Meanwhile, the government of Myanmar established several laws relating to the management and distribution of farmland.
These moves were severely criticised for reinforcing the ability of large corporations to profit from land grabs. For instance, agribusiness multinationals such as POSCO Daewoo have eagerly entered the market, contracted by the government.
A regional prize
Myanmar is positioned between countries that have long eyed its resources, such as China and India. Since the 1990s, Chinese companies have exploited timber, rivers and minerals in Shan State in the North.
This led to violent armed conflicts between the military regime and armed groups, including the Kachin Independence Organization (KIO) and its ethnic allies in eastern Kachin State and northern Shan State.
In Rakhine State, Chinese and Indian interests are part of broader China-India relations. These interests revolve principally around the construction of infrastructure and pipelines in the region. Such projects claim to guarantee employment, transit fees and oil and gas revenues for the whole of Myanmar.
Among numerous development projects, a transnational pipeline built by China National Petroleum Company (CNPC) connecting Sittwe, the capital of Rakhine, to Kunming, China, began operations in September 2013. The wider efforts to take Myanmar oil and gas from the Shwe gas field to Guangzhou, China, are well documented.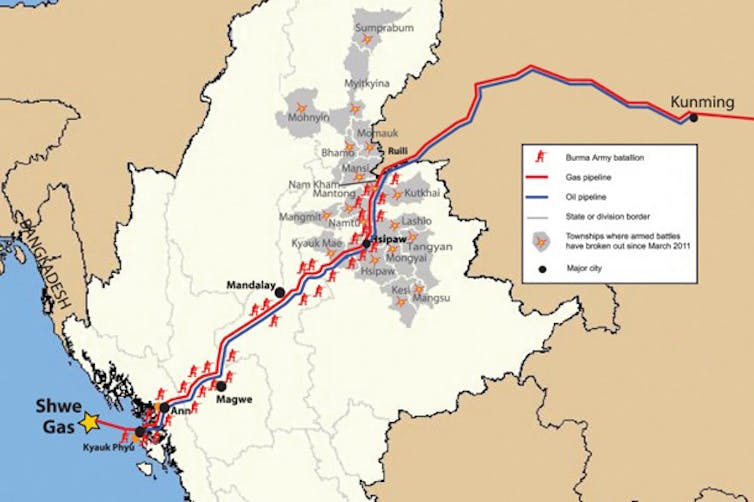 A parallel pipeline is also expected to send Middle East oil from the Kyaukphyu port to China. However, the neutral Advisory Commission on Rakhine State has urged the Myanmar government to carry out a comprehensive impact assessment.
In fact, the Commission recognises that pipelines put local communities at risk. There is significant local tension related to land seizures, insufficient compensation for damages, environmental degradation, and an influx of foreign workers rather than increased local employment opportunities.
Meanwhile, the Sittwe deep-sea port was financed and constructed by India as part of the Kaladan Multi-modal Transit Transport Project. The aim is to connect the northeast Mizoram state in India with the Bay of Bengal.
Coastal areas of Rakhine State are clearly of strategic importance to both India and China. The government of Myanmar therefore has vested interests in clearing land to prepare for further development and to boost its already rapid economic growth.
All of this takes place within the wider context of geopolitical maneuvering. The role of Bangladesh in fuelling ethnic tensions is also hotly contested. In such power struggles, the human cost is terribly high.
Compounding the vulnerability of minorities
In Myanmar, the groups that fall victim to land grabbing have often started in an extremely vulnerable state and are left even worse off. The treatment of the Rohingya in Rakhine State is the highest profile example of broader expulsion that is inflicted on minorities.
When a group is marginalised and oppressed it is difficult to reduce their vulnerability and protect their rights, including their property. In the case of the Rohingya, their ability to protect their homes was decimated through the revocation of their Burmese citizenship.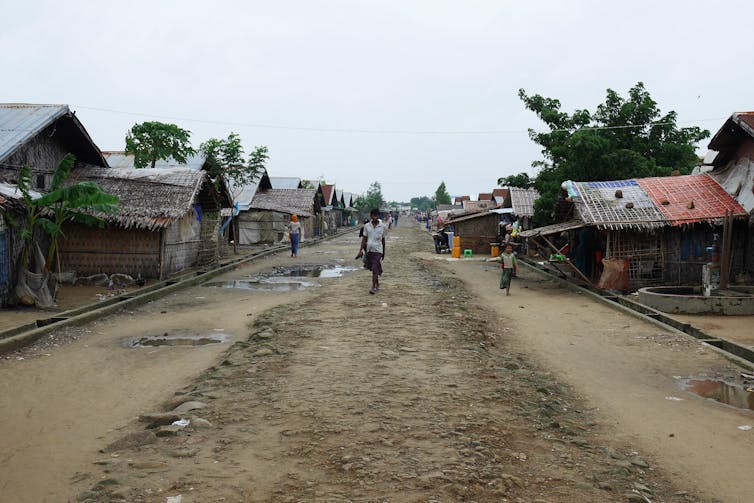 Since the late 1970s around a million Rohingya have fled Myanmar to escape persecution. Tragically, they are often marginalised in their host countries.
With no country willing to take responsibility for them, they are either forced or encouraged to continuously cross borders. The techniques used to encourage this movement have trapped the Rohingya in a vulnerable state.
The tragedy of the Rohingya is part of a bigger picture which sees the oppression and displacement of minorities across Myanmar and into neighbouring countries.
The relevance and complexity of religious and ethnic issues in Myanmar are undeniable. But we cannot ignore the political and economic context and the root causes of displacement that often go undetected.
This article was amended after publication to correct the mislabelling of the Karen as Muslim.