With technology changing the landscape of higher education, The Conversation is running a series "Re-imagining the Campus" on the future of campus learning. Here, Tom Kvan explores how design should make universities more welcoming and accessible.
---
A university's campus is the place where it can engage with communities. There is potential for the campus to be the public face of the university and to engage with different community groups. But too often university design is exclusive: surrounded by high walls and fences, or too difficult to navigate.
Today's university needs to better engage with its wider community. This will not only help the university, but also the community. So how do we open up our universities to the wider community?
Why should the campus be more inclusive?
A major part of a university is its activity. It is all well and good to take down the fence, but if we don't start saying "come in and join us", nothing has changed.
People can step in to listen to lectures but it is more important to invite them in to all we do. Increasingly, this is being communicated as universities' "engagement activities".
Universities are becoming better at communicating their aspirations, sharing their ideas as they develop, listening to feedback and making plans that are meaningful to the communities. This turns into community support and benefits.
Community participation on campus can also take the form of sharing ideas. For example, commercial participation is a form of community engagement. Turning ideas into usable action, a step that many academics find more difficult than coming up with the tested ideas, is the lifeblood of commerce. Industry can also participate through sponsorships and by funding academic activity.
An impenetrable fortress
The communities of today's universities include those who live around it as well as those who might travel some distance to get to the campus. For some, the immediate proximity means they can walk onto the campus and visit facilities such as libraries, coffee shops or exhibitions when they have time and need. Those living further away might enjoy the campus online by accessing journals and books through the digital library or take part in lectures and tutorials through broadcasts, webinars or chatrooms.
Place and proximity no longer govern accessibility to a university campus. This reflects the move to online learning. So, if we want to think about opening up the campus further to a wider community, the question can start with removing literal barriers such as fences.
Most campuses have removed significant portions of their fences and gates, but even without the fence campuses remain impenetrable to many. Most are illegible places, meaning that you lose your way easily. They are not laid out on the same principles as a town, with streets and frontages.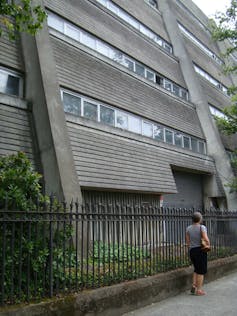 Too often the buildings present themselves as fortresses, long blank walls with lightly labelled doors using obscure terms. Those places that a visitor from outside the campus may wish to visit, such as a lecture hall, are too often situated deep inside the building behind that wall. Unlike a commercial facility such as a concert hall, the place has not been designed as "easy to find".
How we can make campuses more accessible
We can begin to open up walls to make windows, locate activities in visible places and thus invite the passer-by to step in. We can organise circulation routes so that they make sense to someone who has never been on campus before. Permission to linger can be communicated to the visitor rather than conveying exclusion.
Communities can also be invited to participate. Certain unused places can be made available. If a lecture hall isn't in use, it could be used by others as sports facilities, lecture halls, or seminar rooms.
Communities need spaces for after-school care, community gatherings and activities. Most universities do not have the systems to give communities ready access. Their systems are better at semester timetabling than irregular use.
All of this leads to an opening up to ideas and action. Opening a gate is only a first step. Opening to a community is not about telling them what we do, but bringing them in to work together with us and each other.
---
Read other articles in this series here.