Qantas has flagged deteriorating trading conditions and a potential A$300 million half-year loss in a statement to the market that has sent its share price tumbling.
The airline has stepped up its cost cutting plans, with 1,000 job cuts flagged for the next 12 months, a review of capital expenditure underway, and the board and CEO to take a pay cut in a bid to save $2 billion over three years.
Qantas is increasingly feeling the pinch in market share from its foreign government-backed competitor, Virgin. It's lobbying for the federal government to provide a helping hand, via some form of debt guarantee or share buyback, and/or lifting the cap on foreign ownership to allow a foreign capital injection into the company. So far this lobbying has proved futile.
One dreaded possible scenario facing Qantas is the potential loss of its investment-grade rating status by the major credit rating agencies. Both Standard & Poors and Moody's downgraded its credit rating to just one notch above junk status in 2012. Qantas remains one of only a handful of airline companies in the world with an investment-grade rating and this could change quickly.
Qantas today said it no longer expects to generate positive net free cash flow in the current financial year.
Ratings agencies measure the ability of corporate borrowers to meet their debt obligations when assigning corporate credit ratings.
While credit rating agencies differ in their models used for determining corporate credit ratings, there is a large correspondence in their rating methodology and hence, ratings given.
In recent days Moody's has said without countermeasures to counteract the fall in yields being driven by competition, weakened operating conditions would continue to exert downward pressure on the airline's credit metrics.
The measures Qantas has taken today, which include a review of spending and fleet optimisation, go some of the way to addressing this concern.
---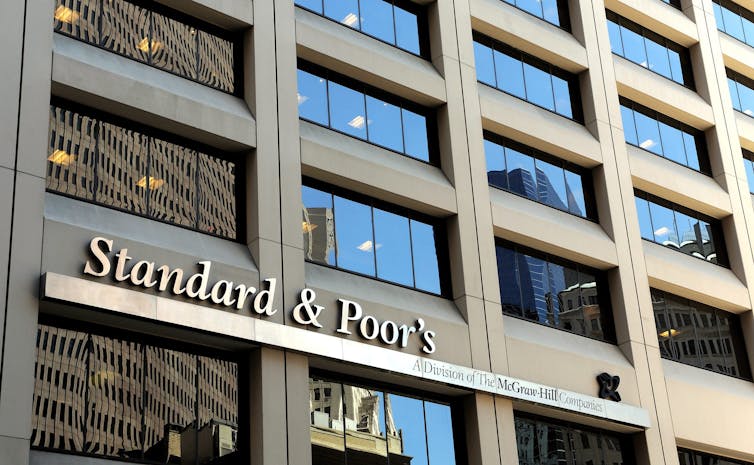 What determines corporate credit ratings?
a company's financial ratios and financial data - measures for leverage, cash holdings or liquidity, interest coverage, profitability, firm size and so on.

its governance quality - how well the firm is controlled and directed and the availability of credible information for assessing credit strength.

domestic and global macroeconomic factors that affect the company's creditworthiness.
---
Deterioration in the factors above are deemed to increase the likelihood of default by corporate borrowers on their debt.
It's important for issuers to protect their credit ratings as it directly feeds into their costs of borrowing and ability to raise capital in debt markets.
Both high borrowing costs and the reduction in investors willing to lend to Qantas will have major repercussions as it operates in a capital intensive industry.
With its investment-grade status, Qantas currently benefits from relatively cheap capital and favourable leasing, hedging and payment terms and corporate life will invariably get tougher with a rating downgrade.
Institutional investment in the company would also likely decline. Many institutional investors like pension funds and insurance companies are required to hold only investment-grade securities, and a downgrade would force them to sell off their holdings of Qantas shares. This would no doubt have negative consequences for Qantas' share price which has already been sliding.
But before pressing the panic button, it should be said credit rating agencies are known to follow a practice of "rating through the cycle", meaning they take a long-term view on whether there has been a permanent deterioration in the fundamental capacity of a corporate borrower to repay its debt into the future.
Ratings agencies do this so as not to induce unnecessary volatility in financial markets. As so much depends on an investment-grade rating, the ratings agencies will not downgrade the flying kangaroo to junk status until they're absolutely convinced there is a permanent reduction in the creditworthiness of Qantas under the issuer-pay ratings model.
Qantas pays the credit rating agencies a fee for providing a credit rating on its debt and can shop around ratings agencies until it gets the best credit rating. So it's unlikely one rating agency will race ahead of the others to downgrade Qantas. However, Moody's has already come out ahead and made it clear that demonstrated support by the federal government for Qantas will help Qantas to maintain its investment-grade rating.
If the loss of its investment-grade rating was to eventuate, Qantas would have to work hard at earning it back to prevent the negative spiral of adverse effects on the company. If it becomes cut off from debt capital markets, it will have to curb all plans for capital investment in new aircraft and aviation technology and instead take out more leases going forward.
Whatever happens to its credit rating status, Qantas will continue its fall from historical monopolistic heights with intensifying competition within the Australian aviation sector.