Budget airline Ryanair's new warm and cuddly image seems to be paying off. It recently reported a 28% rise in passenger numbers in March to 6.7m, an increase of 1.5m customers over this time last year. Importantly for a service business where empty seats on a flight represents revenue forever lost, their flight occupancy rose to 90%.
Ryanair CEO, Michael O'Leary, has a reputation as the Mr Nasty of the airline industry. In a nutshell his message was if you are paying peanuts for your flight, we have the right to treat you like monkeys. Was he just putting on a tough guy act? Who knows, but he was squeezing every last penny out of customers, suggesting that passengers who forgot their boarding passes "should pay €60 for being so stupid".
There was the famous rumour that passengers would have to pay to go to the toilet inflight, and his tough approach led to much criticism and some seriously bad press, including a sarcastic YouTube film made by a Spanish group performing on board a Ryanair flight.
'Always getting better'
But last year the company introduced its "Always getting better" customer charter with the aim of continuing to provide lower fares with easier booking and better service for passengers. It has revamped its website, and now allows seat booking, has become more lenient with the number of bags taken onto aircraft, as well as including a price comparison function when booking your flight.
While some may be sceptical of Michael O'Leary's apparent Damascene moment, he is adamant that this is a genuine change in policy and not a gimmick. He put his previous behaviour down to his determination to create the lowest priced airline seats in Europe. Now he refers his enlightened change to his co-founder, the late Tony Ryan, who had wanted a customer-friendly airline.
Be that as it may, O'Leary has shown above all with this move that he is a very astute businessman for a number of reasons. First, the budget airline industry is increasingly competitive and that means that customers are comparing service, as well as prices, across a range of carriers. We all make trade-offs, but for many the ability to book a seat or get priority boarding may be worth the extra few pounds. Similarly, knowing that you are not going to be treated like cattle for the two hours to your holiday destination can make you switch to a competitor.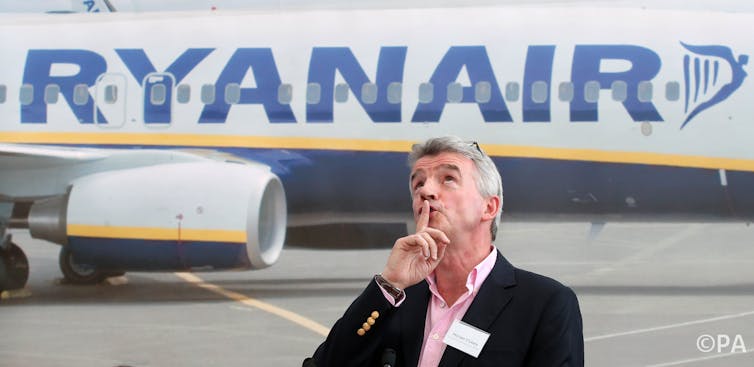 Second, O'Leary is using a classic service business approach of managing expectations and experience. If your expectation is low and your experience exceeds your expectation, how you feel about the provider can be even better than when your expectation and experience match.
Managing customer complaints is perhaps one of the most underrated areas of any business. Not dealing with customer complaints well leads to negative word of mouth and ultimately if there are alternatives available, people will move their custom elsewhere. Research also shows how keeping customers happy (and keeping their business) brings significant savings down the line in terms of marketing to attract new ones.
It is just possible that O'Leary realised he had got as far as he could with his abrasive approach and it was time to switch tack. What is perhaps most surprising is that he survived so well for so long. But for some there was little choice, as Poundland's CEO once said:
We have the benefit of those who choose to shop with us, and those who need to shop with us.
Ryanair's turnaround poses a challenge to some classic business strategy textbooks. Succeeding in providing a cheap product and good service may well turn Harvard professor Michael Porter's "stuck in the middle" maxim on its head. Many have accepted Porter's idea that a successful business must choose between the strategies of cost leadership (and usually low price) or differentiation (and added product or service quality).
Of course, up to now Ryanair has followed a cost leadership approach but the added service they are offering suggests differentiation, and it seems to be working. So perhaps O'Leary has succeeded in doing the apparently impossible, and all without offending anyone – even meriting an honorary Harvard professorship, perhaps?