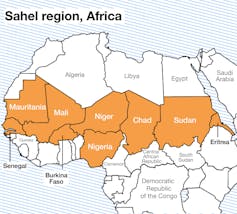 The Sahel region of Africa is a 3,860-kilometre arc-like land mass lying to the immediate south of the Sahara Desert and stretching east-west across the breadth of the African continent.
A largely semi-arid belt of barren, sandy and rock-strewn land, the Sahel marks the physical and cultural transition between the continent's more fertile tropical regions to the south and its desert in the north.
Geographic definitions of the Sahel region vary. Commonly, the Sahel stretches from Senegal on the Atlantic coast, through parts of Mauritania, Mali, Burkina Faso, Niger, Nigeria, Chad and Sudan to Eritrea on the Red Sea coast.
Culturally and historically, the Sahel is a shoreline between the Middle East and sub-Saharan Africa. This means it is the site of interaction between Arabic, Islamic and nomadic cultures from the north, and indigenous and traditional cultures from the south.
Concerns abound over the region's vast spaces, often beyond the reach of the state, in an era of violent criminal and political movements operating across borders. The Sahel also suffers from ethno-religious tensions, political instability, poverty and natural disasters.
In recent years, the Sahel has been in the global spotlight due to famines, religious terrorism, anti-state rebellions, and arms, drugs and human trafficking. These developments are the product of both local and global dynamics. They remain substantial challenges for the region in 2017.
In Mali, Islamist extremism will remain a threat, despite national and international efforts to halt it. Islamist fighters may be dispersed, but not halted. The al Qaeda-affiliated al-Mourabitoun group, operating from Mali, have recently launched attacks in Burkina Faso and Ivory Coast.
In Mauritania, a traditional route for drug and human trafficking between South America and Europe, the existence of sub-state militant activities in the greater Sahel region, and local governance challenges, make political violence a threat in 2017.
In Nigeria, despite claims that Boko Haram has technically been defeated, it is very likely that the group's remaining members are on the run. A relaunch of "the jihad" from elsewhere in the Lake Chad Basin area is therefore highly probable.
There have been positive developments as well. These include an emerging consolidation of support for democratic transitions of power through popular protests, and elite-led regional diplomatic and military interventions against unconstitutional changes of government or attempted unlawful retention of power.
The African Union and the Economic Community of West African States (ECOWAS) have recently opposed unlawful takeover of power in Mali and Burkina Faso. In the Gambia, ECOWAS has prevented Yahya Jammeh's attempt to unlawfully retain power in January 2017. Peaceful protests in Mauritania also promise some democratic gains.
Regional governance and integration projects have continued, with ECOWAS and other bodies such as the Lake Chad Basin Commission and the Economic Community of Central African States (ECCAS) offering the promise of collective action to tackle major regional challenges, although so far with mixed success.