Earlier in the year, the principal of a private girls' school in Sydney's west was criticised by some media for promoting "gender fluidity" and "boasting" that a change in the school's uniform was enabling a "variety of gender expression". The school had given students the option of wearing shorts and long pants.
This criticism was ill informed and potentially harmful to gender diverse young people. Leaders, such as the school's principal should be supported not pilloried.
Concerns about the fragility of gender identity
Underpinning criticisms of changes in the school's uniform policy is the assumption clothing is an essential element of gender identity. For people who hold this view, the uniform worn by girls should be distinctly different from that worn by boys in order to prevent individual and collective notions of gender from being undermined, lest children lose their sense of gender all together.
Claims that our identity as male or female is biologically determined and fixed were expressed forcefully in the lead up to the same-sex marriage survey in 2017. Some people opposed to marriage equality attempted to shift the terms of reference of the public debate by suggesting legalising same-sex marriage would also result in acceptance of gender fluidity and diversity in sport, employment, welfare and violence prevention initiatives.
In essence, changing the marriage laws presented a danger to the stability of gender as a binary concept, and this danger was an increasing acceptance of gender fluidity or variance in Australian society.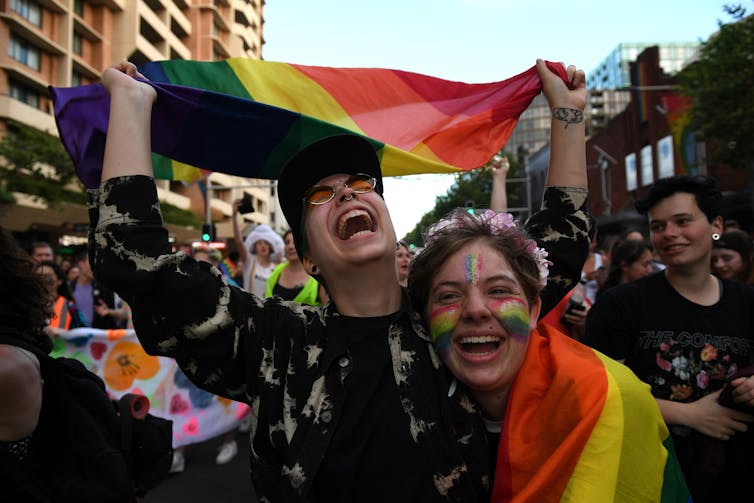 At the heart of these concerns is a rejection of gender diversity as a legitimate, lived reality. Instead, sex and gender are conflated and viewed as biologically determined. Research conducted at the Gendered Innovations centre for medical research at Stanford University, shows when the difference between sex and gender is ignored the results of research can be incorrect and possibly dangerous.
While sex is biologically determined, gender is a social and cultural construct that shifts and changes across time and place.
Importantly, neither sex nor gender are binary but instead operate along a continuum. People who are transgender or gender diverse are people who don't identify with the sex or gender norms assigned to them due to their physiology. People can experience this in many different ways. While it may sometimes include transitioning by taking medication, hormones or undergoing surgery, this is not always the case.
---
Read more: Crossroads program: should we teach children that gender identity is fluid? Here's what the research says
---
Why the distinction between sex and gender is important
Let's be clear, distinguishing between gender and sex is not a radical gender theory. Those researching and investigating gender across a range of disciplines have recognised for decades gender and sex are separate and different constructs, and that they're not always fixed.
The American Psychological Association also provides resources and advice about the difference between sex and gender, as well as the reality of multiple identities across the transgender spectrum. In line with these, the Australian Psychological Association recently produced guidelines to recognise the benefits of affirming transgender identities in mental health settings. This can help to relieve distress and reduce suicidal ideation.
These guidelines would also benefit trans and gender diverse young people within schools and align with the recommendations of a recent study of trans young people and their parents and carers.
These include recommendations to affirm a person's gender, challenge negative attitudes toward gender diversity, and advocate for the support needs of transgender people.
Despite yes vote, LGBTQI people still face adversity
Despite the 7.8 million yes-voting Australians, ongoing and vicious attacks on trans and gender diverse young people (and those who advocate for them) have escalated in the media. These attacks suggest to school leaders any attempt to support this group of young people may be heavily and publicly scrutinised.
Even more concerning, these attacks convey to young people (and adults) there is something undesirable or dangerous about gender diversity. This is damaging not only to those who are trans and gender diverse but also those around them. It suggests there's only one correct way to be male or female, and that way is strictly and linearly aligned with fixed ideas of masculinity or femininity.
Australian school environments are not supportive
A review of Australian and international literature on bullying shows many school environments are unsupportive, if not prejudicial, towards students from minority groups in Australia. This is particularly the case for those students who identify or are perceived as being from sexuality or gender minorities. They often experience higher rates of violence, and subsequent emotional, social and physical health inequalities.
A recent study of over 700 sexuality and gender diverse young people found 94% of participants heard homophobic language at school. Some 54% of this happened daily. Almost half of the participants had witnessed school-based physical harassment of classmates that were perceived to be sexuality or gender diverse.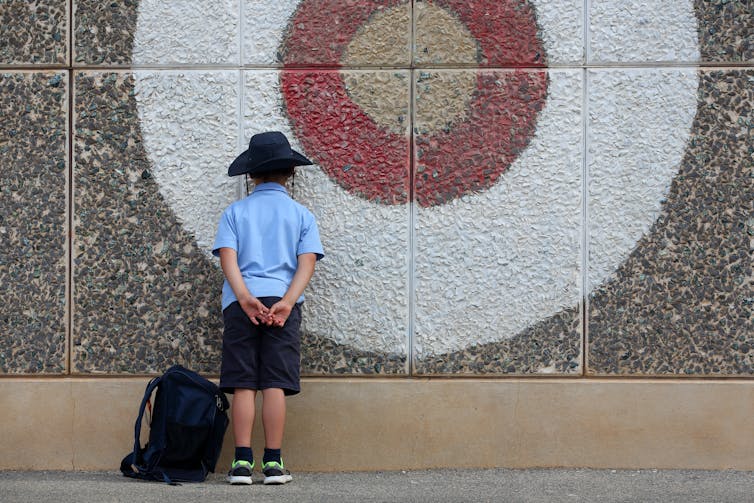 School climates can make a big difference to these young peoples' lives. But escalating policing of gender expression is likely to prevent or limit school leaders from taking action.
What can we do to make schools supportive?
Our society needs leaders who will support and defend the right of young people to express their gender as they wish - whether gender diverse or not. The principal at the centre of this recent "crisis" demonstrated this kind of leadership.
The success of the marriage equality survey reminds us we can be a tolerant, accepting, and safe place for all Australians. But it takes constant work.
The safety and well-being of young people should not be compromised. Responsible adults, especially leaders in our community such as principals and politicians, must have the courage to challenge negative attitudes toward gender diversity and support the needs of trans and gender diverse people. Relaxing the rules on school uniforms is a small but positive step in this direction.