The health and well-being of children is key to helping them succeed in the future. Yes, education and social abilities are important to achievements and employment opportunities, but if health is not taken care of from the very start, it can affect any and all aspects of a child's life through to adulthood.
However, monitoring and maintaining health and well-being is no easy task. Schools are in an ideal position to drive change and help reduce inequalities in health, but they are overburdened with various initiatives, and it can be difficult to put a plan in place that addresses the needs of pupils.
In theory it should be fairly easy to incorporate teaching, understanding and monitoring child health and well-being into education policy. But with a historical focus on literacy and numeracy in the classroom, many headteachers believe it is not being addressed, and that schools are left to tackle these issues by themselves.
Here in Swansea, we have been looking at a new way of helping schools deal with child well-being, bringing together a range of health, education and research professionals to help. Aware that teachers cannot work at it alone any longer, we have found a way to take care of child health needs while maintaining educational outcomes in schools.
Happenings
The purpose of the HAPPEN (Health and Attainment of Pupils involved in a Primary Education Network) project is to enhance children's learning, enable schools to see how they compare with others in their county, and to identify specific areas of need for their pupils – for example high percentages of children not eating breakfast.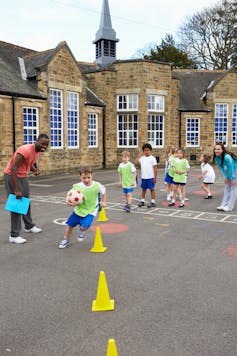 We use data collected from children aged nine to 11-years-old who complete health and well-being assessments through the Swan-Linx project, which brought youngsters together for a fitness fun day and assessments. Then, the huge variety of information gathered – including body mass index, fitness, nutrition, physical activity, sleep, well-being and concentration – is summarised in a school report. This gives schools the autonomy to identify areas of need in improving children's health. The reports are written in line with the curriculum framework to enhance children's learning at each stage of their education. This approach means that children not only get mentally and/or physically healthier, but that they understand how and why.
To date, we have gathered information from around 3,000 children in the Swansea area. And, working with the SAIL Databank – which removes the identities of participants to protect their privacy – we have been able to study anonymised information on children's health, health records (including GP records and hospital admissions) and education attainment.
Once analysis of this data is complete, findings are accessible to the relevant schools and organisations – dietitians, sport development, local charities, and public health professionals – that are part of the HAPPEN network, supporting teachers so that a plan of action can be put in place.
Working out
We have found that though some schools are doing their best to help their pupils grow and stay healthy outside of educational targets, even the most savvy institutions can still benefit from outside help.
One local primary school, which believed that it placed a strong emphasis on fitness, for example, was concerned to discover that a third of the children in years five and six were overweight. Furthermore, 38% of their pupils reported that they were not happy with their fitness levels. This led to a new approach at the school and increased healthy initiatives: PE lessons are being reworked and teachers are adding more active elements to other lessons. In addition, the children are being encouraged to manage their own fitness and set personal health goals.
Until now, we have mostly focused on the physical health and fitness of children participating in the project. However, well-being is a core feature of our work, and going forward we will be incorporating a mental health assessment into data collection, in response to teachers voicing their concerns around mental health provision in primary schools. In the future, HAPPEN will also develop to assess chronic conditions and their impact on educational attainment will be explored.
Our society needs schools to do more than just educate children, but as we have proved, making health and well-being a collaborative effort is the best way forward.