There have been wide-ranging reactions from the scientific community after a South African university student called for "Western" science to be eradicated.
The young woman argued that science "is a product of western modernity" and suggested that decolonisation would begin with the introduction of "knowledge that is produced by us, that speaks to us and that is able to accommodate knowledge from our perspective".
She was widely ridiculed on social media. But there was also an acknowledgement from some quarters that young black South Africans feel excluded from science.
Veteran science journalists Sarah Wild and Linda Nordling conceded that the way science is taught and practised in Africa is not socially inclusive. It mostly ignores African perspectives on science and contributions to the field. The accomplishments of African scientists deserve far more attention.
Wild and Nordling argue – and I agree – that science can and should be decolonised. This can be achieved in a number of ways, like giving more attention to local research challenges and research outcomes relevant to everyday life in Africa.
Better communication between science and society is also crucial. But communication experts also know that relevance – connecting science with people's everyday lives – is as important as conveying information.
This would help kill the myth that science somehow belongs to white people.
Inclusive approach
Dr Elizabeth Rasekoala, chair of the Pan-African Solidarity Education Network, has long advocated for a more inclusive approach in the way science is portrayed, communicated and practised in Africa. In an interview at the 2015 "Science & You conference" in France, Rasekoala suggested that science must give up three things to arrive at a win-win, give-and-take situation where science belongs to and benefits everyone:
its male dominance,

its Eurocentrism, and

the idea that it is the only answer to all humanity's problems.
Rasekoala said it was important to empower young people around the world with the knowledge that every part of the world has contributed to the history of science.
But communicating cutting edge science while respecting local cultures can be a difficult balancing act. That is where experts in the field of science communication can make a difference.
Science communication experts understand the political nature of science and science communication, as well as the intricacies of communicating science in diverse social settings. They appreciate that knowing science does not necessarily equate to support for science.
In fact, more knowledge about science may lead to a polarisation of views about it. As social scientists, these communicators have studied the complexities of people's responses to new scientific information and understand that public opinion about science is shaped by a multitude of factors, including the legal, ethical and moral dimensions of science. They know, in short, that communicating only the facts is likely to fail.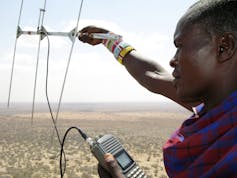 Respecting audiences
Importantly, science communicators know that understanding and respecting the audiences you are trying to engage is a cardinal rule of effective and socially inclusive science communication. They also know that meaningful communication involves mutually beneficial dialogue between scientists and communities, rather than a one-way, top-down flow of information.
Communication experts also know that relevance – connecting science with people's everyday lives – is essential to get society interested. They appreciate that science communication is not about promoting science, but rather about embedding science in society and allowing people to participate in science.
There are some wonderful examples of science communication that crosses cultural boundaries. A children's storybook, "The crocodile that swallows the sun", presents current knowledge about celestial objects alongside the beautiful ancient African legends of the night sky.
And when the Africa Centre for HIV/AIDS Management uses educational theatre to engage people about HIV prevention most of the actors on stage are farm workers from the Stellenbosch region. This means they bring their own ideas and perspectives to the table, too, along with the established science. And audiences identify with the cast, which encourages them to become active participants in dialogue instead of passive recipients of health messages.
Homegrown research led by Unizulu Science Centre director Derek Fish has proven the importance of catering for cultural diversity. The research also shows the value of using home languages to increase students' understanding and engagement.
Through science-art collaborations – theatre, music, art – science can be made less threatening. These sorts of collaborations can encourage meaningful dialogue about science issues in everyday life.
Scientists have a role to play
There's also a need for scientists to tell their own stories and to play a role in explaining their research. Many South Africans, for instance, may not know that the government is funding extensive research on indigenous knowledge systems.
Good examples are the exciting work by the University of Cape Town's Professor Jill Farrant and her team on the so-called resurrection plant and medicinal plant research by Professor Nox Makunga at Stellenbosch University.
This is cutting edge science based on indigenous knowledge that could lead to the development of drought-tolerant crops or new medicines for the future. Both Farrant and Makunga are committed to sharing their work with the public using a range of tools.
Sharing these sorts of stories will go a long way to reminding people that a great deal of brilliant science is coming from Africa, by Africans, for Africans. It will also create room for more socially inclusive science to be taught across the continent.