Phew, what a day it was yesterday. Ended up having a quiet drink at the hotel. Last drink of the day – a nice cup of tea!
Slept well – no nightmares about flying through space looking for somewhere to land. Open my eyes, open my twitter feed. Don't usually launch into social media so quickly, but had to see what I had missed overnight. And I'd missed some good news – radio link to Philae had been restored more-or-less on schedule – that Philae is still alive. Joy, and first coffee of the day.
Share in quick conversation between Ian and Ptolemy team. All well – more data downloaded. Get a brief update about the other instruments and hear that there are images! So the cameras are working. Images embargoed until official release later in the morning. But unofficially, apparently they are cracking! Again, relief that Philae is at least operational, even if not optimal – or nominal.
Pitch up at ESOC. Settle down for a quiet(er) morning than yesterday. Get a coffee, and start to scroll through the tweets that have been piling up. Loads of smiling faces. Some embarrassing ones of me appearing fairly happy at news of the successful landing. Start to catch up with e-mail. Look at the ones that are important. Or urgent. Can't remember which I'm supposed to process first. Better re-do the time management course.
We seek it here …
Grab a coffee before meeting colleagues. This place is Rumour Central. Philae is on its side. Philae is in a cave. Philae is on its side in a cave. At least no rumours that Philae is dead, or upside down, so reasonable optimism is the prevailing mood.
Do a couple of interviews. Manage to sneak in a quick coffee. Tickled when presenter on BBC World News introduces me as a "Professor of Interplanetary Space". Get a text from the Ptolemy team. They are re-defining the Ptolemy operation command sequence, as it is clear that the preliminary science schedule is no longer valid.
This isn't a quick job. Ten instruments sharing a low amount of power have to work together to find the most effective solution to enable the greatest amount of science to be obtained. European co-operation at its best!
Now hearing about Philae's bumpy landing. As they say, you wait for one comet landing, and three come along at once. The first bounce sent Philae about a kilometer up, and it took two hours for the craft to land a second time. Glad I didn't know this last night.
Second bounce was a much shorter hop – it took ten minutes to land again. Philae is in a precarious state – the harpoon didn't fire, the screws on the feet didn't actuate, so the lander is not anchored to the comet, just resting on the surface. A good gust of wind would blow it over. Good job it isn't windy … yet
First image released. Speechless. Nearly spill my coffee. What a fantastic picture. What a worrying picture. One of Philae's feet is dangling – I nearly wrote "in mid-air" – in mid-space. We can see the comet. It looks like a jagged cliff face, partly illuminated.
X marks the spot
Time for the press conference. More amazing images. We know where Philae is – about a kilometre from where Philae should be. That has blown our departmental sweepstake: "Put the X on the Philae landing site" out of the water, since we were only choosing within the predicted landing ellipse. Then again, Philae's first landing seems to have been right on target. So maybe we go with that.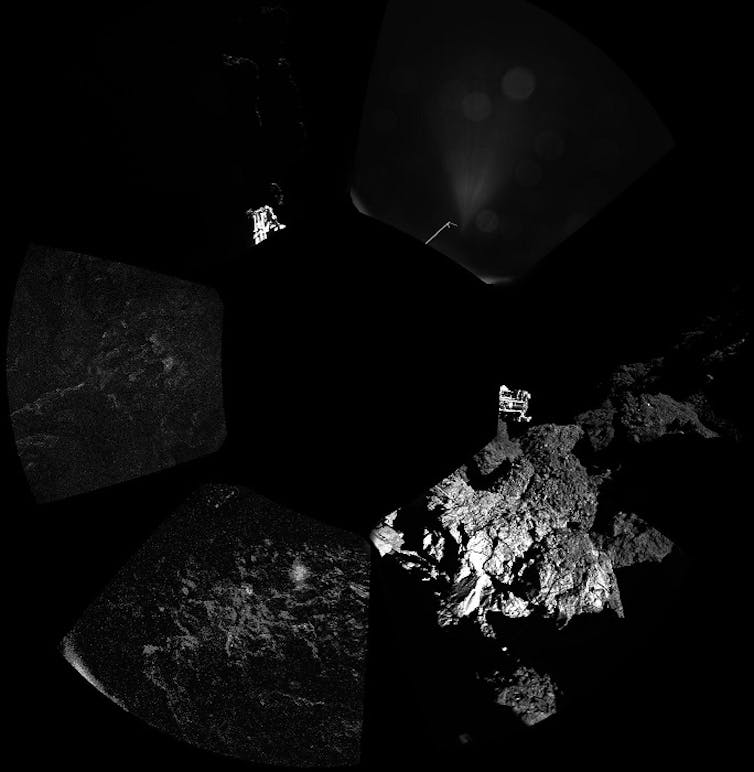 Ought to concern myself with weightier matters than sweepstake. Actually very concerned about illumination. Philae looks to be up against a cliff and will only receive about 1.5 hours sunlight. Needs six hours to keep batteries charged. Main batteries will die soon.
Ptolemy needs the drill to deliver sample to get data on the dust. Not sure whether drill can work in Philae's current position. And if they start to drill, without Philae being anchored, the action might push Philae over. More worries.
Anyway, I'm off home. Tomorrow, back to the other part of the day job. Workload planning. Curriculum team meeting. Got to find an excuse why I haven't finished writing my bit of the second-level chemistry module, which includes a section on "Comets and the origin of life". Wonder if trip to Darmstadt can be passed off as gathering fresh material…
Monica Grady would like to thank Ian and the Ptolemy team for allowing her to share their journey. She is looking forward to seeing them with their new haircuts. She is, however, glad that she is not part of the instrument team, and thus does not have to have her head shaved….