Few, if any, contemporary costume designers are household names. Some occasionally capture the zeitgeist and break through from big (or small) screen to mainstream fashion – think Catherine Martin and her recent "Gatsby" moment – but these are exceptions. Contemporary costume designers mostly fly below the radar of today's audiences, but it wasn't always so.
Hollywood in the 1930s to the 1960s – often referred to as The Golden Age – was a boom-time for costume designers. Currently at the Museum of Brisbane, Costumes From the Golden Age of Hollywood draws on material from a private collection, owned by Brisbane resident Nicholas Inglis, in an exhibition that runs until May 2015.
This period was the peak of control and output for the major studios, such as Columbia, RKO Radio Pictures, Metro Goldwyn Mayer (MGM), Twentieth Century Fox, Paramount, and Warner Bros. These four decades saw the majors employ thousands, generally under exclusive contract. Huge teams of talented artisans were brought together to make films, and little expense was spared.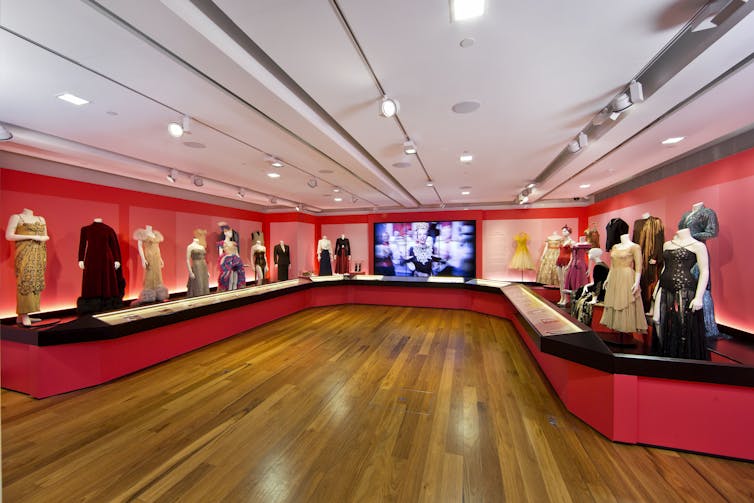 Costume design departments were at the core of the studio system, and the head designers signed to a specific studio became synonymous with its identity. Designers worked with art directors, producers and directors to mold each film's aesthetic, and were integral in shaping the image of the studio's stars.
Costume designers' public profiles could even rival those of the stars they dressed. Names such as Adrian, Travis Banton, Edith Head and Orry-Kelly appeared in newspaper columns, fashion magazines, department store catalogues, and reached a cross-section of women far beyond what most fashion designers could ever hope to.
As British fashion historian Cally Blackman points out:
many more women would have followed their favourite stars' wardrobes than were aware of the Paris collections.
And while celebrity style remains a pop-culture obsession, the difference is that the women of the 1930s, 40s, 50s and 60s also knew the name of the costume designer responsible for their favourite stars' on-screen wardrobes.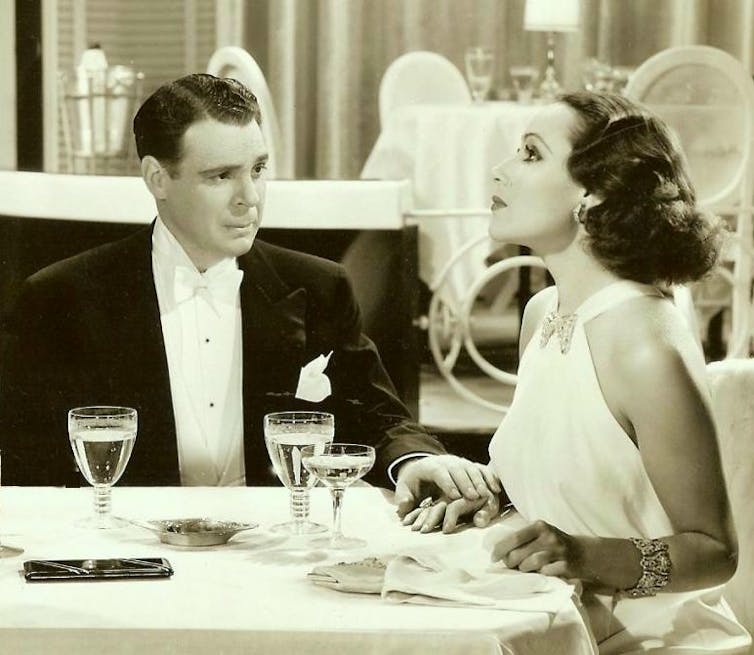 It was a different story at cinema's inception. In the first decades of film-making – the 1890s until the early 1910s – actors would often supply their own wardrobe. If designers were involved, they would often go uncredited.
One early pioneer was American costume designer Clare West, who worked closely with Kentucky-born director D.W. Griffith. As Griffith pioneered the function and persona of the film director in Hollywood, West was doing the same for the figure of the costume designer. Griffith's 1916 epic, Intolerance: Love's Struggle Throughout the Ages, holds the honour of being the first film to feature costumes designed for every cast member, including extras.
But the famous costume designer is very much a product of the Golden Age; the expansive costume department helmed by a well-known chief designer barely existed before the mid-1920s. By the time sound entered the cinema in 1927, costume designers were recognised as essential to narrative film-making.
As the Golden Age dawned, a handful of designers reigned at the major studios. They were trained as artists or fashion designers and often came to Hollywood from the East Coast, or Europe, as California became the centre of the movie-making business. Their work solidified the association between Hollywood and glamour. Here are a few of their stories:
Adrian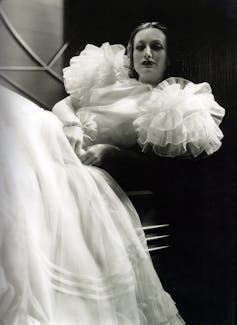 Born in Nagatuck, Connecticut, Adrian Greenberg, known simply as Adrian, was the chief costume designer at MGM from 1928 to 1941. He worked on iconic films such as Marie Antoinette (1938), The Wizard of Oz (1939), and The Women (1939), marking MGM as the studio where no expense was spared to realise cinematic spectacle.
He had close working relationships with two of the era's biggest stars, Greta Garbo and Joan Crawford, and was responsible for Crawford's signature look, both on and off screen.
In 1932 the pair ignited a fashion craze with the "Letty Lynton dress". Designed for the film Letty Lynton (1932), the white cotton organdy gown with enormous ruffled sleeves was copied by Macy's department store, which claimed to have sold more than 500,000 replicas nationwide.
Travis Banton
Texan Travis Banton was chief designer at Paramount studios from 1929 to 1938, establishing himself as an influential and visionary costumier. Favourite flourishes were contrasting colours, sumptuous fabrics, and an appreciation for heavy decoration and exoticism, generally molded onto a bias cut gown.
Banton is associated with the style of many major Golden Age stars, including Carole Lombard, Claudette Colbert, Mae West and Marlene Dietrich.
The relationship between Banton and Dietrich produced many iconic Golden Age looks, including the flamboyantly androgynous tuxedo and top hat Dietrich donned for her nightclub act in Morocco (1930).
Edith Head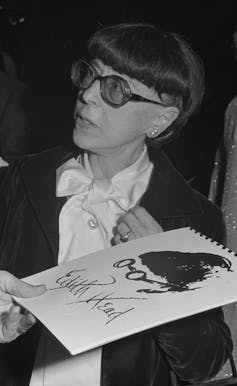 A young and ambitious Edith Head got her start in Hollywood as a costume sketch artist at Paramount in 1924. By 1938, when Banton left, Head asserted herself as chief designer. She worked for Paramount until 1967, then moved to Universal Pictures, where she remained until her death in 1981.
Head designed costumes for more than 400 films, won eight Academy Awards, and dressed almost every female star of the Golden Age. She is particularly remembered for her collaboration with Alfred Hitchcock, on films such as Rear Window (1954), To Catch a Thief (1955), Vertigo (1958), and The Birds (1963).
Head was loved by actresses for creating clothes they wanted to wear – simultaneously glamorous and practical – but she was also known for her distinctive personal style: a blunt short fringe and round glasses. Her glasses were fitted with blue lenses, which is said to have helped her understand how clothes would look on black and white film.
Orry-Kelly
Born in Kiama, New South Wales, this young Australian made his way to the West Coast of America and rose rapidly to the position of head costume designer at Warner Bros. Orry George Kelly was not only a prolific designer, but a tastemaker: his internationally syndicated column, Hollywood Fashion Parade, offered fashion advice to the masses.
His versatile talent spanned from fashionable, avant-garde attire to elaborate period costumes. His credits include The Maltese Falcon (1941) and Casablanca (1942). In the 50s he won three Academy Awards for his work on An American in Paris (1951), Les Girls (1957), and Some Like it Hot (1959).
When he died in 1964, the pallbearers at his funeral were actors Cary Grant and Tony Curtis, and directors Billy Wilder and George Cukor.
While you might not have heard the name before, you'll shortly be hearing much more about Orry-Kelly, with Australian director Gillian Armstrong working on a highly anticipated documentary about his colourful professional and private life in Hollywood.
Efforts like Armstrong's film on Orry-Kelly and the costume exhibition at the Museum of Brisbane will hopefully go some way towards bringing the names of Golden Age costume designers back in to common knowledge and usage.
Perhaps, once we re-associate their artistry with the achievement of Golden Age Hollywood, we will start to pay more attention to the names responsible for the designs that dazzle us in contemporary cinema too.
Costumes From the Golden Age of Hollywood runs at the Museum of Brisbane until May 24, 2015. Exhibition co-curator Dr Nadia Buick will be presenting a talk exploring the influence of the leading designers of the Golden Age on February 22, 2pm-3pm.