After finishing year 12, more than 50,000 young Australians attend schoolies celebrations, with most ending up on the Gold Coast. Other schoolies (or "leavers", as they're known in Western Australia) head to the Sunshine Coast, Byron Bay, Victor Harbor (South Australia), Dunsborough and Rottnest Island (WA), and Lorne and Torquay (Victoria).
Schoolies marks the end of secondary school and new beginnings. For many young people it's their first opportunity for a holiday with friends without supervision, and takes place as they are approaching legal drinking and driving age.
It also comes at a time when teens are experimenting with booze and other substances; harmful alcohol consumption and involvement in risky behaviour tends to peak around the age of 18.
Drug of choice
Alcohol is the most commonly used substance at schoolies – and past research shows young people are loading up.
A 2009 Victorian study involving interviews with 1,116 schoolies found that just under half reported typically consuming five or more drinks in a schoolies session. Participants reported consuming more alcohol at schoolies than they typically drink.
Interviews with 405 schoolies at Rottnest Island found that males consumed an average of 18 drinks and females consumed 13 drinks per day during schoolies.
Similarly, studies from the Gold Coast have found that more than half of 658 schoolies reported getting drunk in the previous 24 hours. Of 1,796 schoolies, more than half of males and nearly 40% of females reported getting drunk every night at schoolies.
There is also evidence of illicit drug use at schoolies. One Gold Coast study found that one-third (32%) of males and 17% of females interviewed at schoolies had used cannabis in the previous 24 hours, and 6% of males and 3% of females had used ecstasy.
A study of Rottenest Island Schoolies found that 20% of school leavers used illicit drugs at schoolies, with 15% using cannabis, 12% using ecstasy and 11% using amphetamine.
But Victorian research has found lower amounts, with just 11% of young people reporting cannabis use and 3% reporting use of cocaine, amphetamine and ecstasy during schoolies.
Of particular concern is the range of harmful behaviours that teens engage in at schoolies:
In addition, casual and unprotected sex among schoolies is common. Up to 60% of young men and 40% of young women report engage in casual sex at schoolies, with 20% of males and 30% of females reporting not using condoms on their last occasion.
Other studies have shown variation: 11% of young people in Victoria reported engaging in unprotected sex at schoolies and up to 45% of young women on the Gold Coast reported not using protection during sex at schoolies.
Perhaps surprisingly, young people attending schoolies on the Gold Coast and Rottnest Island appear to engage in more risk-taking behaviours than young people attending schoolies celebrations in Victoria.
Getting the complete picture
There are also some gaps in the research. Past studies haven't included objective measures of alcohol consumption or intoxication (such as breath alcohol readings).
Nor have they gathered detailed information about specific consumption practices such as combining alcohol with energy drinks, combining alcohol with illicit drugs, playing drinking games and other risky drinking practices.
We still don't know whether particular substances influence the likelihood of teens engaging in risky or harmful behaviour at schoolies. But to address these gaps, last year we surveyed 500 schoolies in Lorne and Torquay in Victoria. These findings will be published in early 2014.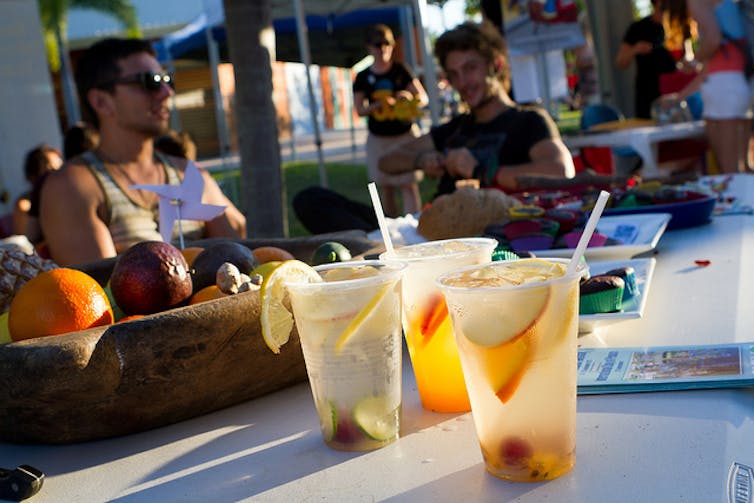 We do know that young people are likely to drink risky levels of alcohol and engage in a range of risk-taking behaviours. And those who travel to other states for schoolies, particularly to the Gold Coast, are likely to get more drunk and take more risks.
We also know that risk-taking behaviours have not reduced over time, despite local and state governments initiating a range of non-alcohol-related activities and support services for young people during schoolies, such as Red Frogs.
So it's important that parents, teachers and friends have honest conversations with young people about schoolies prior to the event. These tips for minimising harm might help kick start the discussion:
Make sure you have food when you consume alcohol

Drink water when you consume alcohol and try to alternate each alcoholic drink with a non-alcoholic drink

Avoid combining alcohol with other substances, including energy drinks, licit and illicit drugs

Always look out for friends

Practice safe sex: be prepared by buying condoms prior to schoolies

Access local services such as Red Frogs for harm-reduction information and support services.