Politicians, policymakers, urban planners, real-estate developers and corporate executives pay close attention to city liveability rankings. The global urban elite sees these as measures of the metropolitan "good". Yet, as noted in The Conversation, "what makes a city liveable is complex and constantly evolving".
In The Economist's Global Liveability Ranking 2015, Dhaka moved up one spot: war-torn Damascus fell below it to become the world's least liveable city.
This perhaps says more about the failings of simplistic global standards than about Dhaka itself. Far from being uninhabitable, it is one of the fastest-growing cities in the world. Bringing significant benefits to an emergent middle class, its cultural, economic, environmental and political landscapes are being rapidly but unevenly transformed.
At the same time, as Shahadat Hossain notes, this is placing extreme and conflicting pressures on Dhaka's infrastructure and its residents. Displacement via land leasing, existing laws of inheritance, modernisation of agriculture and changing climate are driving rural-urban migration. Many migrants become the new urban poor, working in "low-paid peripheral economic activities".
As in much of the global south, previous development policies in Bangladesh:
… have maintained a rural bias in policy and programs on poverty reduction, weakening the conceptual tools for imagining urban poverty reduction.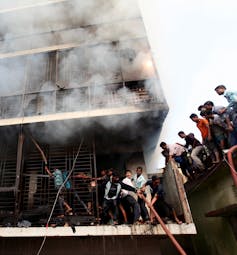 International media only occasionally highlight the difficulty of these conditions in fast-growing cities like Dhaka. The focus on the fatalities from the Rana Plaza factory blaze drew attention to the appalling working conditions, low wages, gender inequality, child-welfare issues and transnational corporate irresponsibility.
Dhaka is the centre of the ready-made garment industry in Bangladesh, the world's second-largest manufacturer of textiles. It's the nation's largest export earner by far.
Yet the benefits of garment production are unevenly distributed. The highly active NGO industry in Dhaka speaks to the ongoing role for donors and agencies. They deliver essential services and humanitarian relief, as well as funding and producing urban innovations.
Shamsul Haque has described how the interrelationship between NGOs and the government originated in the late 1970s when "rudimentary forms of NGO at the grassroots level" responded to the conflict and instability of successive military regimes and elected governments. Today, the complexity of these relations stems from decreasing formal state power and NGOs' increasing legitimacy, expansion and financial independence.
Marginalisation of government raises concerns "for the rights or entitlements of citizens to basic services".
In place of state institutions, organisations like Bangladesh Rehabilitation Assistance Committee (BRAC) operate numerous critical service delivery programs. These include providing prenatal and postnatal care via text messaging, administering legal centres and training people for jobs and self-employed income generation.
Kolorob: connecting communities and services
Kolorob is a project run by Save the Children Bangladesh, in partnership with Save the Children Australia. It is developing a mobile app to help Dhaka's low-income communities locate and provide feedback on local services, such as schools, clinics, legal firms and government offices.
The app, a localised variation of Yelp, features services submitted by community volunteers in the city's Mirpur district, to the north of the CBD.
Since the project begun in mid-2015, we have provided remote technical and logistical support. We were fortunate to be in Dhaka when the app was launched in early 2016.
The app is an example of just how complex it can be to make cities more liveable. The name Kolorob (meaning "clamour" or "noise") is provocative, and speaks to this complexity. "Clamour" can be a friendly or hostile public demand. It can move and influence – so to whose benefit?
The project has employed a co-designing, participatory process toward "inclusive urbanisation". Low-income communities' voices, expertise and values become central – rather than peripheral – to such initiatives.
A number of those involved in Kolorob expressed hopes that such projects might eventually become autonomous social enterprises. For all the excitement about the potential of technological devicies and apps, genuine community enhancement also involves social innovation and skills. Improving the conditions of urban life requires multi-sectoral collaboration, capacity-building and awareness of the "political economy of urban poverty".
New models for city-making?
Kolorob is one example of the many mapping projects that have become more popular in recent years as a way of giving voice and visibility to poor urban communities.
Since the 1970s, Slum Dwellers International has pioneered large-scale participatory slum mapping and enumeration. In the last ten years, its transition to more sophisticated databases and mapping systems has enabled more powerful analysis of this information.
Two other examples are the Ushahidi platform, developed to map post-election violence in Kenya in 2008, and the Mapping Kibera Project in the world's largest slum in Nairobi.
Participatory mapping and open-source software hold great potential for collective ownership of intellectual property, low-cost access to information and democratised urban innovations. As a missing piece in the master plan to begin legitimising informal settlements, such tools can present powerful arguments to city planners.
Such mapping also fosters new modes of knowledge sharing:
Over time, young boys and girls from local neighbourhoods have become the teams that enter and manage data, further demystifying the computer process and helping their elders feel comfortable about this data.
Yet this new visibility also raises concerns. Existing power structures and relationships can gain further, and sometimes problematic, legitimacy through a kind of digital imprimatur. Data can be of variable reliability.
While mapping Dhaka's "highly pluralistic health system" can help to visualise the diversity of formal and informal health providers, for example, it also raises questions about quality of care, accountability and regulation.
Further, the market rhetoric of microfinancing, revenue-raising and entrepreneurial start-ups poses concerns that the relationship between the state, NGOs and low-income communities has standardised dependency and ingrained neoliberal agendas. As Devine notes:
It is crucial that the endeavour to secure organisational sustainability be built more about the needs of the poor than the organisations themselves.
Drawing on lessons from the corporatisation of microfinance, Varottil has highlighted the need to understand the social as much as the financial aspects of project governance and outcomes.
Opening up participatory initiatives – like Kolorob – is a way to heed the needs, concerns and aspirations of marginalised communities. The urban poor need to be able to co-produce innovations that voice and support their preferred models for practice and interdependence.
NGOs continue to be vital in this regard, and for brokering dialogue between the state and urban poor. A preliminary analysis of commercial enterprise data by the World Bank makes recommendations for market entry and exit, and for how NGO businesses can make the transition toward community management and control – for example, by establishing registered autonomous trusts.
A more radical take would be to consider extending co-production of innovation to co-ownership. As Terranova has argued, innovation must involve not only new technological services, but "a better distribution of wealth" and "time and energy freed from work".
Listening to the city
Kolorob may not increase Dhaka's liveability ranking any time soon. Far more vital is the role such projects play in expanding our sense of what urban life might be.
"Innovation" here is not a proxy for a familiar story of "catch-up" to Western ideals. Instead, it is an opportunity to learn from an example of the "constant evolution" of cities.
Exploring "mobile entrepreneurial models" will help us understand how the interplay between innovation, technology and low-income communities is by no means a seamless or quiet solution. The associated challenges raise questions that go beyond market-based innovations:
Do sustainable market-based social interventions – still requiring forms of capital and finance for participation – exclude the poorest in the city?

Is the rhetoric of innovation painting over root causes of urban poverty and inequity?

How might innovation extend beyond an obsession with technology to encompass new forms of organisation, distributions of social justice and practices of civic empowerment?

What are the roles for institutional actors – governments, NGOs, companies – in developing and sustaining such innovation?
We need to listen more closely to the "makeshift city". The question of what constitutes the "good city" and an "urban ethic" is an ongoing call for attention to how the city is stitched and sounds.
These rhythms are a call for different patterns of property ownership and profit distribution of the artefacts that increasingly make up the digital city.