Is it possible to connect the vast majority of India's 1.25 billion citizens to the internet? That's the ambition at the heart of Prime Minister Narendra Modi's Digital India campaign. But if the government wants to achieve this goal, it will have to make internet access more widespread and affordable. And the only way to do that is via smartphones.
There are strong reasons why Modi's policy is a good idea. For more than a decade, researchers have found evidence of a "multiplier" effect from mobile access. Back in 2005, it was estimated that every 10% increase in mobile penetration leads to a growth of nearly 0.6% in GDP for low-income countries. And a 2009 World Bank study found that every 10% increase in internet access results in more than 1.3% growth in GDP in developing nations.
India seems to be moving in the right direction. Like the rest of the world, it has witnessed huge growth in the prevalence of phones, as accessibility has improved and costs have plummeted. And the country has "leapfrogged" many old technologies, jumping straight to the latest gadgets.
It's not unusual to find Indian homes that don't have access to electricity, but do have mobile phones. Many believe, legitimately, that India now stands at a turning point when it comes to growth in its internet user base.
Smartphones in India
Mobile phones and smartphones have the lion's share of the market; less than 3% of phones in India are landlines, and around 89% of broadband connections are wireless.
Incidentally, through another flagship strategy – "Make in India" – the government has made progress towards creating an environment where a growing number of mobile phones are being made locally.
You might assume that the definition of "smartphone" is a mobile phone that is 3G or 4G-enabled. But that is not so. A smartphone is simply any phone with a touchscreen, internet access and apps. Phones that are not suitable for high-speed internet are known as "feature phones".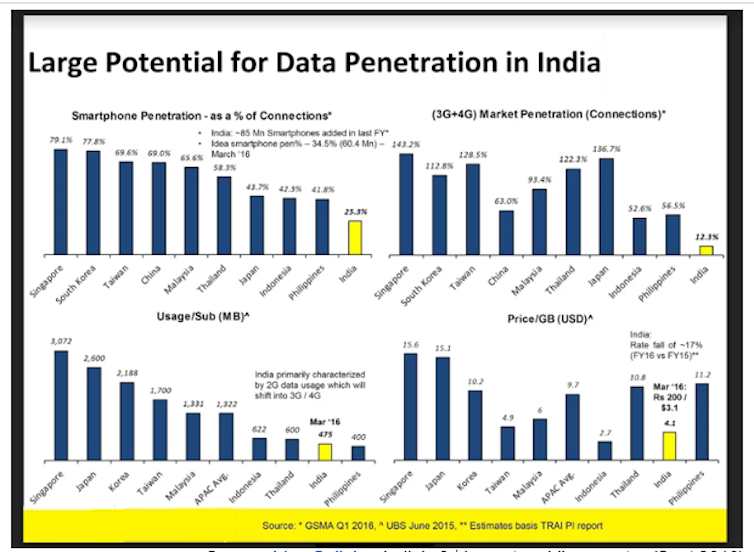 As the figure above shows, the majority of smartphones being used in India by the middle of 2016 were not 3G or 4G-enabled. Nearly 75% of all mobile devices were feature phones, and therefore not suitable for high-speed internet access.
To increase the number of internet users and regular usage, India needs affordable, 3G or 4G-enabled smartphones, as well as cheaper data plans with decent speeds.
Cheap phones, expensive connections
When it comes to data, India's telecom sector may be about to change now that Mumbai-based telecom company Reliance Jio, owned by the country's richest man, Mukesh Ambani, has made its formal entry into the market.
There's been a war of words over this entry, between Reliance Jio and the regulator on one side, and existing telecom providers on the other. Incumbent providers initially declined to provide Reliance Jio with necessary "points of interconnect" – locations of traffic exchange between one network and another.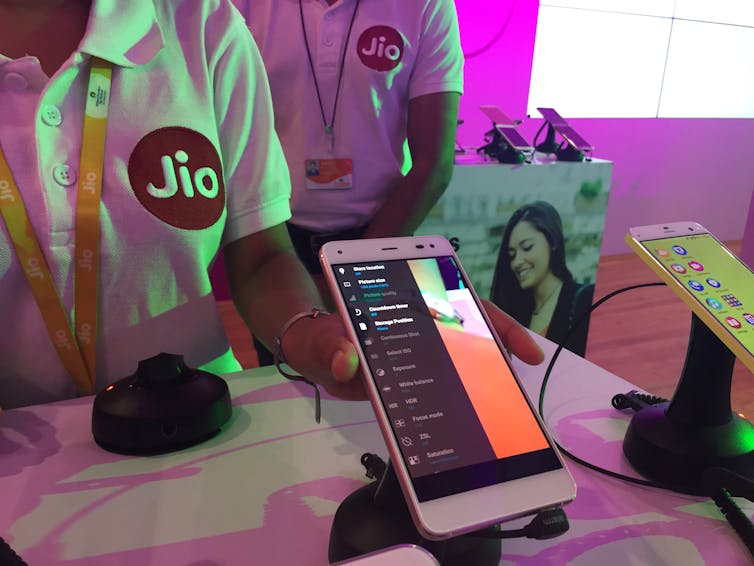 But both the incumbents and the newly-launched company agree on one thing, and that is opposing the current high taxes on telecom services, which cover both voice and data.
No matter how low the price of a smartphone or that cost of services, taxes mean that the overall bill is still going to be too high for price-sensitive Indian customers. This problem is serious – and it could potentially derail the government's Digital India strategy.
Hope for the future
Market forces have been making smartphones cheaper. And the majority of new smartphones produced in India over the next few years will be 3G or 4G-enabled.
Difficulty with the content accessed on phones due to India's linguistic diversity – the nation's Constitution recognises 22 languages – is being taken care of. Indus OS, the second-most used mobile operating system in India, illustrates how market forces are innovating in the right direction by providing content in multiple languages via its "App Bazaar".
Recent attempts by the regulator to lower voice and data costs give reason for hope. But a government struggling with large budget deficit is unlikely to willingly forego tax revenue.
The solution to getting more Indians online is neither taxing telecom services too high, nor in the policy uncertainty and blatant cronyism that has plagued the sector in recent years.
An unhealthy telecom industry is not good for the nation, nor its citizens. Market forces have so far been moving the sector in the right direction, now it's time government stepped in to help.