The past few days have been spent swimming deep in (mostly) ill-informed reflections on the death of NME, a lot of it from commentators who would not have the space they're using to reflect from this considerable distance were it not for NME establishing that pop music really mattered.
But the the announcement that the magazine would no longer be printed – surely a precursor to its eventual demise – is worth a little more than some sniffy told-you-so written while standing on the shoulders of giants such as Paul Morley and Charles Shaar Murray.
NME certainly changed my life. I worked there – very briefly as news editor – but chiefly as a freelance for almost five years between 1985 and 1990. The news editor's job wasn't for me. I wanted to get out and meet people, instead of cobbling together a few dull pages about release dates and shock tour cancellations.
For most of that time it almost exclusively put food on my table and provided adventures close to home and across oceans. Travelling – sometimes just into Liverpool city centre or down the East Lancs Road to Manchester – to write about Half Man Half Biscuit, Schoolly D, The La's, Kenneth Williams, Spoonie G, Pete Shelley and Cilla Black (a cover story can you believe?) To write buckets full of snotty reviews where the music was often merely the cue for having a go. I always had in the back of my head Murray's review of a record by the prog-rock band Yes – which read simply: "No". Like others working then, I was also shouting up for the piss takers and the trouble makers and those that really did operate from a central core of genius. That was Pete Shelley, I now know.
I wonder – like others who wrote for the NME have in the past few days – what might have happened to me had the esteemed Danny Kelly (then live reviews editor, now with talkSPORT) not rung me up one day and asked me for 150 words on The Jactars? Only people who hung about Probe Records on Button Street in Liverpool in 1985 would even remember them now.
Living the dream
I was no doubt heading for a clerical job with some haulage firm on the local industrial estate otherwise. I had dreamed of writing for it since I was ten. My mum bought me an NME Annual one Xmas. It had a section in it about jobs in music – and one page was titled How To Be A Music Journalist. It was accompanied by a drawing that looked like Nick Kent rendered by Ray Lowry. I held onto this and the dream of writing about music for years.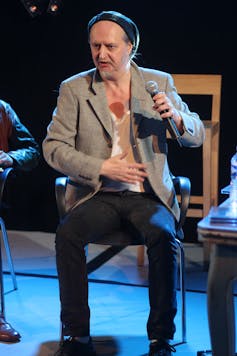 I lived for Wednesday morning when I would get up early before school and make the the local newsagents before it opened. I would walk to school impatiently leafing through an inky paper portal into another universe – I once bumped into a lamppost as I wasn't looking where I was going. I had a plan to make my dream of writing happen. Uncommissioned, I went to three or four gigs a week. I would send Kelly reviews without bothering him. I did this about ten times before he called me. "What the fuck are you doing?", he exclaimed almost cheerily. "Give us 150 words on The Jactars. Some of these are really good."
Kelly introduced me to the rest of the staff and told me I had a place to stay if I needed to be down in "that" London – making sure essentially I could hang out and Hoover up jobs dished out by Adrian Thrills (now Daily Mail), Stuart Cosgrove (now Channel 4) and Len Brown (now a TV producer). Cosgrove gave me some keys to his flat near the Harrow Road as he was away a lot and told me I could stay there any time I liked. They made it possible for me to be more than just that stringer from Liverpool writing about Liverpool bands. There were no CVs, no interviews – if you could generate ideas and write you were in. They were open and inclusive and their own passion for the various musics they harmlessly hectored each other about – and made each other listen to on a hard-worked office stereo – was infectious.
Broad church
While I was there we wrote about pop and house and techno and go go and hip hop and argued the toss about who would beat who in a fight – Mantronix or Tools You Can Trust? We covered TV soaps, general elections, teen depression and rowed about whether Madonna was really postmodern or a simply a one-woman industry? I had regular weekly review columns on house and hip hop before any non specialist music papers had even registered these "new" noises. Hardly a guitar-fixated indie incubator.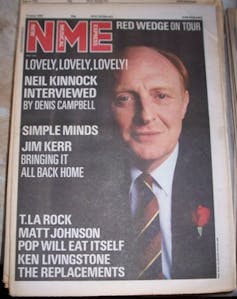 The infamous "hip-hop wars" have been over-egged and expanded in recounting. I remember some heated debate, as Mrs Merton might have it, but no punches thrown. The writers characterised as indie fundamentalists were as broad minded as anyone. Adrian Thrills loved Luther Vandross as much as Paolo Hewitt. The arrival of Cosgrove – a sociology and media postgraduate with a career plan he has followed right to the top of Channel 4 – really put the black cat among the pop pigeons. He was instrumental in putting Larry Blackmon's shiny red codpiece on the cover and making black music central to a new discourse. Kelly and Thrills were on the other side – but neither were so musically one-dimensional that they couldn't get equally excited about Trouble Funk. I negotiated the trenches between. I was as open to Linx as I was The La's.
They all gave me freelance work. To the extent where moving "down" was an option. Ultimately, I couldn't face the idea – those overstuffed tube trains and running, running, running down grubby back alleys in Soho. It put some distance between me and that industrial estate though.
NME changed my life. It's a hell of a thing to think about. Only people can usually achieve that. So (with thanks to Private Eye's E.J. Thribb) farewell NME – I loved you before I got there. At your glorious peak you were so much more than the free, ad-laden comic that wheezed its way through a slow death. Dropped unloved on the floors of railway station concourses after being flicked through by Wombats fans pretending to like Stormzy – who couldn't even be arsed to take you home.