Letting your child use social media is like giving them cocaine, alcohol and cigarettes – all at once, or so we're told. If you have been following recent press reports about the effects of social media on young people, you may well believe this. But there is no scientific evidence to support such extreme claims.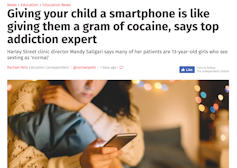 The real story is far more complex. It is very difficult to predict how social media will affect any specific individual – the effect depends on things like their personality, type of social media use and social surroundings. In reality, social media can have both positive and negative outcomes.
Media reports that compare social media to drug use are ignoring evidence of positive effects, while exaggerating and generalising the evidence of negative effects. This is scaremongering – and it does not promote healthy social media use. We would not liken giving children sweets to giving children drugs, even though having sweets for every meal could have serious health consequences. We should therefore not liken social media to drugs either.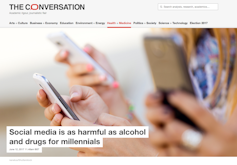 For a claim to be proved scientifically it needs to be thoroughly tested. To fully confirm The Independent's headline that: "Giving your child a smartphone is like giving them a gram of cocaine, says top addiction expert", you would need to give children both a gram of cocaine and a smartphone and then compare the effects. Similarly, you would need to provide millennials with social media, drugs and alcohol to test The Conversation's headline that: "Social media is as harmful as alcohol and drugs for millennials". But ethical guidelines at universities were put in place so that such studies will never be done.
The diversity of social media
But maybe news headlines should be discounted – as exaggerations are often used to grab the readers' attention. But even when ignoring these grand claims, the media coverage of social media is still misleading. For example, reports that talk about the effects of social media are often oversimplifying reality. Social media is incredibly diverse – different sites providing a host of different features. This makes it extremely difficult to generalise about social media's effects.
A recent review of past research concluded that the effect of Facebook depends on which of the platform's features you use. A dialog with friends over Facebook messenger can improve your mood, while comparing your life to other people's photos on the Newsfeed can do the opposite. By treating all social media sites and features as one concept, the media is oversimplifying something that is very complex.
Focusing on the negative
Past media coverage has not only oversimplified social media, but has often only focused on social media's negative aspects. But scientific research demonstrates that there are both positive and negative outcomes of social media use. Research has shown that Facebook increases self-esteem and promotes feeling connected to others. People's physiological reactions also indicate they react positively to Facebook use.
By contrast, it has also been found that social media can decrease well-being and increases social anxiety. An analysis of 57 scientific studies found that social media is associated with slightly higher levels of narcissism. This array of conflicting evidence suggests that social media has both negative and positive effects. Not just one or the other.
The amount matters
The effect of social media also depends on the amount of time you spend using it. In a recent study we conducted of more than 120,000 UK teenagers, we found that moderate social media use is not harmful to mental health.
We compared the relationship between screen time and well-being. We found that those who used screens a moderate amount – between one and three hours each day – reported higher well-being compared with those who didn't use social media at all and those who used it more than three hours a day. So, unlike drugs, those who practise abstinence do not appear to fare better.
Recent media reports may have made parents unnecessarily anxious about their child's use of social media. A flashy quote or headline can often distract from the real challenges of parenting. It's time the media covered not only the bad, but also the beneficial and complex sides of social media. The effects of social media cannot be summarised by comparing social media to drugs. It is just not that simple.