Loud, large and lovable, the Sulphur-crested Cockatoo has become a well known inhabitant of Sydney. It has always been present around the fringes of Sydney and west of the Great Dividing Range, but over the last few decades the Sulphur-crested Cockatoo has expanded its range, and numbers have increased dramatically throughout suburban Sydney and into the centre of the city itself.
Yet, despite its almost iconic status, there is surprisingly little known about the ecology of this charismatic bird.
Little is known about the movements of cockatoos throughout the urban region, and no study to date has monitored movements of either urban cockatoos or parrots in general. The relatively accessible population of cockatoos in the Royal Botanic Garden gave us an opportunity to trial a new marking technique which would allow us to track individual birds.
As intelligent and playful birds that frequently interact with humans, parrots in general elicit emotions from people that less charismatic fauna do not. Loved by some for their inquisitive personality, yet scorned by others for their raucous early morning calls and affinity for "pruning" people's gardens or timber decking, Sulphur-crested Cockatoos draw mixed reactions among Sydneysiders.
Their ability to grab human attention makes cockatoos a great subject for an interactive community monitoring project in an urban environment.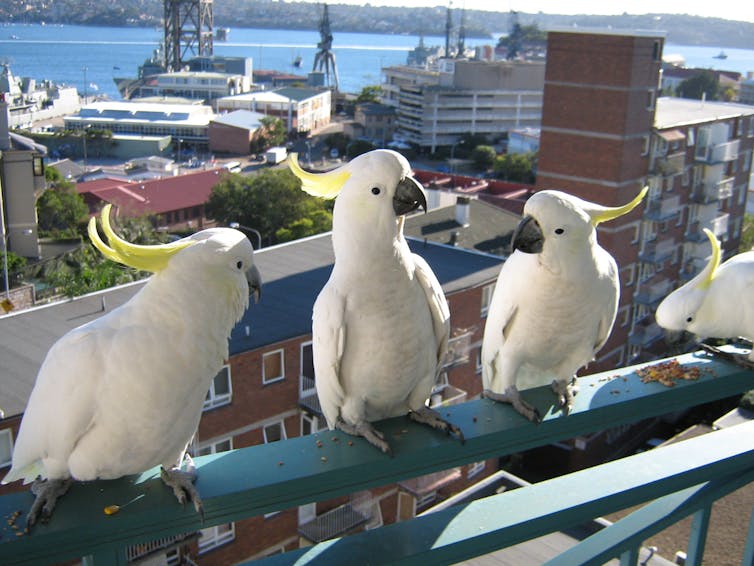 Within several weeks of tagging our first cockatoos, various government and wildlife agencies within Sydney were forwarding reports of tagged cockatoos they had received from the public. A dedicated email address was set up along with a web page containing general information about the project. By googling "yellow tag" "wing tag" and "cockatoo", Sydney residents encountering tagged birds could find the website and the email address to report their sightings.
Previous studies from the 1980s successfully monitored populations of galahs and corellas using crude metal wing tags. Vultures in the USA have also been tracked with large plastic wing tags. A recent study successfully used plastic cattle ear tags to monitor Australian White Ibis, with members of the public identifying individual birds and reporting their location. But this technique had never been applied to Sulphur-crested Cockatoos.
For this research, in addition to banding the cockatoos' leg, we mark the birds' wings using tags similar to those used for cattle. All of the Sulphur-crested Cockatoos were captured and then released again in the Royal Botanic Garden, Sydney. They have since been reported throughout the eastern suburbs as well as on the lower north shore.
When we began receiving several reports of cockatoo sightings per week we decided to trial social media in an effort to extend the project's reach.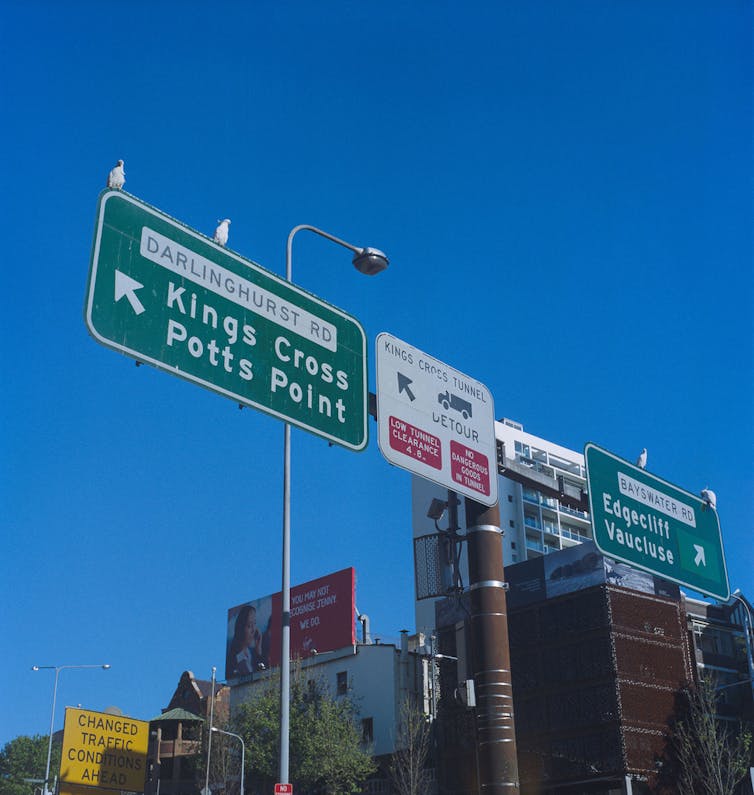 We created the "Cockatoo Wingtag" Facebook page to help people get engaged in the project and to get the message out to a potentially very different audience. We still respond to emailed sightings, but the Facebook address is included in our replies. Recent sightings of a bird in a new location, often with photos that people have sent in, are regularly posted as status updates. People quickly began following "Cockatoo Wingtag" on Facebook, where they were able to see their photos and provide comment on the posts.
When the cockatoos are tagged, they are also assigned nicknames, which are far more personable than simple identification numbers (such as 022). When we decided to publicise the names – such as "Coco" or "Party Boy" – on Facebook, people began to report them by name rather than their ID number, particularly people whom the same birds regularly visited.
Followers of the Facebook page can follow an individual bird's sightings, as well as comment and interact with others who have seen it. If a previously unseen tagged bird is sighted, people check Facebook for the bird's name and where it was last reported.
Giving the community a sense of ownership of the birds, as well as the chance to interact personally with both the project findings and the researchers, leads to a strong sense of involvement and satisfaction for members of the community. Social media is a powerful tool for involving people and sharing knowledge about the current state of the natural world.