In the wake of Pyongyang's latest missile test, it's clear that neither South Korea nor the US is making much headway in tackling the North Korean nuclear question. The south's president, Moon Jae-in, is yet to achieve his promised dialogue with his North Korean counterpart, Kim Jong-un. Meanwhile, the Trump administration is oscillating between posturing and openly demanding that China intervene to "solve" the nuclear problem.
The pattern continued with the north's latest test of an upgraded intercontinental ballistic missile (ICBM). Moon responded by calling for harsher sanctions, an upgrade to his country's ballistic missile systems, and the deployment of more THAAD (Terminal High Altitude Area Defence) launchers; Trump tweeted his "disappointment in China", which could "easily solve this problem".
Of the parties involved, only the north seems to be making progress towards its objective: developing a nuclear-tipped ballistic missile. It has more than once managed to dispel any creeping sense of optimism. As recently as late June, with the international community anticipating Moon and Trump's first meeting – still pending – Pyongyang seized the moment to successfully test its first ICBM, which was reportedly capable of hitting Alaska. The most recent missile tested could apparently hit Los Angeles or even Chicago.
The stalemate continues. So why have Moon's efforts to break the stalemate met with North Korean stonewalling?
Tangled up
Moon has tried hard to differentiate his North Korea policy from his predecessor's, focusing on co-operation and dialogue with Pyongyang instead of punitive sanctions; initial plans even included sharing the next winter Olympics. But Moon's "dual-track" policy of seeking North Korea's denuclearisation while also calling for dialogue, is preventing gains on either.
Although Moon stated that he has convinced Trump to align US and South Korean policy, in reality, he has put Seoul even more in line with the Trump administration's approach of "maximum pressure and engagement", apparently premised on using all means possible to cajole the north into dialling its programme back. The joint statement that followed the summit emphasised the commitment of the US and South Korea to tightening the screws on Pyongyang, including the possibility of new sanctions.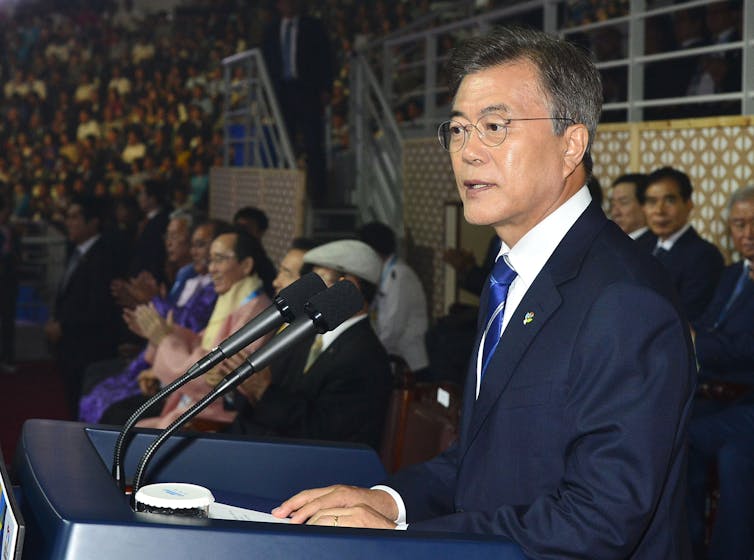 But Pyongyang refuses to talk to a South Korean government that supports both the United Nations Security Council sanctions and the joint US-Korea military exercises.
Moon seems unable to separate the nuclear issue from inter-Korean co-operation. In a July speech delivered in Berlin, Moon said that North Korea had made a "disappointing and misguided decision" in testing an ICBM, but underlined the need for dialogue and a peace treaty to formally end the Korean War. At the same time, he cited the nuclear programme as the Koreas' biggest challenge.
By explicitly connecting these two issues, he effectively relegated inter-Korean co-operation on myriad other problems to the sidelines. This is a big mistake.
A supporting role
Moon seems convinced that South Korea should lead future denuclearisation negotiations. This ignores the reality that South Korea is simply not a key actor on that front. North Korea's nuclear threats are directed at the US; the nuclear issue is a matter principally for Washington, with Beijing as mediator.
With this structure unlikely to fundamentally change, Seoul simply doesn't need to take the lead. Beyond being redundant, that would also be counterproductive: the two Koreas badly need to restart their relationship, and the nuclear issue mustn't be allowed to get in the way.
This balance was struck with some success during the administration of Roh Moo-hyun, in which Moon served as chief of staff. The nuclear issue and inter-Korean relations followed parallel paths; the two Koreas had a relatively functional relationship at the time, and denuclearisation negotiations were confined to the Six Party Talks, in which South Korea was at most a facilitator.
Whenever the nuclear issue is allowed to overshadow inter-Korean relations, only North Korea benefits. It's time for Seoul to correct course away from the nuclear trap that has confounded previous administrations. It could instead consider externally mediated options such as China's freeze-for-freeze proposal, under which North Korea would freeze its nuclear programme in return for the US South Korea ending their large-scale joint military exercises.
Instead, Moon is stubbornly treating the nuclear issue and inter-Korean relations as inextricably entwined. By doing so, he's passing up crucial opportunities, diminishing his country's role in the region while Pyongyang marches unconstrained towards its nuclear goals.