At Spain's most recent general election in December 2015, the electorate voted overwhelmingly for change yet the results produced the most fragmented parliament since 1977. No party secured a majority, and none has since been able to form a government. The numbers simply don't add up.
The most obvious combination was an alliance between the largest party, Mariano Rajoy's Partido Popular (PP), and the smaller, centre-right Ciudadanos (Citizens) party, who together had 162 seats, just 13 short of the 176 needed for an overall majority. But this was scotched by Ciudadanos's leader Albert Rivera, who was reluctant to ally himself with a leader and party tainted by corruption scandals.
A rather less plausible proposal for a coalition between Ciudadanos and Pedro Sánchez's Spanish Socialist Workers' Party (PSOE) was effectively blocked in parliament, where the 69 deputies from the left-wing collective Podemos voted it down.
The only other feasible coalition option, an alliance of the PSOE, the United Left (IU) and Podemos, would have been enough to form a left-wing minority government – but this was scuppered when Podemos insisted that any deal should include a referendum on Catalan independence.
The spirit of consensus and compromise that Spanish political elites prided themselves on since the transition to democracy in the 1970s seems to have foundered. The question now is whether fresh elections will be capable of breaking the deadlock and producing a viable governing majority. But there are at least some indications that there may be a way out of this unprecedented impasse.
Come together
Podemos, IU and several other minor left-wing parties have now formed an alliance called Unidos Podemos (United We Can), which they hope to establish as the main alternative to the right-wing PP.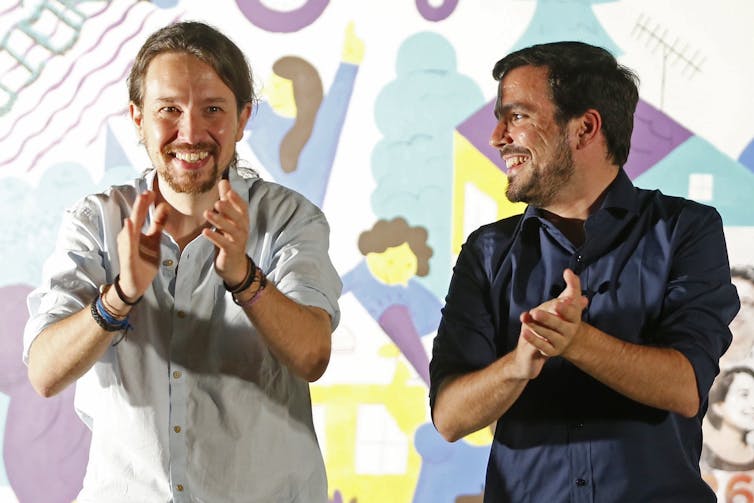 There are signs that it might just be working. Recent opinion polls show that Unidos Podemos has overtaken the PSOE nationally: in a recent Metroscopia survey, the PP's estimated share of the vote was 28.9%, followed by Unidos Podemos on 25.4%, the PSOE on 20.8% and Ciudadanos on 15.9%.
These numbers seem to show Ciudadanos and the PSOE getting stranded in the centre ground as voters become more polarised, gravitating to Unidos Podemos on the left and the PP on the right. Yet both the PSOE and Ciudadanos could also have the potential to play a crucial role in any coalition government.
This is where leadership comes in. Support for parties is one thing, but support for leaders is something else. For example, the Metroscopia poll shows that Ciudadanos's Rivera is the leader whom other parties' supporters are least put off by, something that might help him lead his party Ciudadanos into a coalition deal.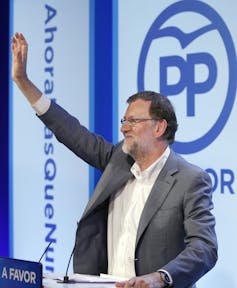 Conversely, the PP's Rajoy draws deep antipathy from other parties' supporters. According to the same poll, the net difference between voters (from all parties) who approve of Mariano Rajoy and those who disapprove is -40, whereas for Rivera it is 0. Pedro Sánchez's net rating is -37. The surprise perhaps is the net rating of -45 for Pablo Iglesias, the leader of Podemos. The CIS May Barometer, meanwhile also shows Rajoy and Iglesias lagging behind Rivera.
This is less of a problem for Iglesias than Rajoy, who's seen as the epitome of the "old politics" which voters rejected so roundly last December. When Metroscopia asked if, as a condition of forming a coalition, the PP should change its leader if it wins the most votes, 74% of those asked said it should. Even 57% of PP voters would be content to see Rajoy go.
As for Iglesias, his poor standing relative to his party's might mean his days as leader of Unidos Podemos are numbered. One possible successor is Ada Colau, currently mayor of Barcelona. Given her leadership in the Platform for those Affected by Mortgages (PAH), she's is seen as embodying the spirit of the anti-austerity 15-M movement, also known as Los Indignados, a vital stimulant for the electorate's hunger for change.
The PP's resounding victory in 2011 seemed to prove that the 15M protests had amounted to nothing. Its remaining foot-soldiers will be hoping to keep the desire for change alive, but optimism, it seems, is not forthcoming.
An overwhelming 67.4% of those asked in the CIS pre-election barometer believed that the PP would gain the most votes of any party. If that happens, and if Rivera rethinks his scruples about the PP to join it in coalition, it could make Ciudadanos the real face of Spain's "new politics" – and the two parties could leave the apparently galvanised Left out in the electoral cold once again.