As we approach the Christmas season, the Holy Land once again features in global headlines, but not as expected.
US President Donald Trump has told Palestinian President Mahmoud Abbas that he plans to recognise Jerusalem as Israel's capital by moving the American embassy from Tel Aviv. This breaks with decades of diplomacy and is unlikely to help a stalled peace process.
---
Read more: What Trump's recognition of Jerusalem as the capital of Israel means for the Middle East
---
In the season of peace, we continue our holiday preparations hoping that conflict remains at bay. Part of the Christmas holidays includes singing carols such as "O Little Town of Bethlehem". But how many of us understand what the situation is for the people living in this Palestinian West Bank city, just nine kilometres from Jerusalem's southern outskirts.
Many of us remember Bethlehem as the birthplace of Jesus. Recounting that there was "no room at the inn", we erect nativity scenes to evoke the humble manger that accommodated Jesus' birth. Today the real inns and hotels in Jerusalem are mostly empty.
Bethlehem is more than just a symbolic site in the Christian imagination; it is a vibrant city of the Middle East. Today, Bethlehem's economy depends on tourism, following 2,000 years of religious pilgrimage.
However, hosting tourists under occupation results in a complex and severely restricted tourism situation.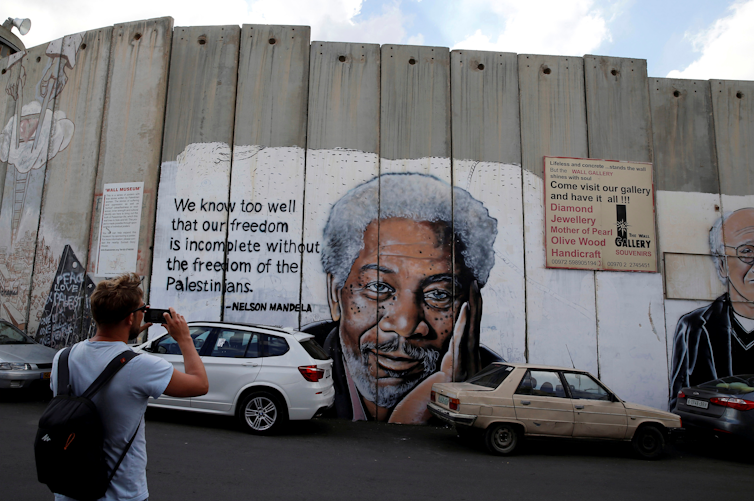 A wall between Bethlehem and Jerusalem
Bethlehem is located in the Occupied Territories of Palestine. The Israeli occupying authorities have built a concrete "separation barrier", which in some places is eight metres high.
This cuts Bethlehem off from nearby Jerusalem; Checkpoint 300 is now the gateway for Bethlemites to enter their sister city. To pass through they need an Israeli military permit to travel. These are exceedingly hard to get.
In recent years, settlements have surrounded Bethlehem. These are occupied by Israeli settlers who commandeer land, water and other resources. Supporting these 100,000 settlers are checkpoints, closed military zones, Israeli-only roads, and occupation forces.
Together with the Separation Wall, this has made life very difficult for Bethlemites. This has resulted a loss of land and resources, estimated at 87%. It also has seen severe movement and access restrictions that inhibit the lives of Palestinians and cripple the economy.
The Kairos document
On December 11, 2009, Christian leadership in Palestine released the Kairos document, calling for "a moment of truth".
This laid out facts about the impacts of the occupation and the resulting Palestinian suffering. It declared that "our land has a universal mission" and invited people from around the world "to come and see".
There is a Christian exodus from Palestine because of the many pressures the occupation imposes, and the Kairos initiative was one response to try to stop this. It contains a strong strand of Palestinian Liberation Theology, and Christian leaders have invited faith groups to come and worship together with the original Christians in the Holy Land.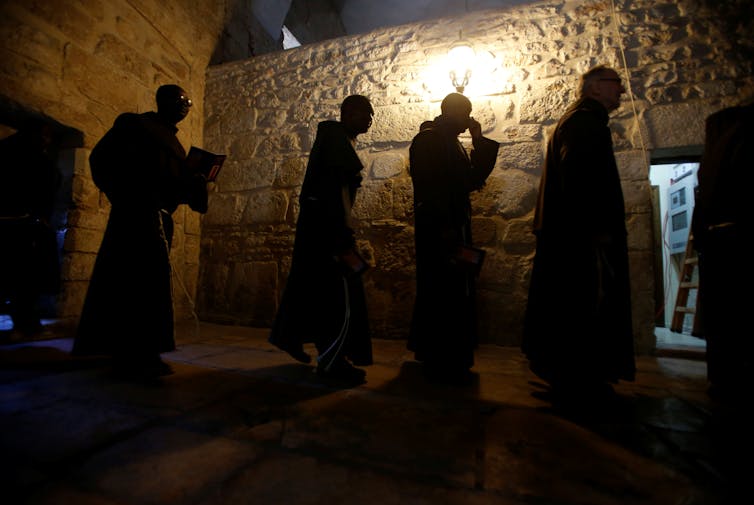 The Open Bethlehem Initiative
In an effort to counter attempts to choke off Bethlehem, the Bethlehem governate created the Open Bethlehem initiative, which aims to engage people with Bethlehem as a living, vibrant place through initiatives such as the Bethlehem Passport.
The Bethlehem Passport invites people to become an ambassador for Bethlehem and help advocate for its accessibility. Film-maker Leila Sansour's documentary Open Bethlehem supports the campaign by showing the realities and impacts of occupation.
Two-day tours are also offered so that visitors can experience the whole situation rather than just undertake a two-hour visit to the Church of the Nativity. These tours highlight UNESCO-listed heritage gems such as Star Street, the Church of the Nativity and nearby Battir; nature walks; food experiences; and the political experiences of visiting the Separation Wall and Aida Refugee Camp.
The Open Bethlehem film is scheduled to be screened on Capitol Hill on December 17. As the Trump administration has indicated it will move the American embassy to Jerusalem, this campaign will struggle for traction. You can view a 30-minute short version of the film here.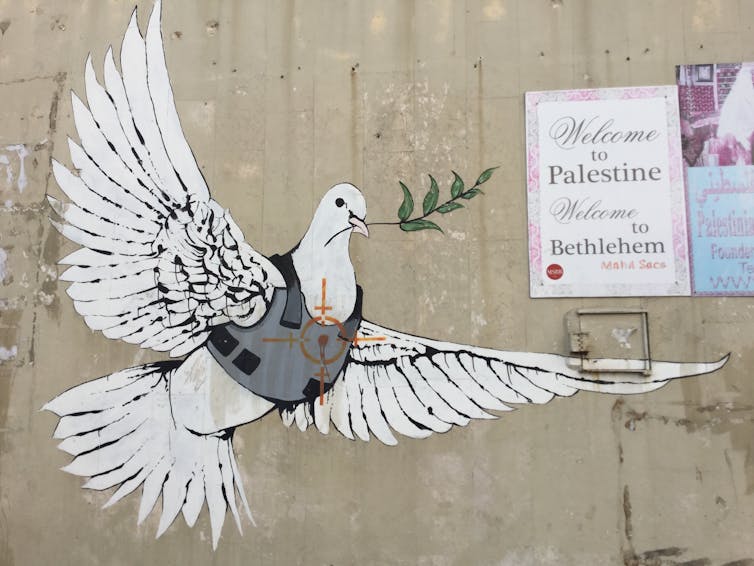 Justice tourism
The situation of Bethlehem, and the rest of Palestine, has inspired a new form of tourism. This has been called political tourism or justice tourism, and consciously invites tourists to engage with the narratives of the political situation.
The Palestine Israel Ecumenical Forum has been one supporter of this and is a source of guidance and further information. Often tourists book for half-day tours with Israeli human rights organisations such as the Israeli Committee Against House Demolitions to be followed by half-day tours with Palestinian human rights organisations such as the Alternative Tourism Group of Palestine.
---
Read more: Banksy's Bethlehem hotel is an example of how tourism can be political
---
Then there is Banksy's Walled Off Hotel, the most recent development in Bethlehem's efforts to engage the world. It opened in March 2017 and is credited with an upsurge in international arrivals to Palestine.
On December 3, the Walled Off held the "Alternativity" Festival featuring two new Banksy graffiti art pieces added to the Wall and the staging of a play in collaboration with British director Danny Boyle. One of these artworks declares "peace on earth" with an asterisk, adding "terms and conditions apply".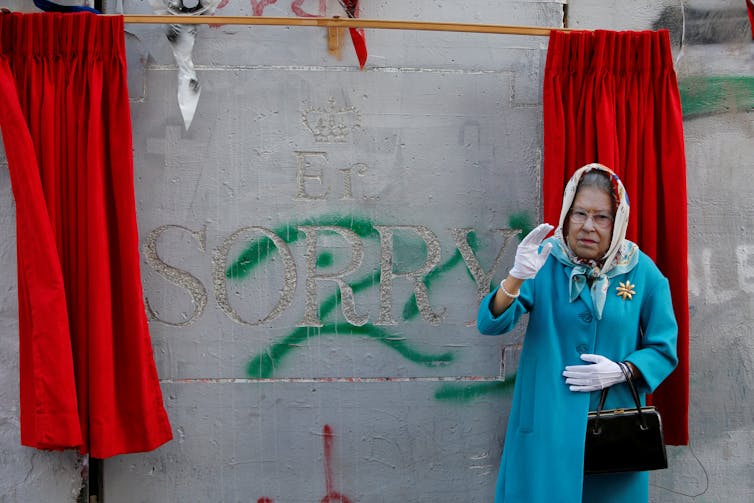 Bethlehem is more than just a biblical symbol
It is evident that tourism is uniquely important to the community of Bethlehem, but today it is hard for Palestinians to receive visitors or for them to travel out.
Visitors wishing to stay at Banksy's Walled Off Hotel are advised that telling the Israeli border authorities that one is visiting the Occupied West Bank may attract unwanted attention.
It is best to not highlight this part of the travel itinerary. A visitor cannot legally arrive in Bethlehem without going through an Israeli-controlled entry point.
While many observers have raised fears that the Trump administration's hardline diplomacy will trigger further unrest in this troubled region, when your thoughts turn to the iconic town of Bethlehem this Christmas, spare a thought for this living community rather than just the Biblical symbol.