A spike in murders in London that saw more people killed in the city in February and March than in New York, has provided newspapers with some sensational headlines. Of the more than 50 murders to have taken place in London so far in 2018, the vast majority are the result of knife crime.
While comparisons between murders in New York and London make for a good story, simplistic headlines based on one-dimensional readings of statistics can be seriously misleading. UN Office on Drugs and Crime global homicide figures show that in 2014 the UK recorded 594 homicides, giving it a murder rate of 0.92 per 100,000 people. In contrast, the rate for the US with 15,696 deaths was 4.88 per 100,000. Yet Latvia has a 4.11 per 100,000 homicide rate – a fact explained by a smaller population and a total of just 81 homicides. Of course, Latvia is not as murderous as American inner-city housing projects, nor is it four times more dangerous than the UK.
What happened in New York
In 2017, there were 290 homicides in New York – the lowest number since the 1940s. The city has a longstanding association with violence. Crime rates spiked in the 1980s and early 1990s, but subsequently New York has been spectacularly rehabilitated. It now has one of the lowest murder rates of any US city.
There have been various explanations for this, from changing lead levels in petrol to changes in abortion policy, but an oft-cited factor is changes in policing. Picking up on this argument, The Sun newspaper recently drafted in the man hailed as the architect of the New York Crime drop, former US police Commissioner, Bill Bratton, to advocate a crackdown on crime in London.
Bratton – with the support of then-mayor of New York, Rudy Guiliani – introduced a "zero tolerance" policing policy from the mid 1990s which focused on quick arrests for minor offences and little tolerance for petty crimes. It was heavily influenced by "broken windows theory", a simple concept that has persuasive power. Under this theory, visible symptoms of neighbourhood decline – the broken window or civil disorder – act as cues to encourage further crime and disorder, including serious violent crime.
Bratton – who was reappointed as NYPD police chief for a second two-year term in 2014 – has currency among conservatives, and it was reported that former British prime minister David Cameron once hoped to install him as head of the Metropolitan police.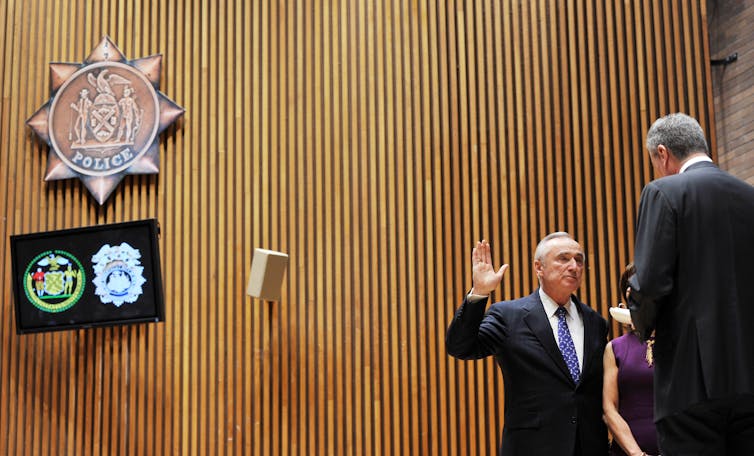 Laying blame in London
Perhaps neighbourhood decline does drive crime, but London's murders are not only happening in impoverished areas in decline. Great wealth and poverty exist almost cheek by jowl in London – and neighbourhood decline alone is not going to drive up a murder rate.
While there have been various factors suggested for London's rising murder rate, like many complex social phenomena, the truth is that there are elements of truth in all of them – and no single causal driver. The Labour MP David Lammy has linked the rise in violence to drug gangs and inequality, while the Metropolitan Police commissioner Cressida Dick's commented that social media is fuelling murder and knife crime among young people.
Dick is not the first to express concern about the role of music such as grime and drill in rising violence – and the media have variously referenced the usual suspects: lack of male role models, absent parents, violent media, gangs, and declining use of police stop and search powers.
---
Read more: More police stop and search won't stop knife crime – here's why
---
Yet without blaming victims and recognising that every murder has an effect far greater than the act itself, there are some striking recurrent features to the backdrop of those killed in London. A large proportion of the victims have been young men from ethnic minorities. This does not mean that gangs or postcode rivalries are the "cause", but it shows us violence tends to be concentrated in less affluent areas.
What the victims do show us, is that whether in New York or Newham, your chances of being murdered – which are already incredibly slight – are much more likely if you are poor, in a violent relationship, in a gang or already involved in crime. The likelihood of being randomly stabbed or shot is much, much lower than headline statistics indicate.
Invest in policing
Rather than zero tolerance, perhaps the lesson we ought to learn from the US is that of proper investment in policing. The Metropolitan police has suffered government cuts of more than £700m since 2010 and is expected to find a further £325m of savings by 2021. The "thin blue line" gets ever thinner – and people know it. Nationally, police numbers have been cut by around 21,000 since 2010, which has inevitably reduced community policing, investigation activity and more. Bratton might have used zero tolerance to drive down crime in New York, but he also hired 6,000 extra police officers.
The Conservatives' austerity policies are putting the criminal justice system under strain. Violence has risen in prisons and the community alike, and cuts to legal aid are having serious implications for access to justice.
London's murder rate is now at its highest for more than a decade. It is cutting young lives short and leaving a wake of human misery. "Zero tolerance" policing is not a magic solution – yet unfortunately, there are signs that police chiefs are turning to it. Dick has declared a return to more aggressive use of stop and search powers in violence-prone areas. But the trade off will be a return to tensions between police and ethnic minority communities that could cause more damage in the long term. Such a strategy is no way near as sensible as good community policing, because building ties and working closely with members of the community creates the very intelligence that can lead to real crime prevention.
---
Read more: Knife crime is a health risk for young people – it can't be solved by policing alone
---
To be fair to Dick, in a service cut to the bone, not all options are on the table – and she has announced a task force of 100 officers to tackle knife crime. What we ought to remember about Bratton's initiative in New York was that it was well resourced and politically supported. So if the UK government really wants to stop the spate of killings in London, perhaps it should kill austerity first.