Society is defined by mobility. Crossing borders involves acquiring new knowledge, being exposed to new ideas and ways of thinking. People move for a variety of reasons – and education is one of them.
International students come from diverse backgrounds. And prior to travelling away from home for university, students may have been exposed to a limited set of ideas on social and political issues.
Universities in many countries nurture open political communities. Interactions at universities can often allow students to reflect on both the social and political culture of their host and home countries. For some, the experience can be so powerful that it changes the way they think about liberal values and practices as well as about their contributions to the communities around them.
In this sense, universities can develop students' critical awareness of wider society and their willingness to participate in public life. And such potentially transformative experiences, when shared by a critical mass of individuals, can help to drive changes in the wider social and political culture at home.
Democratic development
Former Soviet countries provide a useful context for observing links between studying abroad and political transformation, as they have undergone a natural experiment since the early 1990s.
At the time of the breakup of the Soviet Union, these countries were at a similar level of social and political development. But the diverse pathways of development that these countries chose has led to different patterns of student mobility and democratic development.
The Economist Intelligence Unit measure of democracy is based on five categories: electoral process and pluralism, civil liberties, the functioning of government, political participation, and political culture. Under these rankings, three former Soviet countries are considered flawed democracies – Estonia, Lithuania, and Latvia. Five are classified as hybrid democracies – Moldova, Georgia, Ukraine, Kyrgyzstan, and Armenia. Then there are also seven authoritarian regimes: Belarus, Russia, Kazakhstan, Azerbaijan, Tajikistan, Uzbekistan, and Turkmenistan.
Studying abroad
As post-Soviet countries developed economically in the last three decades, the volume of migration has increased, with more students seeking study abroad. My research shows that in this region, countries with higher proportions of students studying in Europe and the US have achieved higher levels of democratic development.
The number of mobile students from the former Soviet countries to Europe and the US has been increasing consistently since the 1990s. There are now around 119,000 students from this region pursuing their education in Europe and 12,500 students in the US.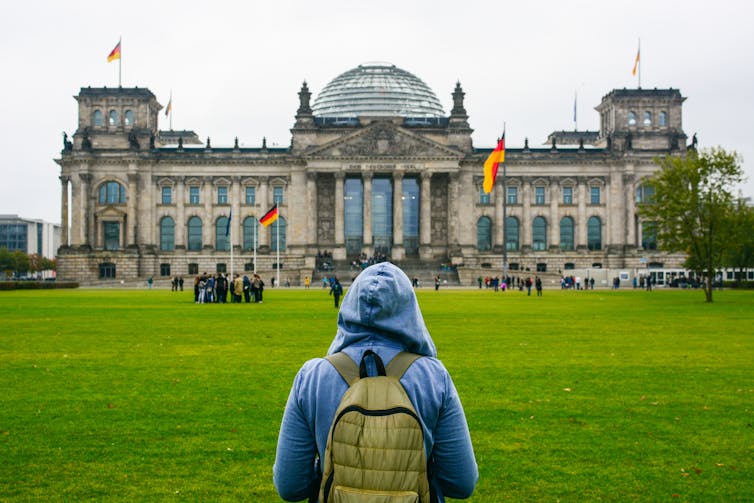 That said, more students from the former Soviet countries study in Russia than in Europe and the US together. Russia remains the most popular destination for students from the region. There are more than 150,000 students from former Soviet countries enrolled at Russian universities.
Russia's role
Russia's popularity can be explained by its past political and economic role – in both the Russian empire and the USSR. Russia is large, wealthy, compatible language wise, and accommodating. Most importantly, Russia offers state funded scholarships to students from former Soviet countries. These scholarships cover university tuition as well as living expenses. And my analysis shows that former Soviet countries with higher proportions of students studying in Russia, are less democratic.
---
Read more: How Russia is using international students as a weapon in the new Cold War
---
Former Soviet countries with higher levels of attained democracy seem to have had larger numbers of post-independence political leaders – presidents and prime ministers – who have studied in Europe or the US. And countries with lower levels of attained democracy have had higher proportions of post-independence political leaders who have studied in Russia.
Studying abroad can, of course, help to change students' understanding of civil liberties and electoral process. Similarly, universities in different countries can also influence students' ideas about political participation and political culture. And these "apprenticeships" in democracy may well be critical in facilitating democratic developments when students finish their studies and return to their home countries.