Mario Balotelli is already an international football star and has the potential to become one of Italy's greatest ever strikers. But is Italy ready to accept a black player as its next football hero?
Balotelli played a crucial role in Italy's qualification for the 2014 World Cup, and his goal proved decisive in Italy's first match of the finals, against England. But when Italy then played poorly and lost against Costa Rica, criticisms were immediately directed at "Super" Mario.
Italy's hopes for qualification from the group stage, which will be decided in the final group match against Uruguay, largely hinge on Balotelli's performance. At the age of 23, he is already a big-game performer, having played in great teams such as Inter Milan and AC Milan in Italy and Manchester City in England. He has already won four league championships and one European Champions League.
Given his age and already extraordinary achievements, he should be celebrated and loved by Italians. Yet many of them find it difficult to reconcile his immense talent with his personal story, the colour of his skin and his stubborn insistence on being proudly Italian.
Balotelli was born in Sicily to Ghanaian parents who had migrated to Italy just two years earlier. Due to an anachronistic and unjust law, he only acquired Italian citizenship when he was 18. This meant he was not able to participate at the 2008 Olympics as he was unable to play for the Italian national team, and refused Ghana's offer to represent them.
Due to health issues as a child and the difficult situation experienced by his natural parents in Italy, Balotelli was placed in foster care with an Italian family from the age of three. Growing up, he experienced the frequent discrimination suffered by black people in Italian society – but he at least could dream of becoming one of the many great black champions that were playing in Italian Serie A.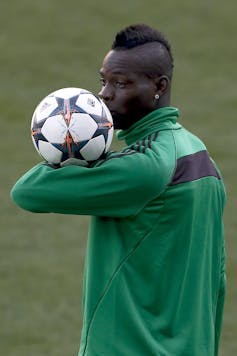 But since his professional debut in 2006, Balotelli has been constantly subjected to racism. His alleged fault is not simply to be black, but to be black and Italian.
At the age of 17, Balotelli was already the most talented young player in Serie A, playing for leading club Inter Milan. He was almost immediately either adored or detested. The more goals he scored, the more opposition supporters developed hatred toward him. Yet such negative emotions were not only about football – they showed a level of racism that many Italians still struggle to acknowledge.
Racist chanting and abuse against Balotelli have become close to the norm in Italian football stadiums. Balotelli has also been racially abused away from the pitch – for example, while in Rome with the Italian under-21 team in 2009, some people threw bananas at him.
Such instances have shown how divided Italy still is around issues of migration, race and ethnicity. Many involved in Italian football have strongly defended Balotelli, including Italy's coach Cesare Prandelli and star midfielder Andrea Pirlo. Many others, though, have shown a worrying level of racism.
A journalist on TV called Balotelli "negro di merda" (shit negro). In 2012, a leading national newspaper, Gazzetta dello Sport, published a cartoon representing him as King Kong. In 2013, Paolo Berlusconi, the brother of the former prime minister Silvio and vice-president of Balotelli's team AC Milan, referred to Balotelli as "il negretto di famiglia" (the family's little negro).
Many others, including the famous Portuguese coach Jose Mourinho, have often dismissed racial abuses against Balotelli, suggesting they are just ignorant and infantile expressions of football rivalry. Even the institution that should sanction teams for their supporters' unacceptable chants has at times failed to recognise the apparent racism of such abuses.
In most instances, Balotelli has responded to such abuse with a maturity and restraint that is rarely, if at all, acknowledged by the media. The media prefer to constantly represent him as a person bereft of self-control. This is a stereotype typical of colonial imagery and discourse about black people.
When he obtained the Italian citizenship, Balotelli might have thought he could fight racism and become the idol of all Italians by playing for the national team. This unfortunately has not happened, and many racist supporters insist that:
… non esiste un negro italiano (an Italian negro does not exist)
Today, Balotelli is certainly the most famous living black Italian. In 2013, he was included in Time Magazine's list of the 100 most influential people in the world.
Balotelli is a pioneer in a society that still struggles to accept its multiethnic composition. He is one of the many children of migrants who were born and bred in Italy and are and feel Italian, and yet are often not recognised as such by Italian society, its antiquated laws and its covertly racist institutions. Many talented athletes born in Italy to migrant parents are still excluded from representing Italy in sporting competitions.
Only the whimsical, at times absurd, events of international football competitions will tell if Balotelli really is the great champion the Italian team needs him to be. His triumphs will be used as emblems of successful integration, and his failures will reassure racists about their most stupid and abhorrent beliefs.
All that should really matter, however, is that he is a great Italian football player.