Jana Pittman has always been fast on the athletics track, but now she has the opportunity to display not only her speed, but her strength and versatility, when she becomes "the muscle at the back" of a 130kg bobsled in Sochi this week.
Despite looking very much at home in her speed suit, the Australian public would most likely best remember Jana as being a track and field athlete rather than a bobsledder – a transition that not only requires physical power, but psychological strength too.
Jana competed for Australia in the 400m hurdles at the Sydney and Athens Olympic Games in 2000 and 2004 respectively. Many may also remember the emotional rollercoaster that Jana rode coming into the Athens Games after she suffered a knee injury late in her preparation.
This required her to have surgery a week prior to the start of competition, before she was finally being cleared to race. Jana then demonstrated her resilience, a common psychological characteristic of successful athletes, by going forward to achieve her best Olympic result, finishing fifth in the final.
This week, however, the 31-year-old will swap the track for the ice to make sporting history when she represents Australia as a brakewoman in the Women's Bobsleigh event at the Sanki Sliding Centre. Her race will mark the first time an Australian female athlete has competed at both a Summer and Winter Olympic Games.
Jana's achievements
Before being named in her first Winter Olympics team, Jana already had a long list of career successes to her name.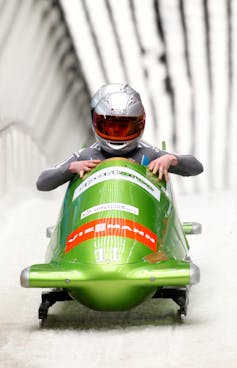 Many people may not know that, in 2003, Jana became the youngest 400m hurdler in history to win a World Championship, or that she is one of just a handful of elite athletes, including the great Usain Bolt, to have won a World Championship at all levels of her career, including youth, junior and senior events.
More recently, Jana placed seventh in her very first bobsleigh race alongside experienced driver Astrid Radjenovic at the 2012 World Cup in Attenberg, Germany. This remains the best result ever by any Australian crew in the sport to date!
However, even though Jana has achieved more in her young life in the sporting arena than many of us could ever hope to, the negative press she attracted post-Athens in 2004 seemed to cast a shadow over this talented athlete, one which has taken quite some time to lift.
Jana's psychological resilience was once again tested as she dealt publicly with adversity both related and unrelated to sport over the course of a number of years.
However, Jana's steely determination and inner motivation has seen her bounce back every time. While many others would have been satisfied with fulfilling their dream of being selected in one Olympic team, Jana has been able to regroup, reset her goals and successfully transition from one sport to another. She has then gone on to be successful in securing her third Olympic berth – a truly impressive achievement.
Jana's transition
The transition process, whether it is a transition out of sport (retirement), within a sport (from junior to senior level), or between sports, can be a confusing time for an elite athlete.
In a huge blow, Jana missed both the 2008 and 2012 Summer Olympic Games due to a recurrent foot injury, which ultimately led to her retirement from hurdling in 2012. She has been reported as saying that the fear of retiring from elite sport was one of the key drivers for her transition to bobsleigh.
Athlete career transition has been a common topic in the media over the past few years, with many high-profile athletes acknowledging the social and psychological difficulties that they have faced post-retirement from elite sport – the most recent, of course, being Ian Thorpe and his struggles with depression and alcohol abuse.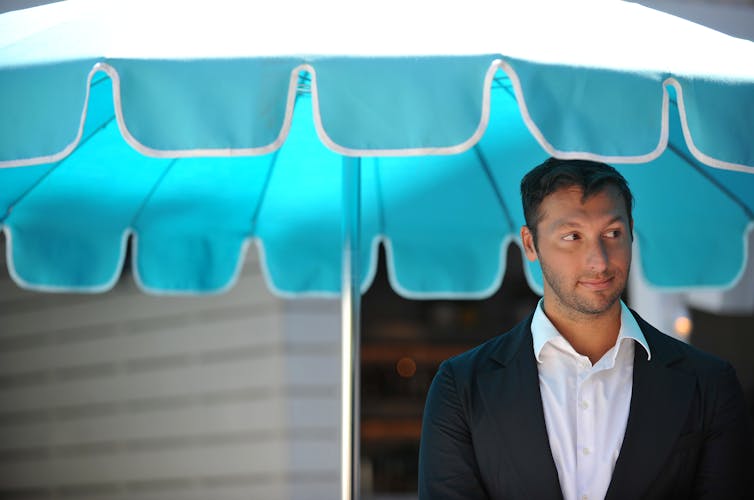 This topic has also attracted considerable attention among sport psychology researchers. One thing that is evident from anecdotal and scientific reports is that career transition can lead to athletes experiencing adjustment difficulties as they attempt to re-evaluate many different areas of life.
Further to this, involuntary retirement – that is, retirement which does not occur by choice or is outside of the control of the athletes (such was the case with Jana sustaining a career-ending injury) – has been found to place athletes at further risk of such issues.
Getting the balance right
Despite such risk, Jana has been fortunate in that her transition to retirement turned into a successful transition to a sport which has presented her with new opportunities.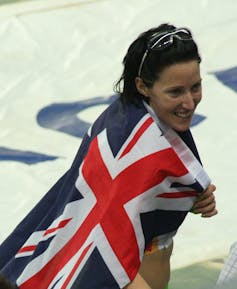 There are certain factors which have been shown to assist athletes to experience a smoother transition. These include, but are not limited to, having a clear post-sport career plan, quality social support and a good balance between sport life and personal life.
In line with this, it would appear that Jana's world outside of sport has undergone a large amount of change since the last time we saw her on the Olympic stage. Jana now studies medicine full time, with the goal of being an obstetrician, along with juggling her busy Olympic training schedule and being a single mum to her son Cornelius.
Such changes would have certainly shifted Jana's priorities and, subsequently, her sport-life balance. That is, she would now not only identify herself as being an athlete, but also as being a mum and a student, among other life roles.
As for social support, Jana has credited her parents for providing her with the love, support and assistance that has allowed her to maintain this balance and to continue to strive for sporting success.
Even though her road has not been an easy one, these factors, as well as Jana's self-belief and psychological resilience, have helped her to both excel in, and endure, the elite sport environment for well over a decade. This is definitely no easy feat.
Best of luck to Jana and all the Australian competitors who are competing in Sochi as they strive for their piece of Olympic glory!