As Joe Joyce emerged from his super-heavyweight boxing final with a silver medal on the final day of the Olympic Games he was disappointed not to have won gold, but his was the 67th medal for Team GB, which was a fifth consecutive increase in its medal haul.
The overall medal tally outdid the team's stellar performance at its home Olympics in London 2012 – a fine return on the funding of £284m invested by UK Sport into Olympic sports since 2012.
In the history of the games, only one other country has managed the same feat – and they've done it at Rio as well. Azerbaijan joins Great Britain on the podium, having steadily increased its medal tally since 1996. Azerbaijan, which has only competed in its own right since 1996, has steadily increased its haul from a solitary silver medal in 1996 to 18 in 2016.
Team GB's performance over the past two decades has been remarkable. From the ignominy of 15 medals and 36th place in Atlanta 1996 – including just one gold medal – the UK's elite sport development system improved continuously over the past four Olympic cycles to achieve 65 medals and 3rd place at London 2012.
These winning streaks are rare. Since 1896, when the modern games were first held in Athens – there have been 22 three-edition winning streaks and just seven four-edition winning streaks. Most of the four-edition winning streaks, (Cuba, Hungary, Poland and Romania) occurred between 1932 and 1980 and were achieved by communist nations determined to show off their sporting prowess.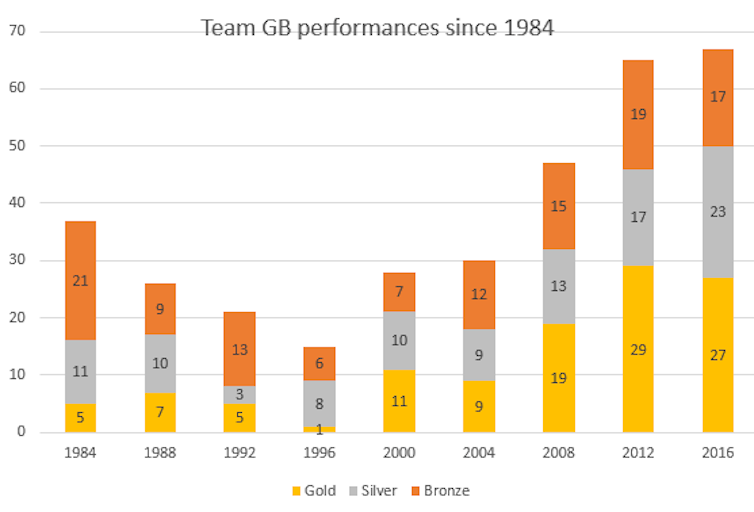 The remaining three (Azerbaijan, Great Britain and Greece) have been recent, with Azerbaijan and Great Britain achieving theirs at London 2012 and Greece's at Athens in 2004. East Germany, with what we now know to have been a state-sponsored doping regime, only ever managed a three-edition winning streak. Even China with its huge government commitment to elite sport has a best winning streak of three editions (2000 to 2008 inclusive).
While Azerbaijan has also shown continuous the same opportunity as Britain to show continuous Olympic improvement over 20 years, the scale of its success has been more modest: one medal in 1996, three in 2000, five in 2004; seven in 2008 and 12 in 2012. However for a nation of 9.5m people, Azerbaijan is a country which exceeds the number of medals that would otherwise be predicted on the basis of its population, wealth and political system.
Its elite sport policies are not without controversy – notably the recruitment and naturalisation of foreign athletes who made up nearly 50% of Azerbaijan's team of 53 at London 2012. Nonetheless, it has carved out a successful niche for itself particularly in wrestling, boxing and to a lesser extent weightlifting.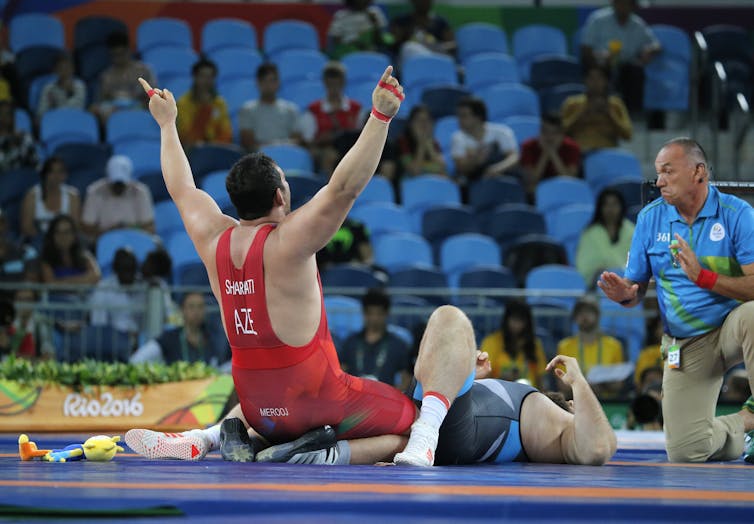 But Britain is the only nation to achieve a five-edition winning streak in the games after being host. Since 1896 every host nation has won fewer medals in the Olympics after hosting the games than it did as host but the team was always optimistic that it could surpass its 2012 haul.
Making history
The government invested an additional £20m in UK Sport to improve performance at Rio 2016, which is unusual as often nations rein back on their elite sport spending once their own games are over. We need look no further than recent hosts China, Greece and Australia to see what the typical pattern of performance is after being host.
Although Team GB has given up the benefit of home nation advantage to Brazil it has been be competing for a bigger pool of medals as Brazil was failed to make the gains that recent hosts have achieved. Not only that but golf and rugby sevens were added to the Olympic programme for Rio, giving Britain two more sports in which it had serious medal prospects – and they came away with a gold and silver respectively. And, with only one of Russia's track and field team cleared to compete following recent doping allegations, the competition for some medals was reduced.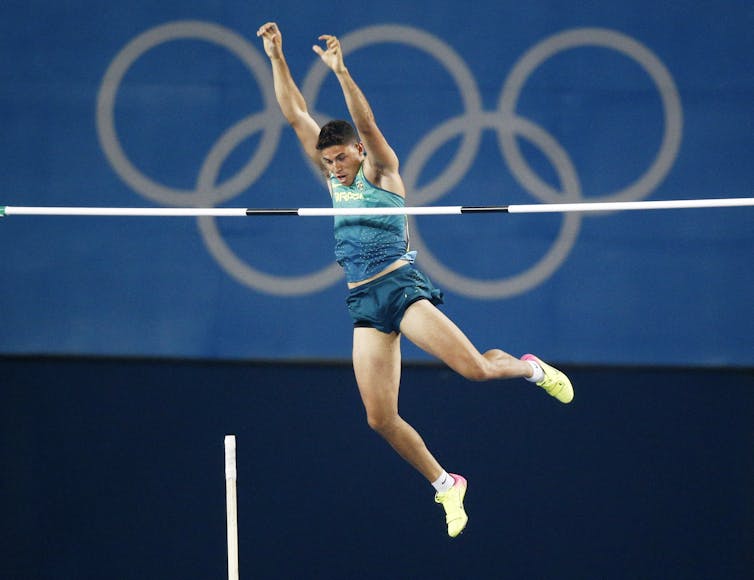 Had Great Britain and Azerbaijan been unsuccessful in achieving the first five-edition winning streak, New Zealand was waiting in the wings – not content with defending the Rugby World Cup in 2015, New Zealand has improved its tally for four consecutive games. Its challenge is to go one better in Tokyo 2020, but who knows – by that stage Team GB might be on a six-games roll.