Blak Design Matters is the first exhibition in Australia specifically dedicated to contemporary Indigenous design. Its curator, architect and academic Jefa Greenaway, describes the show as a snapshot that "takes the pulse of what's happening now".
Indigenous art is well known but the Blak Design Matters exhibition prompts one to think about other iconic Indigenous expressions of "design" throughout our history. Separating art from design is not always clear cut, especially when you consider people like William Barak and Tommy McRae - arguably communication designers of their time. Both used art to bridge culture and facilitate understanding during a highly tumultuous period for Indigenous people.
I believe we need to find better ways to acknowledge the Indigenous design excellence that has long existed in the home of the world's oldest, continuous living cultures. We should celebrate the engineering genius of the Boomerang and sophistication of the Budj Bim aquaculture systems in south-western Victoria, which predate the Egyptian pyramids.
---
Read more: The detective work behind the Budj Bim eel traps World Heritage bid
---
In 2015, David Unaipon (Ngarrindjeri), a prolific and talented industrial designer, was inducted posthumously into the Design Institute of Australia Hall of Fame. Ironically, he had died in 1967, the year Indigenous people were finally recognised in the constitution. Unaipon, who features on our $50 note, registered over 19 provisional patents inventions during his life including the mechanical shearing clippers. In 1929, he wrote: "As a full-blooded member of my race I think I may claim to be the first, but I hope not the last, to produce an enduring record of our customs, beliefs and imaginings".
Culturally oriented, Indigenous-owned businesses including design companies are now on the rise. We still have a long way to go but here is my (subjective) list of iconic Indigenous designs. These designs are informed by the times in which they were created - yet they resonate across cultures as an enduring record of "Indigenous customs, beliefs and imaginings".
Aboriginal Flag, 1971
Designed by Harold Thomas, a Luritja man of Central Australia, the flag was first flown on National Aboriginal Day in Adelaide in 1971. It has had an impact like no other contemporary Indigenous design. Thomas created the flag as rallying symbol of race and identity. The black represents the Aboriginal people, the red the earth - a connection to land - and the yellow, the sun, giver of life. The flag has become a symbol for change, displayed at protest marches, on banners and posters. In 1998, I met Thomas and asked him if he thought the Aboriginal Flag would eventually become Australia's. His answer was no! He wanted it to remain an activist flag, as originally intended.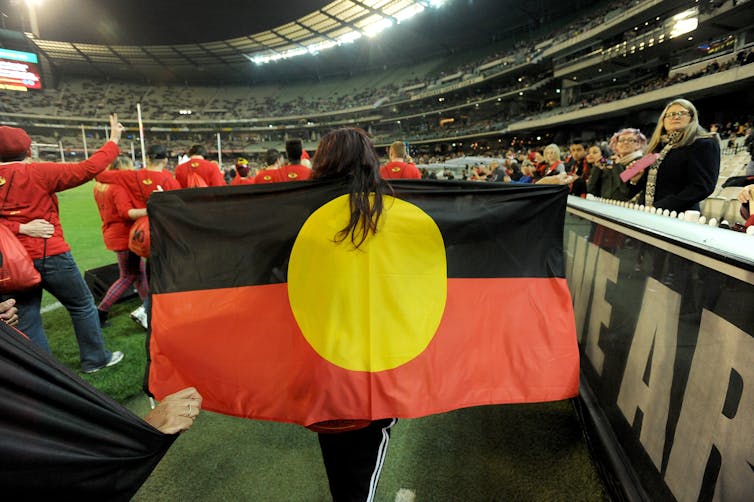 Cycle of Life opera cape, 1987
This full-length opera cape with a hood of hand-painted, cotton drill was designed by Bronwyn Bancroft, a Bunjulung woman, and is now part of Sydney's Museum of Applied Arts & Sciences collection. A wearable work of art, it represents the journey through life of an Indigenous man and woman. Designed specifically for a parade at the Paris department store Au Printemps in 1987, the interest this cape generated helped blaze a trail for the current crop of Indigenous fashion designers.
ATSIC logo, 1990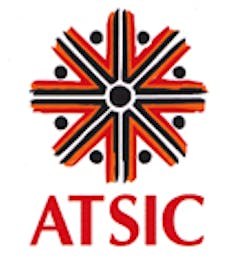 The logo for the Aboriginal Torres Strait Islander Commission was designed by Clive Atkinson, a Yorta Yorta and Dja Dja Wurrung man from Echuca, who describes himself as the first Australian Aboriginal man to own and operate a graphic design/advertising company. The logo was commissioned by the then Prime Minister, Bob Hawke, with the brief for it coming from Lois/Lowitja O'Donoghue, inaugural ATSIC chairperson. O'Donoghue wanted a statement of coming together. Atkinson based the logo design on a traditional meeting place symbol, which is familiar to many communities across Australia.
Marcus Lee Design logo (symbol element), 1996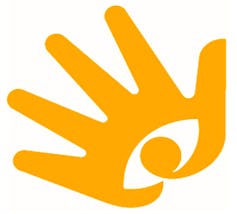 Designed by Marcus Lee, a Karajarri man, originally from Darwin, the hand in this logo references Northern Territory Aboriginal rock art. The eye makes a connection between heart and hand as the so-called window to the soul. As Leonardo da Vinci said, "Where the spirit does not work with the hand there is no art". Marcus Lee is a highly respected Indigenous designer who has created many powerful, culturally-themed designs including the NAIDOC week and Supply Nation logos.
Girrawaa Creative Work Centre, Bathurst Jail, 1998
The brief for this centre was to create an arts and culture facility inspired by the goanna, a totem for many people in the Bathurst area. This was a new approach for correctional facilities at the time. It was designed by architects Dillon Kombumerri, a Yugembir man, and Kevin O'Brien, a Kaurereg and Meriam man, and interior designer Alison Page, a Walbanga and Wadi Wadi woman. The naming and conceptual direction for the building was determined by the prison's Indigenous inmates, and this cultural consultation was key to the project's success. "Girrawaa" means "goanna" in the Wiradjuri language.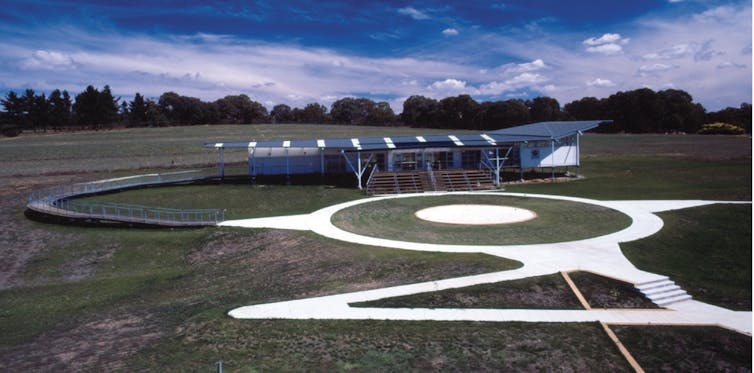 Qantas, Wunala Dreaming, 1993
Balarinji Designs' Wunala Dreaming was a confident, Indigenous-led statement that proudly celebrated Australia's rich, pre-colonial culture. "We wanted to challenge existing approaches to Australian visual identity, which looked largely to Europe and America for inspiration, and which failed, in our view, to harness the unique heartbeat of Australia," its designers, Ros and John Moriarty (Yanyuwa), said in 2014. A Boeing 747 was overlaid with Aboriginal-inspired designs evoking the colours of the bush, the wetlands and the reds of Uluru. Originally planned as a three-month promotion, Wunala Dreaming became the world's most photographed aircraft and would fly for 17 years.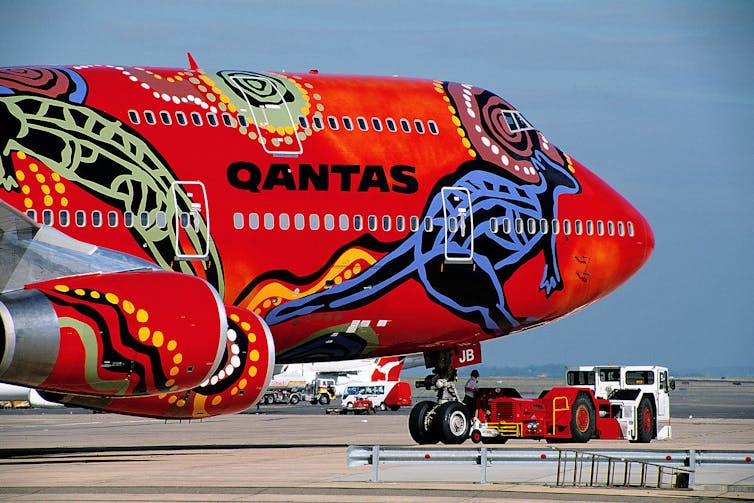 Murri Totems environmental sculptures, 2012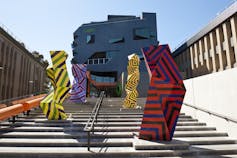 Located at La Trobe University's Institute of Molecular Science, these poles were designed by Reko Rennie, a Kamilaroi man. Rennie is unique in the way he combines expressions of Indigenous culture with contemporary design sensibilities.
G20 Summit Brisbane logo, 2014
This logo was created by Gilimbaa Creative Agency, co-founded by David Williams, a Wakka Wakka man, and Amanda Lear. Australia's largest Indigenous-owned, communication design company, it attracts high profile clients from both the private and public sectors. Partly inspired by Torres Strait Islander weaving techniques, the G20 logo also features a rainbow serpent. It is a great example of how diverse Aboriginal and Torres Strait Islander cultures can project a unified identity internationally.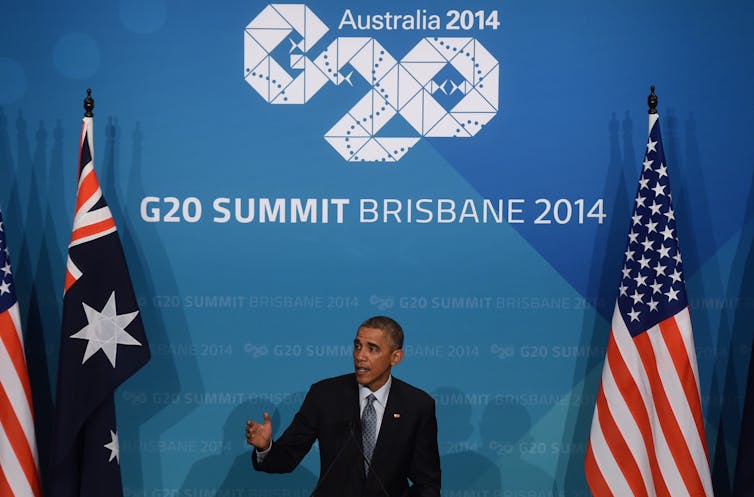 Marlu Chair, 2015
The Marlu chair and other designs by Nicole Monks, a Wajarri and Yamatji woman from Sydney, are setting a new direction for Australian design, which intelligently combines modernist and traditional inspirations and aesthetics. "Marlu", meaning kangaroo, was inspired by a trip back on Country to visit her 93-year-old "Auntie" Dora and reminiscing about Nicole's great-grandmother's renowned kangaroo tail stew. I love the heartfelt motivation and inspiration behind this piece.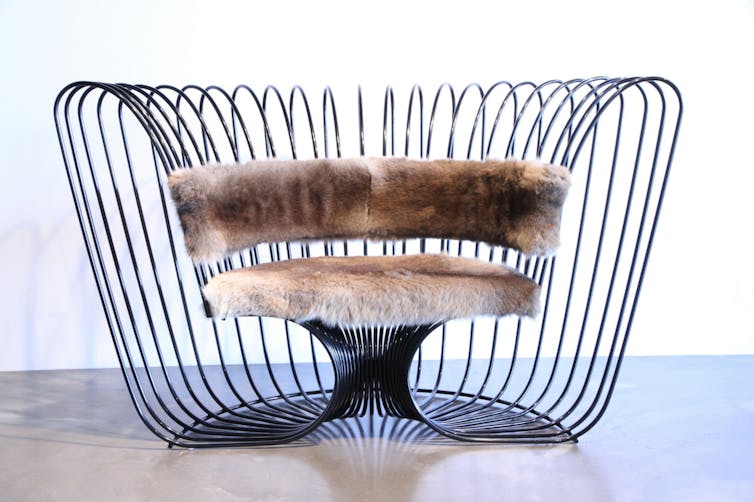 Ngarara Place, RMIT University, Melbourne, 2016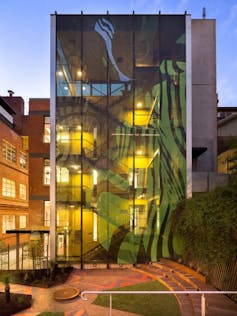 Designed by Jefa Greenaway, a Wailwan and Kamilaroi man from Melbourne, the award-winning Ngarara Place is widely acknowledged as a groundbreaking design. It is unique in that this space, located in the heart of Melbourne, was created, designed and built by a predominantly Indigenous team.
Themed on the seven seasons of the Kulin Nations, this courtyard is a perfect setting for ceremonial gatherings in the centre of one of Australia's largest cities.
Also worth a mention are two highly-talented Melbourne designers whose work appears in Blak Design Matters: 23-year-old Lyn-Al Young, a Gunnai, Wiradjuri, Gunditjmarra and Yorta Yorta woman and Maree Clarke a Mutti, Wamba Wamba, Yorta Yorta and Boon Wurrung woman. Clarke's jewellery design (Thung-ung Coorang) combines customary organic materials with 3D printed forms modelled from kangaroo teeth (gold plated), echidna quills and crow feathers. I also like the way the LYN-AL fashion brand crosses cultures while maintaining its historical integrity. Her "wearable art" - a contemporary interpretation of traditional culture - resonates with Indigenous youth and in doing so, keeps customs, beliefs and imaginings alive.
Blak Design Matters runs from Saturday July 21 to Sunday September 30, 2018 at the Koorie Heritage Trust, Federation Square, at Melbourne.