With the new metro mayor, Andy Burnham, calling Manchester a "world-leading digital city"" it seems timely to assess whether or not this is really the case.
Manchester is the home of the computer and technology has long been a part of its history. Baby – the first computer to store and run a programme – was created in the city and celebrates its 70th birthday in 2018. A statue of Alan Turing, the man credited as the creator of modern computing, marks the place in the city centre where he worked to create the Mark1 – the Manchester Universal Electronic Computer – in 1949. But what about today?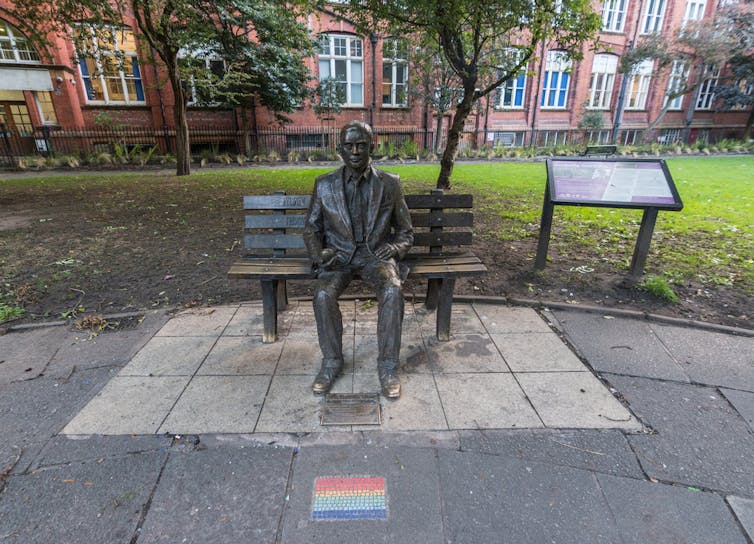 Building on this heritage, the metropolitan county of Greater Manchester, for which Burnham is now mayor – including the cities of Manchester and Salford and ten Metropolitan Boroughs – has one of Europe's largest city economies (£56bn) and is certainly aiming to become one of the world's top 20 digital cities by 2020. But how?
1) Manchester Network Access Point, or MaNAP, is a major global internet traffic hub and serves the UK's access to worldwide networks. As such, Greater Manchester is in fact the only city in the UK to offer truly next generation broadband with "fibre to the premises" – a service allowing speeds of up to 100mbps in a true open access network.
2) A £575m investment programme recently completed by BT places Manchester ten years ahead of other UK cities in terms of access to digital communications. At Salford's MediaCityUK in particular 20m metres of fibre deliver speeds up to ten gigabits.
3) Tim Newns, chief executive of Manchester's Inward Investment Agency (MIDAS) told Computer Weekly the city already has more than 100,000 people employed in its technology sector, as well as 6,000 technology-related businesses.
4) Meanwhile Manchester has more than 100,000 students studying in one of the four universities located in the city. TechHub, Northern Quarter, MediaCityUK, South Manchester Corridor and The Corridor are all digital clusters within Manchester. And support networks exist including so-called tech "incubators" such as The Landing – a UK Digital Catapult partner, Sharp Project and Innospace which nurture start-ups eager to join the city's thriving digital sector.
5) All this makes Manchester the largest UK digital and tech hub outside London – and its growth shows no signs of slowing down. Talk Talk is relocating hundreds of tech jobs to Salford to join Moneysupermarket.com and Auto Trader. Sainsbury's and GCHQ are both creating large tech teams there.
6) Unlike cities such as Cambridge and Oxford, where digital innovation is clustered around the universities, the digital and tech industry in Manchester – a far bigger metropolitan area – is more scattered. It is the distillation of success in many industry areas and digital start-ups and scale-ups in Manchester have a wide and growing regional base to serve. Outside London, only Bristol is doing marginally better for start-ups but lacks the broadband infrastructure that Manchester boasts.
7) In some senses, Manchester's booming global eCommerce industry owes its thanks to the city-region's heritage. The textile and cotton trade that originally put Manchester on the world map in the 19th century made it the richest city in the world after London for a time. Although the global trade in cotton is long gone, the brick-built mills and warehouses now boast open-plan hi-tech offices, with canal-side restaurants and bars. In 2014, the Globalization and World Cities Research Network ranked Manchester as a "beta" world city, the highest-ranked British city apart from London.
8) There has been a strong broadcast and TV sector since the 1950s. Both the BBC and Granada have studios in Manchester and the phenomenon of convergence – whereby the old "broadcast" TV has now gone digital – has seen this spill out and enrich the tech scene. Salford's MediaCityUK is now home to large parts of the BBC, ITV and more than 250 small creative and technology companies – including Dock10, ANMC, Duo Design as well as international offices such as Dutch firm Prowise. On some measures, Salford now outranks London for start-up growth.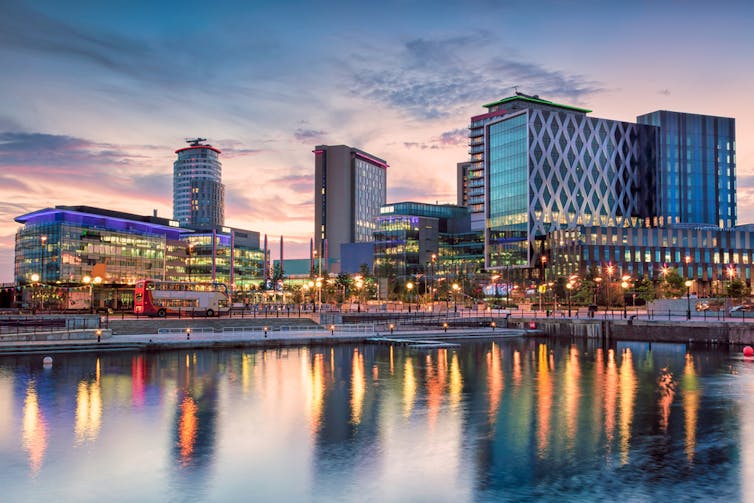 9) Manchester was also home to one of the first Internet Service Providers, Poptel, which for the curious companies located on it led to the start of the digital agency scene and much tinkering with new digital products and services – such as The Phone Coop and the Community Broadband Network.
10) Manchester's digital sector is robustly represented and supported by its own trade association – Manchester Digital – which has grown from 80 members in 2011 to 500 members in 2017. Its high-profile celebration of digital excellence in the region, the Big Chip Awards, has been an annual event since 2004. The Big Chip has loyally traced and rewarded the growth of the digital sector in the region and the excellence of the region's digital workforce. Having been on the Judging Panel since 2006, I have seen first-hand how the quality of work, range and reach of agencies and profile of clients have all improved, enlarged, and spread both nationally and internationally.
And the sector continues to grow. Indeed supply is currently unable to match demand as permanent roles and vacancies remain unfilled. In Manchester Digital's 2017 Skills Audit of the region's digital sector, 83% of companies reported growth in the past 12 months – a figure reliably maintained since 2014.
Today only a quarter of Manchester Digital's members are digital agencies. Companies affiliated with the trade association now also include infrastructure (ISP and "cloud"-based companies); hosting; eCommerce (retail); public relations, marketing and media agencies; design agencies; technology providers; product developers and consultancy software developers.
All in all, Manchester considers itself peerless as a digital city that's going places. It's already in the top 20 European digital cities and is heading for the top 20 in the world. So Burnham is almost right. Manchester might not be "world-leading" just yet but if it continues to grow in the way it has in recent years, it won't be long until it's one of the top digital cities in the world.