A special thing happened in August this year: Foxtel launched BBC First, a premium channel showcasing the best of contemporary British television drama.
As a global channel that chose Australia as its inaugural audience, here's how it describes itself:
BBC First celebrates humanity in all its fascinating complexity, connecting audiences around the world who are hungry for stories to challenge, immerse and entertain them.
With a hefty advertising campaign that spanned screen, online and print media for much of early 2014, Australian viewers were tempted with excerpts from some pretty powerful British drama to come.
Headline shows included Peaky Blinders, starring Cillian Murphy; The Village, with Maxine Peake and John Simms; The Fear, starring Peter Mullan; and The Honourable Woman, starring Maggie Gyllenhaal.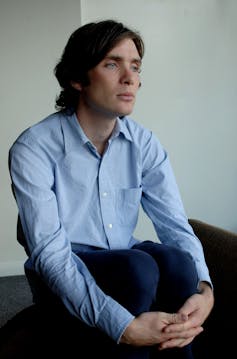 Advertised with a cool soundtrack by New Zealand artist Lorde (Everybody Wants to Rule the World), the channel promised something spectacular. And in comparison to the majority of Australian television drama output, something much better.
I'm British, so am undoubtedly biased, but being suddenly presented with a raft of high-quality small-screen drama has led me to think about the drama we're producing here in Australia. Perhaps it speaks more to the Australian sensibility – nice people who generally don't like conflict, unlike the British, who thrive on misery and struggle! – but all I can say is that Australian TV just feels too tepid.
Nothing really happens – at least not thematically. The stakes aren't high enough. Characters aren't pushed far enough. And there's a prevailing sense that "everything is OK, really", with a soapy lightness that prevents deep emotional engagement.
Some people say the performances are superficial, but is that because the writing isn't good enough? Actors thrive on material they can mine for subtext and meaning. Do Australian television scripts have guts? Do they have verve?
Shows such as Packed to the Rafters, House Husbands and the recently-shelved Offspring are popular with domestic audiences – and maybe that's OK – but why don't they travel well?
As Mark Poole argued on The Conversation in his recent article about the Emmys, television is now clearly competing with cinema in both quality of story and production values, and audience appeal and resonance. Why aren't Australian shows in the mix?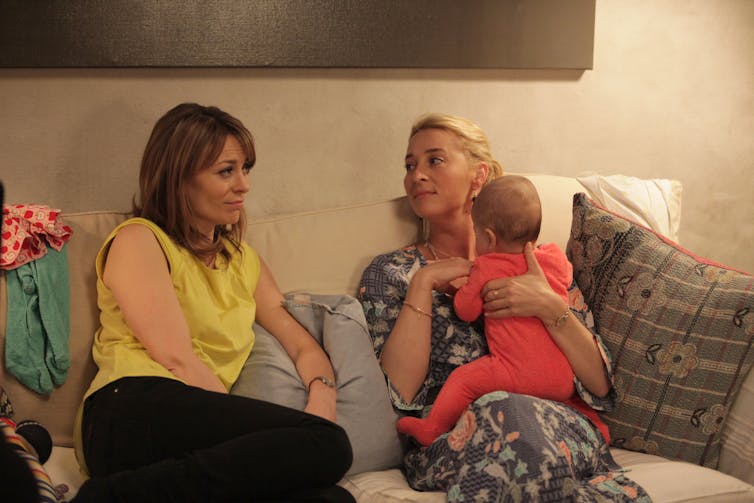 It has a lot to do with expectations, and what international audiences are used to. I'll be the first to admit my criticisms might be skewed towards particular notions of taste, but most Australian shows feel very plot repetitive and dramatically low-key.
One of the most fundamental aspects of drama is the need for rising tension and incremental story beats that lead to physical and emotional crisis and catharsis – all of which feeds into theme. Plot is a metaphorical sponge that needs to be wrung out as much as possible before it can be put away.
How much are Australian television characters wrung out? It's like the sponge is put away, but it's still damp. To put it another way, a tepid plot leads to an overwhelming lack of thematic fulfilment.
The Fear takes the unique premise of giving a dangerous crime boss Alzheimer's, and cranks up the plot to involve drug trafficking, sex trafficking and family betrayal. The universal theme of fear of the unknown infiltrates what might appear on the face of it a melodramatic plot, to give it substance and gravitas.
Even as someone who doesn't care much for stories set in that world, I was hooked by the writing and the performances. The Honourable Woman paints an even bigger and darker picture of a world in which we fear the unknown.
Set against a backdrop of political and moral corruption, yet interwoven with an oftentimes humorous portrayal of the British secret services, it's a drama like no other, with quality writing, performances and production values that are sure to win awards any day now.
None of which is to say Australian television can't do the same – just that, at the minute, it's not doing the same, and is struggling to do anything remotely like it.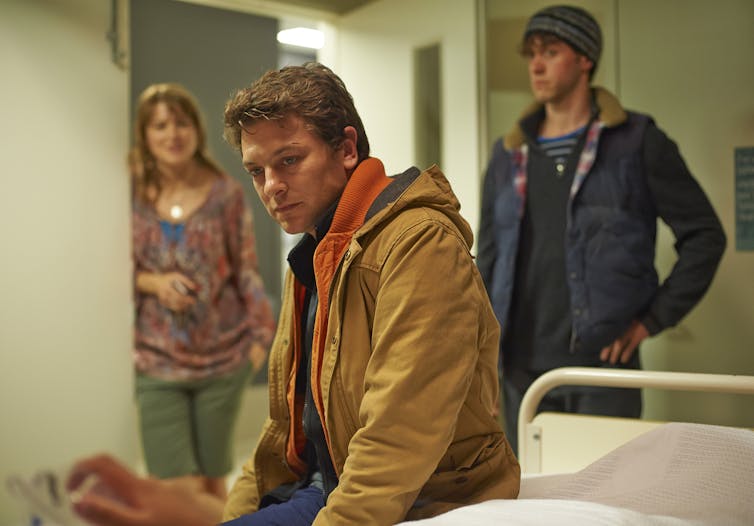 There are some exceptions, of course. As I wrote about earlier this year on The Conversation, Wentworth – a reimagining of the Reg Grundy cult classic TV series Prisoner – has taken our potential for television drama to a different level – and, thankfully, it's performing really well overseas.
Love Child, too – set in the fictional Kings Cross Hospital and Stanton House in Sydney in 1969 – broke out of the "soapy" mold, tackling deeper, edgier stories, and has been commissioned for a second series.
More recently, ABC's The Code is receiving strong popular and critical acclaim – and deservedly so. We also have Ten's new political drama, Party Tricks, and it'll be important to see how that rates.
There's news that a new show, Banished, written by acclaimed British writer Jimmy McGovern and filmed partly in Sydney, will go to air in 2015. Interestingly, that will be BBC First's inaugural self-commissioned show, and it's great to see Australian involvement. With the success of the recent drama Mrs Biggs – ITV Studios in the UK and December Media here in Australia – maybe television co-productions are the way to go.
It goes without saying Australians have great stories to tell, and there are talented people out there with the potential to make their mark in television drama. But they need the right people to work with and the right kinds of infrastructure to upgrade their stories from tepid to terrific. That's the only way the industry, and our pride in it, can survive.
Bold. Brave. Compelling. Deep. Intelligent. Raw. Surprising. None of these qualities come without very hard work. But when we start to feel them as the drama unfolds, we get excited – not just about the work itself but for those who are making it, and what they might make next.