There's no escaping it. Wentworth, FremantleMedia's reimagining of the Reg Grundy cult classic TV series Prisoner, is packing a punch far above its weight – and probably all industry expectations.
A project dreamt up by Lara Radulovich and David Hannam, brought to life by head writer Pete McTighe under the guidance of experienced script executive Sarah Walker, not only did its first series rate well in Australia with almost 1.9 million unique viewers, it sold to more than 20 countries and was nominated for and won a bucket of awards.
These include AACTA and Logie nominations and an ASTRA win for best drama series, and actor nominations and wins for core cast members Danielle Cormack (Bea Smith), Nicole de Silva (Franky Doyle), Shareena Clanton (Doreen Anderson) and Kris McQuade (Jacs Holt).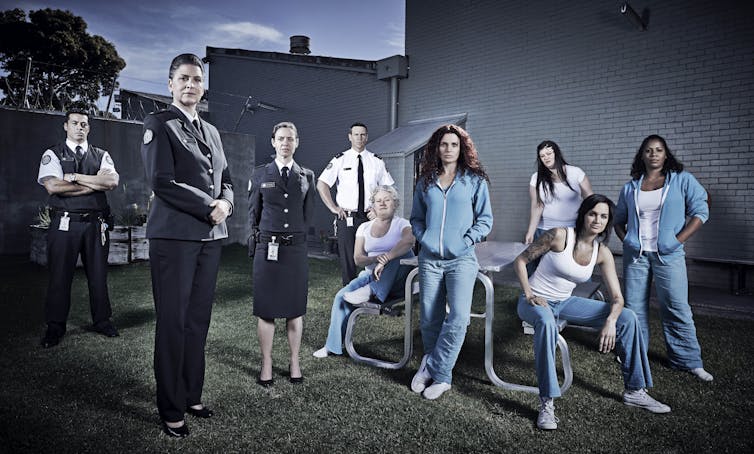 Who would've thought all this possible, being based on a show famous for its failings and coming from the team behind the ailing soap opera Neighbours?
Let me start by going back to 1979 and the inception of Prisoner, or as it was known in countries such as the UK, Prisoner: Cell Block H. The show began its re-run late last year on Foxtel channel 111 Greats, which makes it easy to look back and see what it was actually doing. And in fact, it was doing a lot.
Yes, the acting was sometimes as wobbly as the sets; and yes, some of the plots had holes as big as the writers' CVs; but Prisoner must be applauded for its bravery in tackling social issues and for its clear focus on theme. Execution aside, its intentions I want to argue were worthy of any industry accolade, more so perhaps than many of the Australian TV dramas made today.
Maternal responsibility. The place of women in society. Gay relationships. Female companionship. Aspiration. Disappointment. These are all powerful themes running through the seven years of Prisoner, pulling together what might seem like disparate and individual storylines into meaningful and "felt" episodes that had universal appeal.
It strikes me from watching these early episodes that by far its best writer was Denise Morgan, who went on to write for The Flying Doctors, Home and Away, Blue Heelers and McLeod's Daughters. She seems to be at the centre of the stories being told, her episodes going the deepest and feeling the richest. As a gay woman herself writing at a time when homosexuality was widely rejected, is it any wonder she had something real to say?
It's ironic that most of the scriptwriters on a show about women in a female prison were men. But when you watch the episodes carefully, it's obvious that those written by women, and Morgan especially, are the most interesting and the most cohesive. Interviewed for an obituary after her death in 2011, industry script stalwart and former Prisoner story editor Coral Drouyn praised Morgan's work on the show, giving her credit for shaping its early storylines and for always trying to find the "truth" in its characters.
Prisoner had its fair share of actors who went on to do nothing else, but it did also produce many household names. These include Maggie Kirkpatrick (Joan "The Freak" Ferguson), Val Lehman (Bea Smith), Sheila Florance (Lizzie Birdsworth), Collette Mann (Doreen Anderson/Burns), Amanda Muggleton (Chrissie Latham), Betty Bobbitt (Judy Bryant), Elspeth Ballantyne (Meg Jackson), Glenda Linscott (Rita Connors), Jackie Woodburne (Julie Egbert) and Debra Lawrence (Daphne Graham). Each of them quickly became synonymous with the show and popular with the public, in Australia and overseas.
It was a brave but perhaps unsurprising decision, then, to reimagine the show for a contemporary audience. Its creators undoubtedly saw the potential for exploring similar but updated themes in what is a very appealing world for a TV series. The industry has grown a lot since 1979, too, and so "better" talent and advances in production technology have given rise to what I see here as a re-writing of Australian TV history.
Unlike many Australian dramas on TV today, Wentworth is far from tepid. It's brave, raw and, thematically, it goes deep. This signals that, unlike other shows we're currently subjected to, it's well developed at the script stage. Creators, writers and the story executive have ensured the show is rich and well balanced in character psychology – one of the most fundamental aspects of any long-running drama.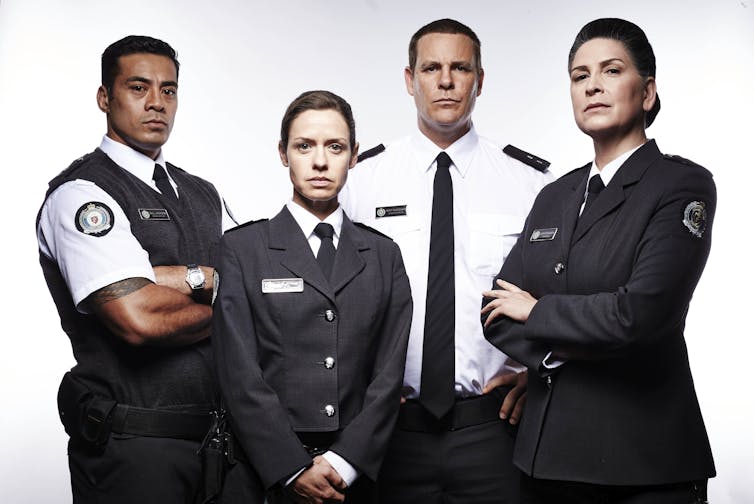 As I've argued previously in reference to the film Philomena, having something to say far outweighs the way it is said. Bea's distress at being unable to protect her only daughter. Franky's hardened exterior as a result of a traumatic childhood. Doreen's grief for a daughter she miscarried. Liz's failure to put her family before her drinking habits. This rich reimagining of previous Prisoner characters brings depth and empathy to what is essentially a world of female criminals, driving the show from within (story), not from without (production).
The result is a combination of compelling plots and stylish execution. Wentworth's production design, cinematography, direction, soundtrack and editing all work for the show's characters and their stories. They bring to the screen movements, colours and tones that make the themes visceral – they're lived and felt, not shoehorned in through clunky dialogue.
There are some practical reasons why Wentworth's success is even more notable, too. For a start, it's estimated that each series creates 300 industry jobs in the Melbourne area, which is not only good for the state, but for the country as a whole. The quality of its stories and production values will also hopefully help attract further foreign investment in Australian screen production, especially for Fremantle through co-production partnerships. And the show is working to reinforce Melbourne as a place to come to, not just for industry work but as a place to live and prosper.
Wentworth is doing a lot more than telling compelling stories in well-executed ways. By reimagining an older, largely ridiculed show, I think it is also a nice metaphor for the transforming landscape of Australian TV drama.
By re-writing and re-casting Prisoner some 30 years on, Wentworth embodies the Australian TV industry also being re-written and re-cast. The country's ideas and talent are burgeoning, now more than ever able to compete on an international level.
We should look to Wentworth with pride, and with excitement about the future.
The second series of Wentworth starts in Australia on May 20, on Foxtel's SoHo channel.