My doctoral studies in visual arts entails working with people who are not necessarily visual artists, but see the value in artistically expressing their story to expand our understanding of suicide.
Suicide attempt survivors are a stigmatised and neglected group within society. Along with the mentally ill, they have historically been viewed negatively by the general public and health-care professionals, so the voices of people who have attempted to take their own lives have until recently been generally excluded from mainstream research into suicide and suicide prevention strategies.
Suicidologist and the survivor of a suicide attempt, David Webb describes the objective, rational language of science as inadequate for understanding the issue of suicide. He suggests that "the language of direct, first-hand experience – intimately personal and subjective, sometimes irrational and paradoxical, often poetic and spiritual, and possibly frightening to some – must be included in our discourse to empower others to speak up and to dismantle the ignorance and stigma around suicide."
Being an artist in an academic environment is challenge enough but when coupled with the issue of suicide being researched from a first-person perspective, traditional research approaches have, for me, failed to offer the flexibility required to explore, investigate and report this incredibly difficult and complex subject. To enable the ubiquitous voice of silence that surrounds the phenomenon of suicide and to advocate for a greater awareness, appreciation and understanding of the suicidal mind, I have had to develop what many might see as alternative and unconventional methods of enquiry and expression.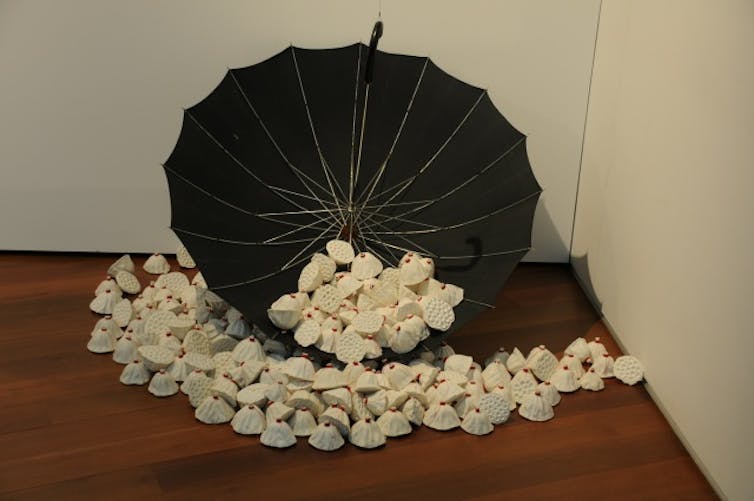 The aim of creating artworks that re-present original voice narratives is to push beyond the taboos and stigma of suicide, beyond the stereotypes, distortions, and the malignant silence that pervades the societal understanding and reaction to the phenomena. My difficulty as an artist researcher has been around how to express individual narratives in such a way as to present an underlying sense of humanity that is empathic, considered and is above all, an honest representation of this trauma.
But more than that, I have also wanted to express how many individuals have embraced life after a suicide attempt. Primary to my enquiry is the exploration of the intersecting spaces that exist between the opposing elements of the pain, or psychache, of suicide and the passion for embracing life.
My research relies heavily on the subjectivities of intuition and imagination. I am trying to express "what being in a suicidal crisis feels like" but also to examine "how does one move on from a suicidal crisis to live an inspired life?" In working with people who have attempted to take their own life, I've employed strategies that are extremely sensitive and non-threatening.
And I fervently believe that making a connection with people needs to be unsolicited. In the cases discussed in this article, both Jessica and Baden (see below) approached me and we decided to collaborate after initial discussions.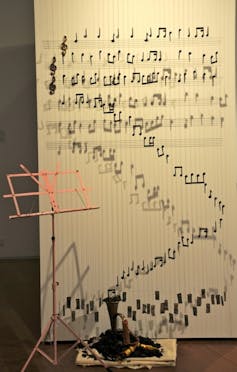 It was in acknowledging these attributes as being pivotal to my research that I arrived at "empathic inquiry" as a methodological form of research. From my perspective, it seemed to be the only approach available for me to ask "how does one enable the voice of silence, then speak about that which was unspeakable without compromising the original voice?"
Within my studio and art practice, heavy emphasis is placed on experimentation through play. When I enter my studio I revert to being a big kid, allowing myself to play with different media, materials, forms, designs and alternative methods of representation. Each work is infused with a complexity and blending together of symbols, metaphors or analogies. This requires vigorous engagement with the imagination and a belief in occurrences of a serendipitous nature.
My intuitive response to information and the process of continual reflection helps me create sculptures and installations that I hope and believe will engage the audience in such a way as to facilitate a tacit dialogue between themselves and the artworks. The reaction to my artworks from writer Michelle Venus, who is the face behind the, And Tomorrow Comes Again project (examining grief and healing after suicide loss), speaks of that tacit dialogue I so desperately search for in my art practice.
First - I'm still working on finding the words to describe how your art has touched me. And I'm a writer. I should be able to do that easily. But I need to spend more time understanding exactly how it has touched me. It's heartfelt and emotive. You've created a visual representation of what I'm trying to put into words. I love it.
As an artist, I see myself as a storyteller – interpreting, reinterpreting and eventually retelling stories that are heartfelt and emotive and provide new insight into the issue of suicide. One of the installations from the Inspired Lives: Discovering Life in Imagination exhibition at the Dax Centre was created in collaboration with academic and writer, Baden Offord. Baden contacted me after viewing my Meaning Making exhibition in 2009.
Over coffee one Sunday morning he revealed the horrendous prevalence of suicide within the generations of his own family. Numerous coffees have been consumed since and as our friendship has grown so too have the insights into the complexities of suicide. In creating the installation, End of statistics (see the main image above) our aim has been to capture the complex nature of suicide that can sometimes appear to run in families.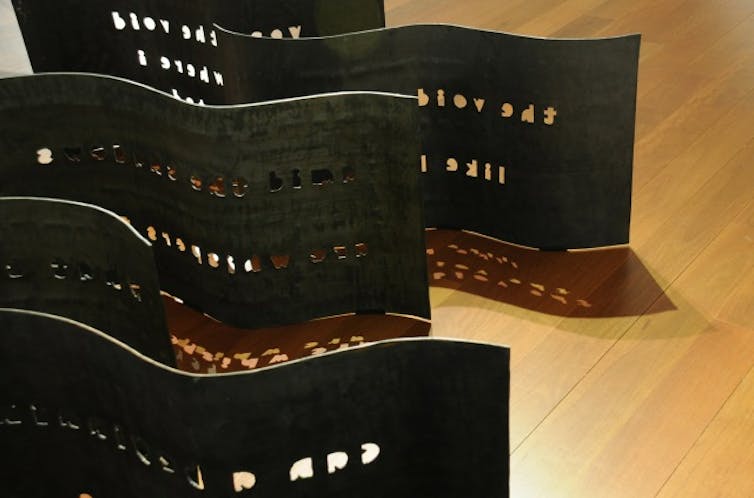 Making sense of Baden and his family's story is like piecing together some impossible three-dimensional jigsaw puzzle. Through our conversations, he and I journeyed backwards and forwards into the past through memories, photos and journal entries. What emerged I leave for Baden to express:
Your project has been a remarkable intervention into my family's tragic story of suicide; through our discussions; and through the collaboration you brought about; and the way in which you have helped me translate core intimate reflections both said and unsaid, about how suicide has touched me and in a sense made me as a human being, has made a profound impact. Although I was already sensitive to the transformative nature of suicide in my life, psychologically and emotionally, your work as a translator of feeling, bafflement and loss has inspired me immensely in the way I now approach the story of suicide through my life. You have brought coherence (happiness as defined by Toni Morrison) to this taboo subject.
Mic Eales is one of the participants in the multidisciplinary discussion at The Dax Centre on Talking about suicide: history, art and the media, on Thursday November 15, from 6pm.