When Australian prime minister Julia Gillard was summarily dispatched in June by her parliamentary team, the British media were bemused. Hadn't Australia weathered the global financial crisis with aplomb and avoided the European Union's prevailing politics of austerity that brought legions of the discontented onto its streets?
Much easier for the UK's press and broadcasters to understand – and to ridicule – was another major Australian sacking only three days earlier, when national coach Mickey Arthur was summarily disendorsed by Cricket Australia.
Gillard, who had presided over three Prime Minister's XI cricket matches and once made a self-described "captain's pick" for a Senate pre-selection, was removed with a federal election looming. But there was still time for her successor Kevin Rudd to make his love-struck media mark. Arthur's dismissal, though, occurred with the first Ashes Test just over a fortnight away, a managerial manoeuvre equivalent to a pitch invader smother tackling a batsman just as the ball left the bowler's hand.
Mickey Arthur's last-gasp replacement by Darren Lehmann was a sign of panic that Australia's faltering national team may lose three consecutive Ashes series in England. In any sporting contest such a litany of failure would be unpalatable, but for many Australians it is a particularly nauseating prospect. At stake is the symbolic history of postcolonial progress, with cricket having played a notable role in signifying Australia's separation from the Mother Country.
The Ashes is a different kind of sport series. When the concept first emerged in 1882, the Australian federation was still almost two decades away. Beating the English at their own "gentleman's game" became an index of Australian autonomy and a satisfying way of countering a persistently patronising attitude among English elites and media towards "the colonials". Correspondingly, putting the New World upstarts in their place has been a pleasurable pursuit for those in the Old Country still basking in now-faded imperial glory.
The Ashes has evolved into a vibrant, carnivalesque stage for the periodic rehearsal of British-Australian colonial history and stereotypes. It has become an even more noisy spectacle since some England fans formed the Barmy Army in the mid-1990s, borrowing its techniques of chanting, singing and opponent-baiting from soccer.
The Barmy Army never fails to mention the convict connection in Australia and the continuing constitutional role of the British monarchy. This is especially apparent after the failed Australian republican referendum of 1999, in songs like Convict Colony, You can sing sod all ("And I don't believe that anybody sings as bad as you / AUSSIE CONVICTS"), and The Aussies love the English ("But when they had the chance to vote they voted for the Queen / God save your gracious Queen").
Sung to popular tunes by English bands like The Beatles and Oasis, this English-style larrikinism determinedly departs from the upper-class superiority of the Marylebone Cricket Club (MCC) establishment, which is itself the target of Barmy Army songs like MCC bloke! ("He's reading the Times / His yellow socks / His sexist views / He's falling asleep / He's nearly dead").
This distancing from the class-inflected image of the gin-sodden, panama-hatted and stripe-blazered MCC member in the Lord's Pavilion seeks to distract from the Australian side's readymade rise-taking (as reflected in the less imaginative renditions of its Fanatics group) of the English team as etiolated progeny of its inbred aristocracy.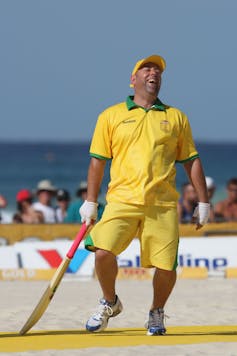 The laddish demeanour of the Barmy Army (with only subordinate roles for the occasional ladette), most obvious in the deliberate gender offence of We all shagged Matilda ("and so did our mates"), is a curious echo of a historical manifestation of Australian masculinity. This is an image that resurfaced in the Australian media's generally approving response to Lehmann's appointment.
Among his non-cricketing credentials, the fact that Lehmann is an Australian (unlike the South African Arthur, and the German and New Zealand coaches of, respectively, the Australian soccer and rugby union teams) was especially welcome to Australian media commentators – a sure sign of national insecurity. Lehmann, nicknamed "Boof", also has familiar bloke-like qualities – "all bald head, beer gut and a burning Benson & Hedges" and a "cricketing throwback to an age when BYO longnecks were as common on the Adelaide Oval hill as stubbies, shorts and sunburnt backs".
Unlike his predecessor, Boof would not set suspiciously cerebral homework for his players. This return to type was generally welcomed as an advantage in taking on "the Poms".
Aligning the coach with conventional codes of Australian masculinity also fitted well with its cartoon-like constructions by their English adversaries. It reveals the comfort of ritual rivalry that is far distant from, especially, contests with world cricket's current superpower and another former British colony – India.
While the Board of Control for Cricket in India flexes the newly-developed muscle created by its economic dominance, two mainly white colonial rivals can play their perennial game of compulsively re-drawing "Englishness" and "Australianness" long after it ceased to matter deeply to either party.
The postcolonial pantomime that is the Ashes still pulls in the crowds. Neither nation wants to be at the wrong end of the horse along with sacked prime ministers and cricket coaches.