Loneliness in older people is a serious issue but when I visited HenPower, a lottery-funded project in the north east that puts older people and hens together, I admit I had been expecting another worthy cause offering therapy. After all, it has been proven that stroking animals can have measurable health benefits. It can even cut the need for painkiller use after surgery. But to dismiss the idea as just therapy would be a misunderstanding and an underestimation of the value of this project.
Instead, older people look after the hens, collecting eggs and rearing chicks; they also paint pictures and photograph them, and design and build their coops. But why chickens? They are a particularly suitable addition to the community; they're space-efficient, inexpensive and robust. Looking after chickens – more than a pet dog or rabbit – can create a community of carers, cleaners, craftspeople and decision makers. Then, of course, there are the cooks who bake with their eggs. Hens are more than pets; they give something back in return for their care.
What I found when I visited the Wood Green sheltered housing community in Gateshead, where the project is being piloted, is a community that has gone hen mad. The social life there was thriving – and I heard more than one person refer to it as largely thanks to their new "henriched" lifestyles.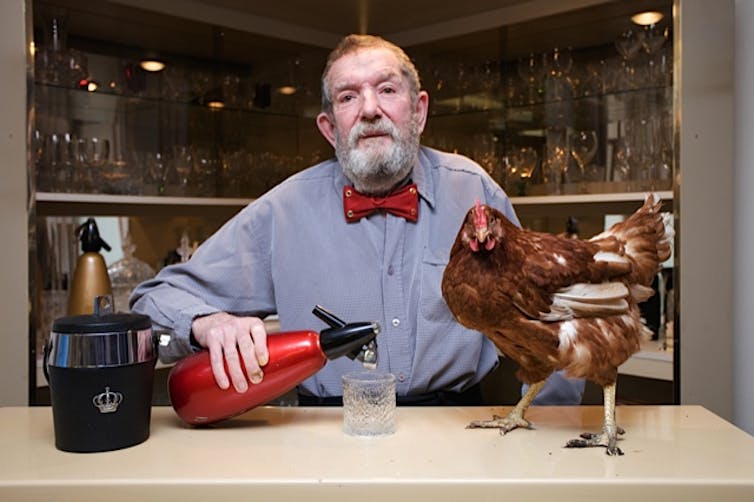 Self-dubbed the "hensioners", they are undeniably fascinated by hens and enjoy their daily encounters. But the real value of the enterprise is that it's creating and maintaining social contact between people who might otherwise become isolated – even if that is to vigorously debate some of the decisions being made in the detailed planning meetings that are convened by the hensioners. Some, of course, are happier leaving the discussions to others in favour of a more hands-on role with the chickens.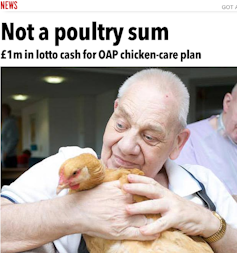 The hensioners were justifiably furious when Richard Moriarty sugggested in The Sun that HenPower was "patronising". The writer of the article focused on an activity that he deemed to be ridiculous: "They even bathe the birds and pamper them with blow-drys," he wrote.
He used this to imply it was all a waste of money. In fact, the £1m used to start the project funds its initial start up costs: labour, marketing materials, travel to and from residential homes, and other costs involved in ensuring that word spreads, as well as the chicken care itself. Considering individuality is key to this project, it was insulting that a caption in the printed article gave the wrong name to the pensioner.
A little bit of chaos
Moriarty's attitude to the project highlights some of the problems society has with how we relate across the generations. It is tempting for younger adults to view the elderly as an inconvenience en masse: a sea of old faces at the bus stop, or a queue of pensioners at the post office. White hair can render older people invisible to those trying to hurriedly overtake them on the pavement or manoeuvre their shopping trolleys past them in the supermarket.
The core group of hen keepers at Wood Green are all active pensioners. Passionate about their project, their diaries are packed with hen "roadshows", photo shoots and school visits. They're also keen to offer some of this to those who have had to relinquish some of their independence and are are pushing for nursing homes to introduce hen keeping to their daily routine.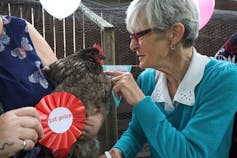 The benefits are clear: one home reported a drop in the medication levels for its residents with dementia after introducing chickens. This anecdotal evidence is exciting and, with scientific support, could have important medical implications. A sense of joyful mayhem follows the chickens, as they flap and crow and scatter mud about. The hensioners, laughing, told me that a bit of chaos was what was needed in these care homes.
Out of sight, out of mind
In Britain, we are notoriously bad at talking about the issues that terrify us most, and growing older is one of them. For very infirm people and their carers, nursing homes are undeniably a relief – and a necessity. For people who want to live independently, but need a bit of extra help and security, sheltered housing is a blessing. But it also creates a separation of older people.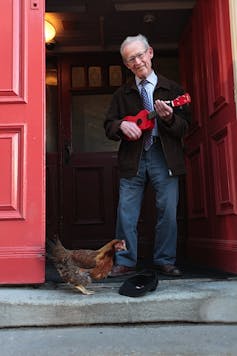 This, coupled with a reluctance to engage with those who live next door, can contribute to a sense of older people being "out of sight, out of mind". The people involved in HenPower are a community of individuals with different strengths and weaknesses – like the rest of us – but every person's contribution is recognised by the group, and depended on by the hens. Instead of feeling like a hindrance to society, they educate children, make money selling chickens and eggs, and enlighten the wider public at conferences.
As Alan Walker pointed out, ageing is "hugely variable and plastic" and society is gradually pushing towards "active ageing". And rolling out projects like HenPower could help with this. It is evidence of a drive towards an optimistic (and healthier) view of ageing, leaving behind generational strife and seeing older people live active and meaningful lives. As our life expectancies rise and more and more people live to be 100, this positive vision is crucial.