Over the past ten years, total vehicle sales in Australia have increased by roughly 35%. But sales of the once-most-popular cars, the Holden Commodore and Ford Falcon, have halved.
This fall in sales has lowered local production to levels not seen since the mid-1950s. Imports now make up around 80% of total vehicle sales in Australia.
Does the fall in sales of these two large cars mean we're seeing the end of the large passenger car – and the end of automotive manufacturing – in Australia?
Reports that Holden is considering moving its Commodore design work offshore after 2014 has done little to soothe fears for the future of the industry.
Holden says it has made no decision on the future of the design division, but the Association of Professional Engineers, Scientists and Managers Australia claims the move would cost 360 local jobs.
A new kind of family car
The Department of Innovation, Industry, Science and Research reports vehicle sales under various categories, including nine for passenger cars and six for light trucks. Passenger cars are generally classified by engine size, while light trucks, which include SUVs, depend on vehicle style or type.
Since 2005, annual sales of passenger cars have remained almost constant at around 600,000. Sales of light trucks have increased by almost 20% to 414,000.
In the passenger car sector, the shift away from large cars has been balanced by take-up of light and small cars. Small and light cars now make up 36% of total sales, while large cars make up less than 10%.
Sales of SUV and utility vehicles have increased by more than 20% since 2005. SUV sales are now almost equal to those of small cars. In 1996, large cars outsold SUVs four to one; now SUVs outsell large cars more than two to one.
Yes, there has been a shift away from large to smaller cars. But the largest single growth over recent years has been in sales of SUVs.
Since SUVs are not classified on the basis of their size it is difficult to directly compare this category of vehicles to passenger vehicles. But the continued growth suggests Australians now prefer SUVs to almost any other vehicle and sales might soon even eclipse those of small vehicles.
Still hanging on to the myth of car as freedom
It seems the long-held myth of the Australian family car as defined by the Commodore and Falcon (and the earlier Kingswood) no longer resonates with the Australian public.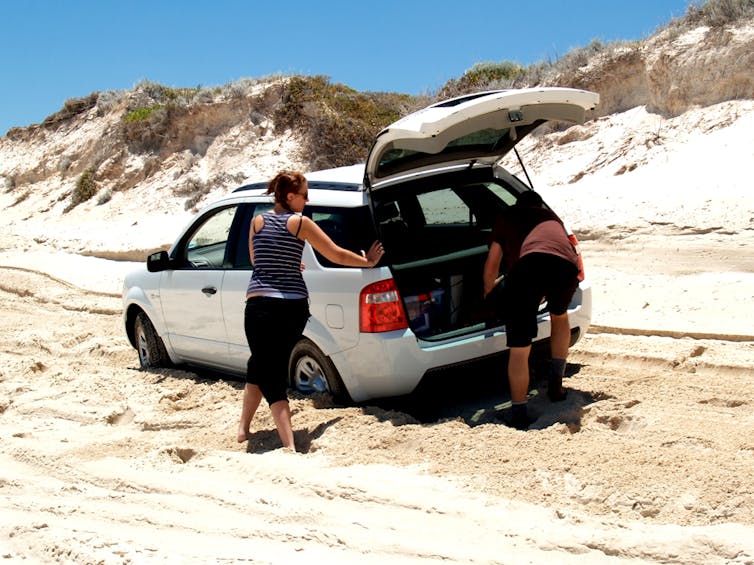 Adding further to the dimming of the myth is that fact most large passenger cars sold in Australia are purchased by government and commercial fleet operators and not the general public. In fact, the ratio is more than two to one.
The myth of the iconic Aussie car lingers only in the car parks of government buildings and the offices of company fleet managers.
Decreasing family size, increasing congestion, longer travel times and longer working hours have seen the rise of a new motoring myth, or rather the re-emergence of an old Australian story.
As a recent car ad suggests, while the older generation thinks the young couple's new SUV purchase heralds the birth of their first grandchild, the young couple believe it heralds the birth of a new life free of the constraints of modern existence.
The SUV allows us to continue the myth of the Australian bush that we all desire to experience. Now we're seeing it from the comfort of our new air conditioned thoroughbred.
Will SUVs stand up to the pressure at the pump?
How much longer can we expect to see the growth in SUVs sales continue? Apart from the Ford Territory, these wild bush horses are no longer from Australia.
On average they have higher fuel consumption than their passenger vehicle equivalents and require far more resources to manufacture. Their growth has seen the average fuel consumption of the Australian fleet remain almost constant for ten years, and well above that of most countries but the USA.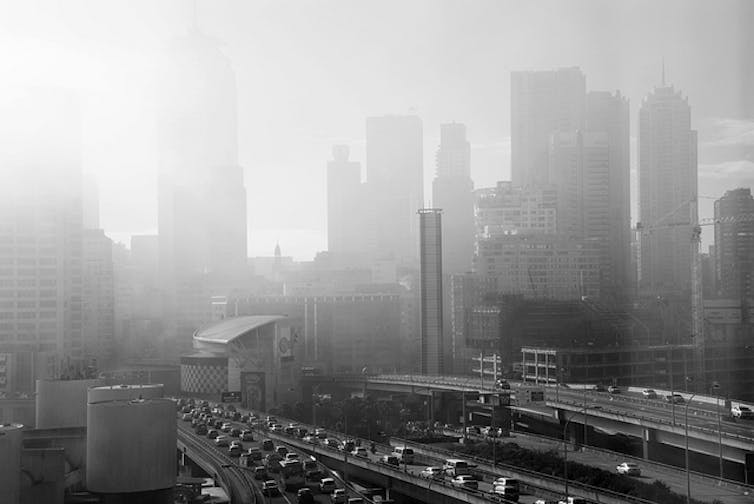 There is considerable international pressure to reduce vehicle fuel consumption though reductions in per-kilometre greenhouse house emissions. In Europe, reductions are mandated. In Australia we are still trying to work out the best approach.
For Australians not caught up in the new marketing myth, fuel costs as well as environmental factors have driven the rise in small car sales. There has been a shift towards hybrid vehicles, although sales have remained relatively minor so far.
As with many passenger car manufacturers, SUV manufacturers are producing diesel-powered variants, and many SUVs are now two-wheel-drive rather than four (suggesting a merging of myth with reality).
Supporting a different kind of auto industry
Supported by the now defunct Green Car Plan, Australian manufacturers have developed a hybrid passenger car(the petrol-electric hybrid Toyota Camry), and are using more lightweight materials and more efficient fuel injection systems.
We are now seeing delivery of the Holden Cruze, the first small-to-medium passenger car to be produced in Australia for some time.
Sales of the Cruze are almost equal to those of the Commodore. Sales of the Ford Territory remain relatively small, and given the stiff competition in this sector, are likely to remain so.
In the next five years it is likely that continued pressure to reduce transport greenhouse emissions, combined with rising fuel costs, will see a plateauing in sales of SUVs. Such vehicles are also likely to continue morphing into more passenger-like cars through greater urban styling.
Small passenger cars powered by small turbo-charged petrol and diesel engines have up to half the fuel consumption of SUVs. Their numbers will continue to increase at the cost of increased SUV sales and possibly hybrid vehicles. Electric cars are still some way off with energy storage and recharging technology being the major limiting factor.
In Australia, the two most important factors for the industry will be the success of new developments such as the Cruze, and continued government support for production through "co-investment".
The question is whether the government wants to keep funding production of cars only they and fleet operators seem interested in buying.