More than 1,000 illegal waste sites spring up across England each year – and there are probably far more that haven't been recorded. In 2016, the head of the Environment Agency in England called waste the "new narcotics", saying of waste crime: "it feels to me like drugs felt in the 1980s: the system hadn't quite woken up to the enormity of what was going on, and was racing to catch up."
This goes far beyond fly-tipping in country lanes. Waste crime can be highly organised criminal enterprises. The UK received the unwelcome accolade of having had Europe's largest illegal site. A single site in Derry contains more than 1m tonnes of illegally deposited waste – that's more municipal waste than Northern Ireland produces in a year.
The government has stepped up its fight against waste criminals. The environment secretary, Michael Gove, announced a comprehensive review of how the government should respond to the threat. This review is timely – there is a real need to strengthen the government's approach.
Waste crime is also a growing problem internationally. Interpol has identified it as one of the fastest growing areas of organised crime, having the potential to rival drug trafficking in terms of scale and profits. It is estimated to cost EU countries a staggering €72 to €90 billion each year, covering landfill tax evasion, losses to responsible waste disposal businesses and clean up costs. There are other costs too: in the UK, the fire service spends £16m every year putting out fires at waste sites.
Yet Europe has been exporting larger volumes of its trash abroad. About one-fifth of all the EU's plastic waste was sent to China in 2016. Now that the Chinese government refuses to accept large volumes of foreign waste, some European countries are facing a deepening waste crisis. This can only increase the amount of waste ending up in illegal sites.
---
Read more: China bans foreign waste – but what will happen to the world's recycling?
---
Illegal waste sites don't have adequate safeguards, so they can present a significant threat to public health and the environment. The waste site in Derry is dangerously close to the River Faughan, which supplies the city with drinking water. Rates for some types of cancer – linked to toxic waste dumping in the Naples region of Italy – were found to be up to 80% above the national average.
Messy problem
Some European governments have turned a blind eye to waste crime. Detecting waste sites takes time and money, as investigations, prosecutions and clean up don't come cheap. Other governments have allocated significant resources to tackling the illegal waste problem. The English Environment Agency received an extra £30m for waste enforcement in last year's budget.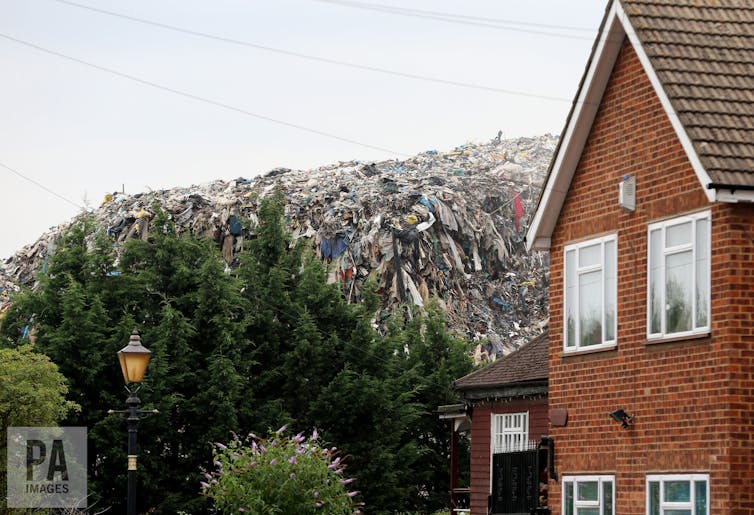 Despite the clear efforts of some regulators to tackle waste crime, it is more entrenched than ever. Regulatory bodies rely heavily on tip offs, as it's challenging to detect illegal waste sites. Waste dumping is highly profitable, so it is organised and deliberate, which means that sites are typically clandestine. Traditional regulatory approaches have been critiqued for not being proactive in identifying illegal waste sites.
Satellite technology offers a promising means of solving this problem – that's why, together with an Earth observation professor and a military intelligence analyst, I co-founded Air and Space Evidence (ASE) – an academic spin-off company originating from University College London. Using satellite data and waste site identification algorithms, we became the first company in the world to offer a space monitoring service to detect illegal waste sites.
View from above
A space-based system is a game changer, because it makes it possible to monitor whole countries routinely and cheaply. Illegal sites can be detected more quickly, so authorities can intervene earlier. Sites can also be categorised in terms of risk, so regulators can prioritise ground inspections at the most dangerous sites.

To date there has been limited uptake of satellite data in the waste sector, but that could soon change. Since April 2018, landfill tax can be levied at illegal sites (it only applied to legal sites before). This means there is now a direct financial incentive in the UK to tackle the issue. And the gains can be substantial. In one 7,000 km² test area in the UK, we identified 207 sites which were classified as suspicious. A countrywide monitoring programme would be expected to identify potential tax penalties in the hundreds of millions of pounds.
In the UK, all of this tax goes to HMRC and not to the environmental regulator. By contrast, in Ireland the regulator is incentivised, because it can receive up to 80% of the tax income gained from illegal waste sites. It would certainly make sense for HMRC to work more closely with regulatory agencies to tackle waste crime, and to share some of the spoils.
Modern satellites can see objects as small as manhole covers and are already used in the UK to detect agricultural subsidy fraud and oil spills. The government could make use of these technological advancements, to clear up the rising tide of pollution in its own backyard.