The government's recent proposal to amend the Fair Work Act makes it clear franchisors will be punishable for breaches of industrial law, the like of which we've seen in scandals surrounding retail franchises. But there will still be problems in enforcing this law. This is because of the obstacles workers face in successfully pursuing their entitlements and the inadequacy of our current penalties to deter these sorts of practices.
We've seen various scandals surrounding retail franchises, including 7-Eleven and Caltex stores, and takeaway food businesses such as KFC, McDonald's and Hungry Jacks. The wages theft has taken several forms, with some franchisees paying workers far less than the minimum wage or modern award entitlements, failing to pay penalty rates and superannuation, and falsifying pay records.
A significant proportion of Australia's labour force works in franchise organisations. According to the Franchise Council of Australia, while franchising accounts for only 4% of businesses, this includes about 1,200 franchising brands. Among these, there are approximately 79,000 operating franchisees which together employ more than 470,000 direct employees.
In the "commercial marriage" of franchisor and franchisee, the franchise agreement defines the rights and obligations of both parties. The franchisor is the senior partner in this relationship, and charges the franchisee an upfront fee, an ongoing fee (such as a percentage of revenue), or a combination of the two. Given this continuing financial bond, holding franchisors, as well as franchisees responsible for wage compliance, is crucial.
If employees have been underpaid
Under the Fair Work Act, employees of a franchise can pursue recovery of underpaid wages through the Federal Magistrates Court or Federal Court of Australia. The Fair Work Ombudsman can also investigate claims of underpayment by franchise operators. Following findings of noncompliance, the Ombudsman can issue compliance notices, infringement notices and engage employers in enforceable undertakings to remedy infringements.
However, in practice for individual workers, numerous obstacles exist to recovering stolen wages. Many workers simply do not know their wage entitlements or how to identify them.
Also, proceedings in the Fair Work Commission take time, and are costly, unless a worker belongs to a union or represents him or herself.
Self-representation is often infeasible, particularly for workers with English as a second language. Then, documentary records, such as payslips, time sheets and rosters are often missing in action or deliberately falsified. This was the case with those 7-Eleven franchises which recorded only half the hours worked, so that workers appeared to be earning the correct wage instead of only half that amount.
Migrant workers and international students may face the threat of deportation. As well, pursing the claim may prove fruitless if the franchisee lacks the financial resources to reimburse the wages.
The Ombudsman will be responsible for enforcing the proposed legal provisions, including the ones in the government's latest proposal, but in reality this will require a substantial increase in resources.
While the Ombudsman has engaged vigorously in action against a number of franchise operators for significant breaches, its investigative capacity is constrained by inadequate resources, a limited power to compel employer cooperation and assistance, and companies liquidating after the Ombudsman files a matter in court.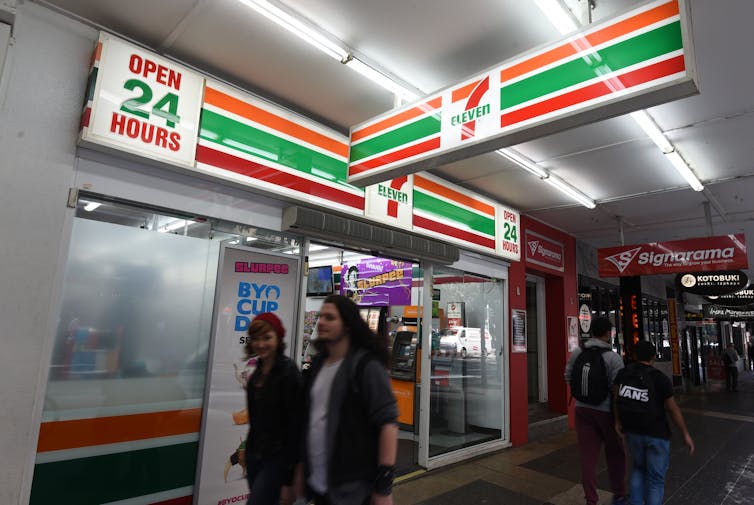 The penalties and sanctions for franchises
The penalties and sanctions for punishing misbehaving franchises, available under industrial law, are also limited.
The financial weight of sanctions is low - the maximum fine is A$10,800 for individuals and A$54,000 for a corporation. This is unlike in other areas of law such as occupational health and safety, migration and consumer law, where criminal penalties apply, there are no criminal penalties for recalcitrant franchises.
The current system in Australia with these sanctions is that punishments for transgression become increasingly severe with repeated non-compliance. But the law currently steers clear of using the highest fines and other penalties, to avoid upsetting franchises that might be doing the right thing.
However, this relies on most employers being ethical, following the rules, and the availability of measures sufficient to encourage compliance and deter non-compliance. The existing sanctions for employer failing to pay award wages are unlikely to be sufficient to deter wage theft among either franchisees or franchisors.
Even under the proposed legal protections to cover franchises, including increased powers and resources for the Ombudsman, it will remain difficult to hold franchisors accountable for wage underpayments. This is because of the need to prove that the franchisor had actual knowledge of the franchisee's contravention and intentionally participated.
What needs to change
The extensive public shaming of some franchise operators in recent months may have encouraged a return to compliance for those acting illegally. However, for the longer term, legislative changes are required both to make it easier for individuals to recover wages and to deter franchise operators more strongly from engaging in unlawful wage practices.
Individual workers need stronger protections to prevent retributive actions from employers towards whistleblowers. Workers must also be better informed about their wage entitlements and employers need to know that this information is easily accessible to workers.
Sanctions in recent legislation on workplace health and safety (2011), and in the heavy vehicle road transport sector (2012), provide an example to follow appropriately penalising and preventing misbehaviour in franchises. These new measures have included increased financial penalties, the disqualification of company directors from managing companies and criminal sanctions for serious and repeat offenders.
---
This article has been corrected since publication to acknowledge that underpaid workers can pursue underpaid wages through certain courts.