At 12.45am on Sunday (AEST) wonder-mare Black Caviar, the Antipodean racehorse with the highest public profile since the immortal Phar Lap, will contest the Diamond Jubilee Stakes at Royal Ascot racecourse.
It is anticipated she will win, just as she has in all her previous 21 starts in Australia. She will once again be at short odds, maybe five-to-one-on. Her anticipated presence has frightened off most of the top-grade British sprinters that would normally line up for this race.
Phar Lap vs Black Caviar
Before Black Caviar came along, the title of Australia's greatest horse was held by Phar Lap, who had 37 wins from 51 starts. A victory at Ascot for Black Caviar could change that.
But Phar Lap and Black Caviar have little in common. He was a seventeen-hand gelding said to resemble a red kangaroo, especially as a gangly colt. She of course is black, no dwarf at 16.2 hands high, but built along the nuggetty lines of a pit-bull terrier. Phar Lap won races beyond two miles in length. "Nellie" (Black Caviar's stable name) has only once been tested beyond the sprinter's distance of 1200 metres.
In 2012, anyone has access to full video footage of each of Black Caviar's wins and with the exception of two challenges by the courageous front-runner Hay List, she hardly seems to have got out of low gear. There are only a handful of grainy films of Phar Lap racing, all shot without telescopic lens. We can be certain of one thing however, Black Caviar has her own website and twitter profile. Phar Lap, naturally, did not.
The pair's greatest similarity, of course, lies in the fact they have moved beyond the boundaries of the sub-culture of racing into the broader Australian psyche. They have even moved into the consciousness of children, who draw pictures of the black mare and wave them trackside as she parades before and after races.
For Black Caviar has done something only the Melbourne Cup and a handful of other festive racing occasions now do; she has drawn masses of people to the track. Even in Adelaide, the acknowledged "sick man" of Australian racing, some 30,000 people recently turned out to pay homage twice at the city's one remaining metropolitan track, Morphettville. There is a sense that Black Caviar's visit was the equine equivalent of one by the Queen on royal tour duty, venturing out to visit her subjects at the far reaches of her empire.
Squibs and stayers
Is there a similar motivation behind Black Caviar's expedition to the UK? Prize money in itself cannot be the answer, for compared to Australian "group" races, it is footling. Especially for the sprint races Black Caviar contests.
This reflects the pecking order in Britain and Europe, where stayers are held in much higher esteem than sprinters, or "speedy squibs". That used to be the case in Australia too, until The Golden Slipper Stakes turned the local breeding industry upside-down and caused the rise of the speed sire. Now the Australian-bred stayer is almost defunct, a fact reflected by the prize money earners in recent Melbourne Cups.
This stayer/sprinter dichotomy may help explain why Black Caviar, the unbeaten winner of 21 races, is ranked only the second best horse in the world by the UK based arbiter Timeform. The laurel goes to one Frankel, winner of 11 races without having his colours lowered. Frankel "franked" his rating with an incredible eleven-length Ascot win on Wednesday night.
Who the Frankel?
Frankel is a stayer, or at least, a middle distance horse. He ranks 11 points above Black Caviar with the highest Timeform rating ever of 147. There has been talk of a match race between the two champions, but it would have to be at a distance at the extremity of each's effective range, most likely 1600 metres. In those circumstances such a race would probably not settle which is the better. In any case, despite the salivations of racing's followers and the avarice of its marketers, such a showdown is considered unlikely.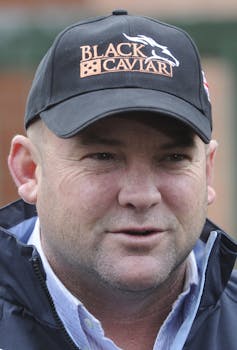 Black Caviar may be dwarfed by Frankel in the ratings but there is no doubt she is racing's current "It" girl, in the United Kingdom no less than in Australia.
Last weekend the racing station Skychannel played gratifying images of perhaps 20 British camera crews trudging across broken ground on the Newmarket heath in order to inspect her stabling, watch her undertake some pacework, and interview her Australian trainer, Peter Moody, and jockey, Luke Nolen.
Moody is a consummate media performer, honed no doubt by the number of interviews he has given in the past few years.
What if she wins?
What will it mean for Australian racing if Black Caviar wins? In one sense, not that much. In the last decade there has been a steady stream of Australian horses.
Miss Andretti, Scenic Blast, Starspangledbanner and So You Think, have all managed to win big races at the Ascot Carnival, the July Newmarket meeting, and beyond. There are plenty of precedents.
None of these worthy horses, however, is a Black Caviar. She makes people feel good about themselves and it is certain that one day old-timers will boast of having seen her race.
She was not born into desperate economic times like the "Red Terror" Phar Lap was. Nor has she had to overcome deprivations and constant failure in early years, and then crippling injury, as the American's "People's Horse", Seabiscuit did. But, like them, she has gained immortality, regardless of whether she wins on Saturday.