For the third time in half a century, Orkney, UK, has raised the issue of its Nordic origins and an apparent desire to embrace them once more. Earlier this week, Orkney Islands Council voted on a motion to begin exploring options of "greater subsidiarity and autonomy", potentially looking beyond the UK and Scottish borders to build "Nordic connections".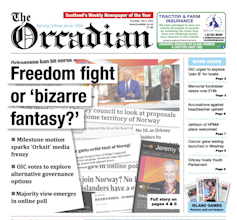 This decision has made national and international headlines. These were centred on the possibility that the island group, located ten miles from the north coast of Scotland, may seek to become a Norwegian territory.
A similar motion was passed in the neighbouring Shetland Islands in 2020. Could this be the latest constitutional crisis to rock the United Kingdom?
As these news reports typically highlight, Orkney and Shetland were part of the Norwegian and Danish kingdoms until their annexation by Scotland in 1472. Orcadians and Shetlanders do not identify as Norwegians or Danes today, but they retain distinct identities which for some – though not all – include aspects of this Norse heritage.
Orkney's motion joins a long history of attempts by activists and local politicians to use this distinct identity to draw attention to grievances with central government.
Back to Scandinavia
In August 1967, Orkney's largest settlements of Kirkwall and Stromness awoke to a poster campaign calling for Orkney to return "Back to Denmark". One poster declared: "Orkney is dying under British rule, reunite with Denmark now." The campaign produced widespread news coverage, making headlines in Edinburgh, London, Denmark and even as far away as Singapore.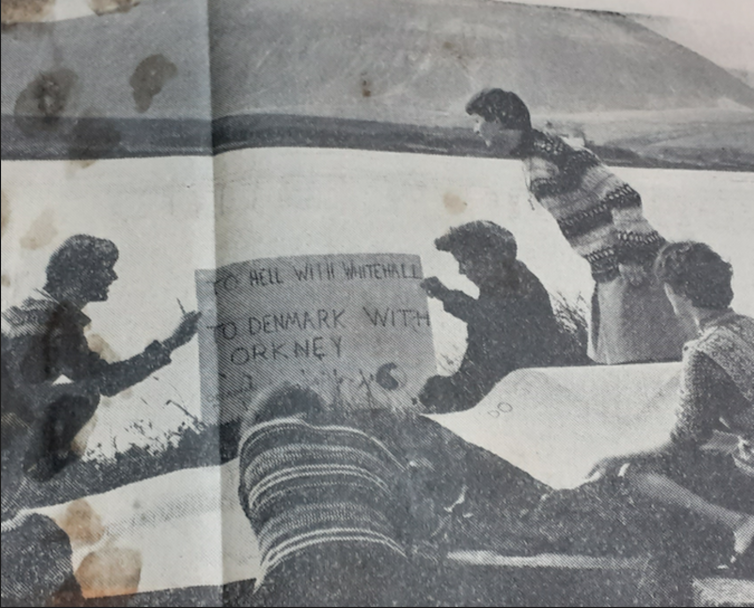 The immediate trigger was the government's policy of centralising police forces and water boards into regional bodies, abolishing Orkney's local institutions. It was feared that Orkney's local government would soon follow. There were also grievances concerning the expensive cost of transport and the government's inadequate response to a shipping strike the previous year.
In an interview with The Observer, one campaign organiser was described as "plainly delighted with the astonishing commotion he has caused", clearly recognising the potential for this provocative use of Orkney's distinct identity to draw attention to the islands' grievances.
The Orcadian, Orkney's sole newspaper, declared "it was all a joke" that had taken the rest of Britain "for a ride" – before adding: "but it has its serious side".
Orkney's Nordic ties were invoked again in 1986. Amid a campaign against a proposed expansion to Dounreay nuclear power station in Caithness, activists from Orkney and Shetland drew up the Declaration of Wyre.
Addressed to the kings of Norway and Denmark, the declaration called on them to "consult on our constitutional status" and to "inquire into the legality in international law of siting a nuclear processing plant … in an area of unresolved constitutional status." Once again, historical ties to Scandinavia were used to highlight a contemporary and thoroughly modern political concern.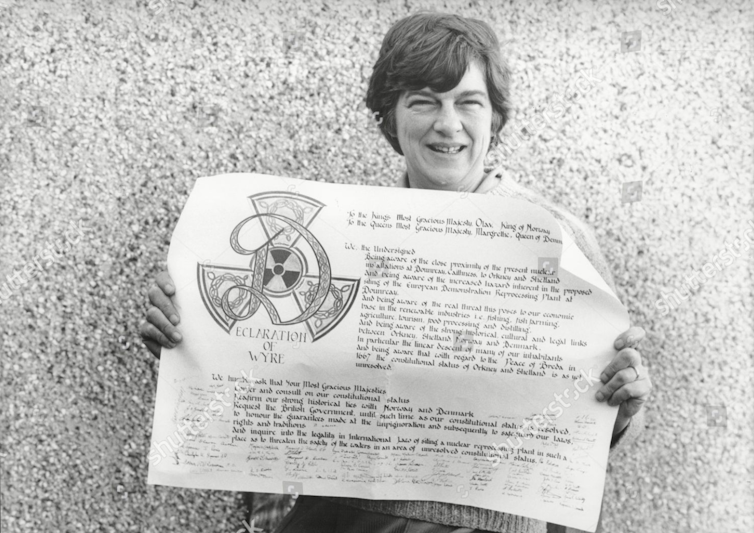 Political failures
As in 1967 and 1986, Orkney Islands Council's motion to explore greater autonomy and Nordic connections is centred on current political issues. The council is frustrated at failures to reach an agreement with the Scottish government to fund the replacement of its ageing inter-island ferries or secure adequate ferry fare subsidies.
There is also anger at the broader trend of centralisation that followed the re-establishment of the Scottish Parliament in 1999.
Invoking the possibility of constitutional change, especially when this draws on the islands' Norse heritage, is a proven strategy for gaining media and political attention. External actors are often willing to make use of eye-grabbing headlines or gain additional ammunition for national constitutional quarrels.
This is well understood by activists and local politicians. Orkney council leader James Stockan acknowledged that the media response to his motion has been "a remarkable result".
So is this simply a PR stunt hatched by a council seeking additional funds at a time of increasing crisis within the UK's public services? Not entirely.
There is a real history of pro-autonomy sentiment to draw on, articulated to its greatest extent in the 1980s by the now defunct Orkney Movement. Most Orcadians (and Shetlanders) would endorse the principle of decentralisation. But more radical visions for autonomy have never gained demonstrable majority support.
Orkney's councillors are likely entirely sincere in their desire for decentralisation, if perhaps not to the extent of rejoining Norway or becoming a fully autonomous territory. However, neither Orkney nor Shetland's autonomy motions passed unanimously. Like any other community, there are political differences which can sometimes be overlooked from outside perspectives.
It is unclear how most Orcadians and Shetlanders feel about their councils' policies. These developments have not seen any meaningful engagement with or interest from the wider population – or, indeed, any electoral mandate from the islands' voters.
The Orcadian conducted an online survey this week which found a narrow majority of 51.4% support for the council's policy, with 37.9% opposed. However, as this survey did not follow scientific polling methods and was also open to non-Orcadians to fill out, it can only provide a rough estimate of people's views.
In contrast to the 1980s, when mobilised campaign movements pressured the councils into taking further action on autonomy, there is no grassroots momentum for constitutional change in the islands today. But it is possible that continued dissatisfaction with central government could lead to growing interest in the subject.
Orkney is not going to become a Norwegian territory and significant constitutional change is unlikely to appear in the near future. That said, the idea of autonomy will continue to be attractive for some. As long as this remains the case, local activists and politicians will continue to use their islands' distinct heritages in creative ways to make their voices heard.