The recent event of yet another boat sinking off the coast of Lampedusa in Italy resulted in the death of hundreds of migrants with still more unaccounted for. Despite the tyranny of distance, the incident should serve as a reminder to Australia that the issue of asylum seekers crossing dangerous seas in search of safety is a global challenge.
Following criticisms of Australia's role during a recent boat sinking off the coast of Java (which left 31 people dead), immigration minister Scott Morrison reiterated his commitment to turn back boats when safe to do so. During prime minister Tony Abbott's recent trip to Indonesia, familiar messages were repeated by both Abbott and Indonesian president Susilo Bambang Yudhoyono about the need to respect sovereignty on this matter. They also pleaded their case as "victims" at the hands of people smugglers.
Similarly, Italy has been presenting the plight of migrants landing on their shores as a "European" problem, not just an Italian one. Yet in both cases, no matter how the problem is framed, people continue to risk their lives by moving from Indonesia or countries in North Africa to Australia and Europe respectively in search of permanent protection for themselves and their families.
Although figures of boat arrivals to Australia and "turn backs" are becoming increasingly hard to come by, recent arrival data shows that the trend of asylum seekers mainly originating from Afghanistan, Iran and Sri Lanka is set to remain the same. In Europe, boat arrivals originate from countries such as Eritrea, Somalia and Syria.
The Mediterranean is certainly the most dangerous sea journey a migrant can take. However, 1,484 people have also reportedly lost their lives off Australian shores, and more efforts need to be made to also record the number of people who lose their lives en route to reach departure points in Indonesia and North Africa. A worrying phenomenon across both contexts is the high proportion of women and children also taking these journeys.
As some European commentators have noted, the lack of legal channels available for both migrants and refugees to reach Europe means using people smugglers to cross the sea is the only option for many people. Tony Abbott should heed this advice and reconsider his decision to reduce Australia's humanitarian refugee intake.
Leaving aside the idea that Australia and Indonesia are victims of people smugglers rather than desperate individuals who place all their hope in this option, a sole focus on people smugglers and the smuggling trade also misunderstands the real cause of people movement. To that end, Australia can do more to understand the journeys people take to Indonesia before departing for Australia, to learn about ways potential boat people are making decisions.
Migrant communities and diasporas also play a critical role in funding journeys and sharing information. Rather than shut down discussion and silence data sharing, immigration minister Scott Morrison should use his position to foster dialogue on people smuggling.
Australia should be commended for investing in regional dialogues such as the Bali Process on People Smuggling, Trafficking in Persons and Related Transnational Crime. It could also use its seat on the United Nations Security Council to advocate for more action through High Level Meetings on human trafficking, international migration and development.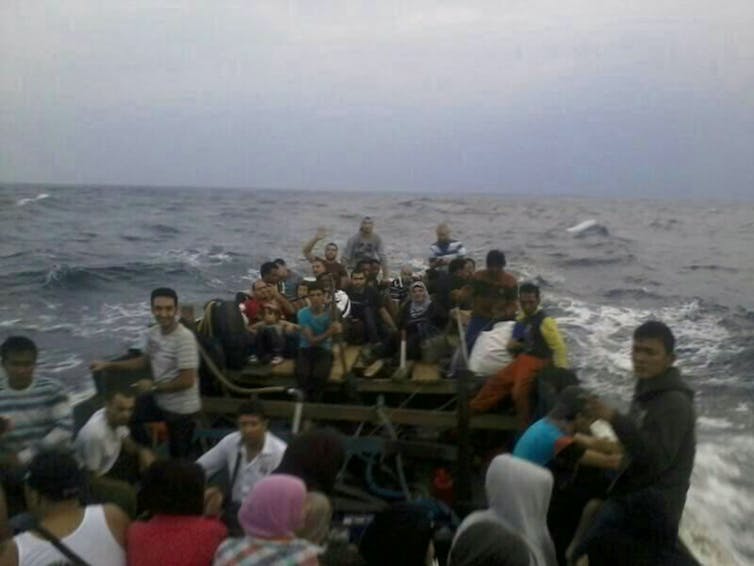 Closer to home, decisions to take additional allocations of refugees from Syria highlight how Australia can play a positive role in setting examples to other countries. One continuing area of concern remains Australia's immigration detention regime and offshore processing arrangements. Countries such as Libya in North Africa - where most migrants depart from on their boat journeys to Europe - have been criticised for their practice of detaining asylum seekers and refugees to stop them travelling north to Europe.
Australia should show countries such as Libya, or, closer to home, Indonesia, that asylum seekers can be managed in a process that complies with international law and the UN Refugee Convention.
Europe can also learn from Australia that if the wave of sympathy over the terrible loss of lives at sea is not translated into action, it simply results in empty words and pointless effort. The lack of initiative following last year's Houston Panel on Asylum Seekers is a case in point.
Right now, with many in Europe struggling to come to terms with a terrible tragedy on their shores, Australia faces a unique opportunity to show leadership in this domain. To do this, Abbott and Scott Morrison must reconsider their preference for rhetoric, hyperbole and silencing of debate. Instead, they can offer positive solutions to help address the global phenomena of people smuggling and illegal migration, such as humanitarian intakes and legal migration channels.
Australia's political leaders must also be prepared to accept criticism of policies towards detention and turning back boats, and review approaches that do not deter people taking risky journeys on unseaworthy vessels.