A visit by the Minnesota Orchestra to Cuba this week demonstrates the vibrant possibilities of musical diplomacy. The May 13-17 visit continues a long tradition of using music to connect people and institutions across international lines.
The orchestra's performances, which have been funded by private donors, are being hailed as an act of diplomacy. The orchestra was invited by the Cuban Ministry of Culture, which demonstrates the improving relationship announced by President Obama last December.
Since US-Cuban diplomatic relations soured in the 1960s, a few individual American musicians and bands have performed there.
But due to strict restrictions on travel and economic aid, no US orchestra performed in Cuba between the New Orleans Symphony's visit to Havana in 1956 and the Milwaukee Symphony's performances there in 1999.
Apart from garnering media attention, what might the orchestra accomplish in Cuba? In my new book, Music in America's Cold War Diplomacy, I discuss how music became a vital tool for building international relationships.
The Cold War Experience: US-Soviet exchanges
The most telling precedent for the Minnesota Orchestra's trip is the opening of the Soviet Union to government-sponsored tours by American musicians in 1958. Exchanges of musicians had been severely restricted. But the signing of a bilateral treaty allowed several high-profile groups to travel in each direction every year. These included the New York Philharmonic and the Bolshoi Ballet.
Contact with the "enemy" was a revelation. American musicians visiting the Soviet Union were mobbed on sidewalks and in restaurants by people wanting to talk with them about life in the United States. When possible, the public's eagerness was kept under control: backstage doors were often locked to prevent meetings. But in many cases, Soviet citizens shared meaningful conversation and even made music with the American visitors.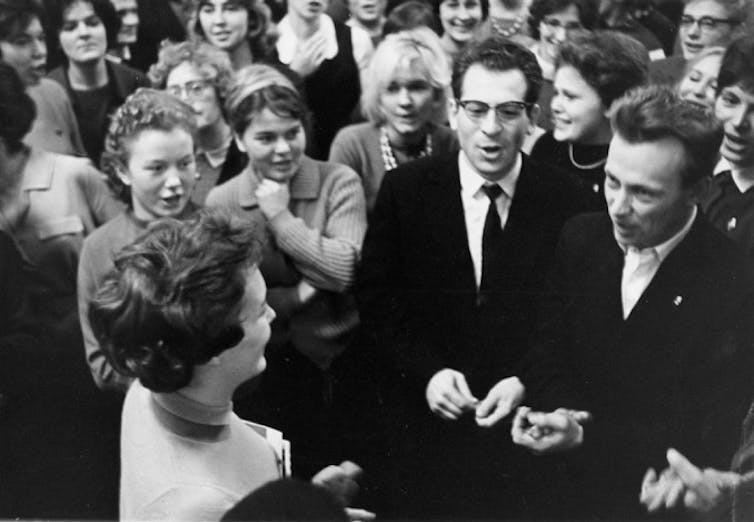 Personal contact was as important as the excellent music played onstage. Shared musical experiences and conversations helped individual citizens, both American and Soviet, recognize one another's humanity.
Even when US-Soviet relations became very tense, exchanges of musicians continued. People on both sides understood these musical border crossings as a hopeful sign that some relationship could exist between the two nations.
Like Soviet citizens, Cubans have welcomed their foreign visitors warmly. The Minnesota Orchestra's musicians are just as excited: the idea of crossing into formerly forbidden territory remains provocative and inspiring today.
Even amid politics, music remains a point of connection
The Minnesota Orchestra's performances this weekend highlight cooperation with Cuban musicians. For Beethoven's Choral Fantasy, Cuban pianist Frank Fernandez will perform as soloist, and the Cuban National Choir will sing with the orchestra. Members of the orchestra are visiting a high school and a conservatory of music to teach Cuban student musicians and make music with them. They will also spend a morning in a side-by-side rehearsal with a youth orchestra in Havana.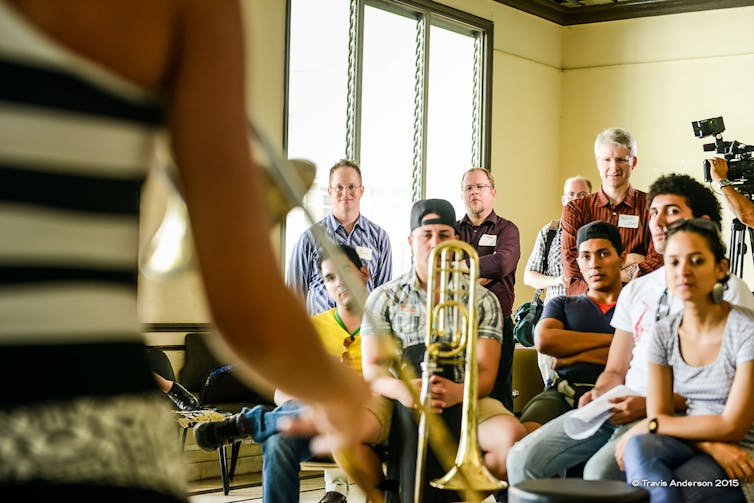 Playing together is a time-honored diplomatic strategy. During the Cold War, the US government sent musicians not just to the Soviet Union, but all over the world. American jazz bands would routinely hold jam sessions with citizens of the host countries. Sometimes they invited fellow musicians to perform with them in concert.
Even in the case of classical music, which requires extensive rehearsal, playing together was vitally important to the musicians' success. The United States sent conductors and orchestral musicians to support the work of orchestras abroad. This gesture ensured that musical diplomacy meant more than showing off America's technical prowess through accomplished performances.
Rather, playing together fostered local musical culture, helping musicians cultivate their skills and fulfill their own ambitions.
When Minnesota Orchestra members perform with professionals and teach student musicians in Cuba, they demonstrate respect and support for Cuba's musical life, now and in the future.
Music can open doors
Cold War musical diplomacy earned support from Congress and the State Department because music opened doors for further engagement. In many cases, the special occasion of a concert would bring together important community leaders, who would then engage with American diplomats and musicians.
Frequently, the State Department kept lists of local people who showed interest in American performances. Later, some of these people would be invited to visit the United States. US Foreign Service officers in Bolivia used a 1965 concert by the University of Michigan Jazz Band as a way to get to know student leaders at the Universidad Mayor de San Andrés in La Paz. Some of these Bolivian students later traveled to New York to witness a democratic election. A member of the Oberlin College Choir corresponded with Soviet students for a few years after the choir's tour. A single event could thus grow into a longer-lasting international relationship.
The Minnesota Orchestra's two performances this weekend are part of the CubaDisco Festival, which celebrates the achievements of Cuba's musicians and recording industry. The formal and informal events of the week may stimulate personal relationships and profitable business associations between Cubans and Americans. Some 30 of the Minnesota Orchestra's patrons are traveling with the group. Their role, like that of the musicians, will be to cultivate these associations.
If history is any guide, the Minnesota Orchestra will make friends not only for themselves, but also for their country.
The orchestra's concerts will be streamed live tonight, May 15, and tomorrow, May 16, at 7 pm CDT.