Welcome to "The most powerful companies you've never heard of" – an ongoing series from The Conversation that sheds light on big companies with low profiles. Today, Deakin University's Philip Soos examines pharmaceutical giant Merck.
Merck & Co Inc is one of the world's leading pharmaceutical health care companies, headquartered in New Jersey.
As is typical for pharmaceutical firms, its principle business is medicines, biologics, vaccines, and consumer and animal products.
Outside of the US, the company is known as Merck, Sharp and Dohme (MSD), and its Australian subsidiary is headquartered in Sydney.
The company was founded in 1891 by George Merck, a member of the German Merck family who was tasked with setting up shop in the US to expand the business. The original intention was to establish a distribution office for the parent company in Germany, E Merck, a manufacturer and distributor of fine chemicals.
During first world war, the firm had its assets seized by the US government due to its German connections, but was allowed to reestablish itself as a new company in 1919.
If the government had decided otherwise, this would have been the end of Merck. Since then, however, Merck enjoyed relative success, for instance, discovering cortisone, vitamin B12, and streptomycin (an antibiotic therapy for tuberculosis).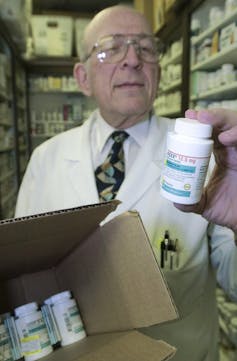 Over the decades, it has rapidly grown into one of the most powerful pharmaceutical corporations, ranked alongside powerhouses Pfizer and GlaxoSmithKline.
Merck has merged with and acquired other companies along the way. It merged with Powers-Weightman-Rosengarten in 1927 and Sharp and Dohme in 1953.
It has acquired Kelco, Calgon, Charles E Frosst & Co and Aircoil, with its largest takeover occurring in 2009, when it completed a reverse acquisition of Schering-Plough for $US41 billion.
It currently resides at 170 on the Forbes Global 2000, an annual list of the world's richest public companies. True to its size, Merck has a market capitalisation of over $US100 billion, recorded revenue of $US46 billion, and employs a workforce of 94,000 around the world.
Its second near-downfall occurred early in the 21st century due to a medicine called Rofecoxib, also known as Vioxx.
This medicine belongs to the therapeutic group of nonsteroidal anti-inflammatory drugs (NSAID), primarily designed to relieve acute pain, typically taken by those suffering from arthritis.
Vioxx is its most popular brand name and was approved by the US Food and Drug Administration (FDA) in 1999. It proved to be a goldmine for Merck, and was one of the most popular drugs on the market.
There was one problem, however: it substantially increased the incidence of heart attack and stroke. Between 88,000 and 139,000 (going up to 160,000) US citizens suffered from these incidents, with 30% to 40% dying as a result.
Merck is alleged to have withheld critical data that surfaced in 2001 that could have enabled the FDA to take action over Vioxx, potentially preventing many deaths.
Vioxx was also tested for secondary use on Alzheimer's patients without proper monitoring and Merck conducted ghostwriting academic papers. The company shopped around for compliant academics who would attach their names to papers, written by Merck employees, and then submitted them to leading medical journals to give the faulty research creditability.
Merck withdrew Vioxx from the market in 2004, resulting in foregone revenue of billions, hurting the company's bottom line.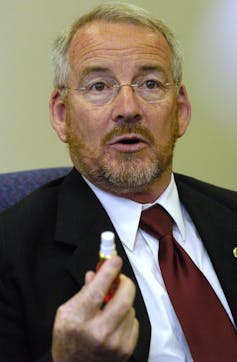 In November 2007, Merck announced a $US4.85 billion settlement with lawyers working on behalf of aggrieved consumers and relatives, in the hope of finally resolving one of the largest pharmaceutical lawsuits in history.
It is believed the settlement will cover the majority of litigants in the US. Merck has reportedly spent or allocated at least $US2 billion in fighting litigation claims.
In Australia, the Federal Court last week overturned a ruling that could have seen up to 1500 former Vioxx users who suffered heart attacks to claim compensation from Merck.
The earlier ruling had seen Vioxx user Graeme Peterson awarded $330,000 in damages after a Federal Court judged found the medicine doubled the risk of heart attacks and was not fit to be on the market.
The court case revealed that the company had made a hit list of doctors, researchers and academics that were critical of Vioxx.
Merck wanted to "neutralise" and "discredit" various doctors, going so far as to say that "We may need to seek them out and destroy them where they live."
Interference with academic appointments and withdrawing funding were also alleged to have occurred. Elsevier Australia, the journal company, created a journal funded by industry that gave only positive reviews to Merck's pharmaceuticals – a blatant buyout of the scientific process.
We should, however, not be surprised about the behavior of Merck, as it is the product of numerous perverse incentives provided by the flawed patent system.
The Vioxx scandal was almost a deathblow to the company, and it is unsurprising that Merck would want to keep a low profile given the extensive black mark it has earned.
Although the pharmaceutical industry has a record of anti-social behavior, this episode is difficult to beat.
Along with other pharmaceutical firms, Merck faces stiff generic competition in the coming decade that will test the mettle of its management.
So far, Merck has attempted to rise out of the hole it dug for itself and get back on track by developing a few high-profile drugs: Isentress, Gardasil and Januvia.
If it can keep to its recent track record, it will again prove itself to be one of the world's leading pharmaceutical powerhouses.
Is there a big company with a low profile that you think more people should know about? If so, email the editor.
Read more: