The government has announced its commitment to the introduction of a National Disability Insurance Scheme (NDIS), with money to be set aside in next week's federal budget for a 2013 start-up in four locations.
The funding amount and scheme structure is not yet clear. But the government has a blueprint it could follow, drawn up by the Productivity Commission last year.
The blueprint
Based on extensive community consultation, the Productivity Commission's report details the growing crisis in disability support, labelling the current system "inequitable, underfunded, fragmented and inefficient".
Discussion over the next few weeks is likely to centre on the costs of the scheme. The Productivity Commission found that disability funding effectively needs to be doubled, with an additional A$6.5 billion on top of what's already provided by state and federal governments.
The Commission also recommends the federal government take responsibility for the scheme, and prefers the funding to come directly from consolidated revenue using a formula guaranteed by legislation. This would effectively future-proof the scheme and make access to disability support a right, rather than dependent on how, where and when the disability was acquired.
The fragmentation in the current system means costs are transferred across different arms of government, often resulting in huge levels of inefficiency, waste and poorer individual outcomes. Systemic change is needed to allow whole-of-life planning that centres on individual needs.
Current pressures
Navigating life with a family member who has a disability is a series of crises. Some are inevitable: the diagnosis, any medical interventions, grief over the loss of child you expected to have. But the continuous struggle with "the system" to get even basic resources is far more crippling.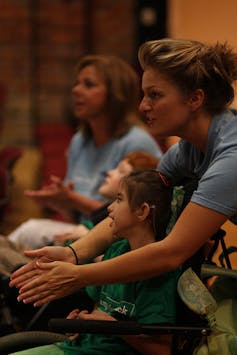 At times, it seems dignity and choice are a luxury not afforded by the current system. The personal toll in stress, marriage breakdown and mental illness can be immense. Add lost potential and employment difficulties and you have a system that's not fit for a decent and civilised society.
My story
My daughter was born with cerebral palsy, a complication of a twin pregnancy. She was diagnosed at six months old; she's now 15. She is extremely physically disabled, wheelchair-bound and doesn't speak. She needs full assistance with eating, toileting, dressing, getting into bed, and so on.
She also understands everything you say, can independently drive her motorised wheelchair and uses her iPad better than I do! She has a wicked sense of humour and an engaging personality.
When she was first diagnosed, I didn't even know what cerebral palsy was. My first need was for information. Then the list of requirements seemed to grow: support groups, early-intervention therapy and play groups, support at kinder and in school, equipment, respite and personal care, and eventually long-term accommodation.
Other than long-term accommodation, we've managed to fight our way through this list.
Our first major battle was for sufficient funding for kindergarten aides. We fought this with articles and photos in The Age, a petition, a rally, a brief appearance on TV and a radio interview. We eventually secured extra state government funding for families that followed us, but we were already past kinder by this time.
The school funding battle has been one we were destined not to win; we never achieved an appropriate level of funding, nor any rational explanation about how funding decisions were made.
After full integration in a mainstream school for most of her primary years, my daughter now has a joint placement with a mainstream high school (which she loves) and a special-needs school (due to physical issues that are increasingly difficult to manage).
Her mainstream experience has been made possible through the assistance of two wonderful aides and there have been many positives – the greatest of which is her acceptance in her community.
We still, however, struggle with issues of curriculum: there is a huge difference in what is expected of her in the two different school settings and we're unsure how she can best be assisted in her learning. After more than ten years of school, we haven't been able to find an answer.
Funding for equipment has been a major issue. Specialised equipment is essential for many people with a disability. My daughter needs or has needed expensive equipment to help her sit, get about (in a motorised wheelchair), stand, shower, walk, exercise and communicate. This expense is only partly covered by government schemes which come with long waiting lists and rules about where the items can be purchased (which often results in higher prices).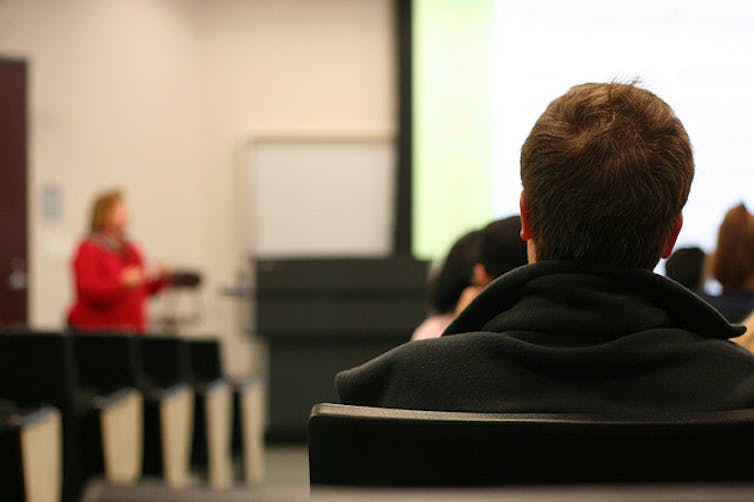 The funding gap for my husband and I amounted to more than A$125,000 over ten or so years. Although we have contributed a lot ourselves, we have also had to rely on assistance from community organisations. We're grateful for the support, but also felt humiliated at the loss of privacy. Eventually, we became immune to issues of dignity.
More recently, we've been battling funding for personal care assistance. We rely on help in the morning to be able to get the children to school and us to work on time. In the evening, carers come in to shower our daughter, allowing us some time with our three sons and the chance to do homework and get dinner on the table.
Two carers are required to transfer, dress and shower my daughter. Although these needs have been assessed, documented and accepted, there is no ongoing funding for her support package; we've twice had to go to crisis meetings to ask for emergency funding so our lives don't grind to a halt. This is very stressful and time-consuming.
The bare necessities for us are currently funded until June, with no certainty after that. Extras, including support to allow my daughter to go out on weekends with friends, aren't included, other than a small amount for respite funding. Her choices are therefore curtailed.
Add multiple operations and numerous medical appointments 90 minutes away and you'll understand why I feel like I need a little sign that tells providers, "if I seem angry, please try and understand what has come before."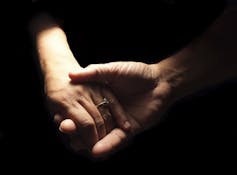 Themes in our journey have been stress, exhaustion, lack of choice and an uncertain future. All of these are avoidable with a coordinated, individual-centred and properly resourced approach. Everything we've needed was predictable. We've fought for reasonable access to and inclusion in society.
People over the years have asked us how we manage, how we can keep doing it all. To ourselves, we always answer: how could we not?
But ours is not the typical outcome. We're still married and still have jobs. We're not poor. We've been able to provide opportunities and experiences for all of our children. We've managed, to a reasonable extent, to somehow get what's needed for our daughter. Most people cannot. The Productivity Commission report bears this out.
All of what we have fought for so far pales into insignificance against the issue of a reasonable transition into supported long-term accommodation for our daughter when the time is right. This just doesn't exist at the moment.
Watching and waiting
Under the NDIS, the cost burden faced by individuals living with a disability and their families could be spread thinly across the entire population. Everyone would then effectively be insured against some of the financial burden of unexpectedly acquiring a significant disability.
I hope next week's budget delivers for families like mine who are counting on a properly funded and well-structured NDIS.