The International Olympic Committee has made an unprecedented change in the way it will award the Olympic Games to cities — and in doing so, the Olympic movement will be granted a respite from a controversial process that has tarnished the image of its once golden brand.
The announcement Tuesday by the IOC that it would award both the 2024 and 2028 Summer Olympics at the same time (Paris is expected to get '24 with Los Angeles being the '28 host) comes less than a month after McDonald's announced it was immediately ending its multi-million dollar worldwide Olympic sponsorship.
Awarding two Games at once will give the Olympics a much-needed breather from the Summer Games bidding process, which itself has become an embarrassment for the IOC. Rome, Budapest, Hamburg and Boston all withdrew their bids to host the 2024 Games after experiencing political backlashes about spending billions of dollars on an event that has become associated with doping scandals, cost overruns and massive infrastructure that's often unused after the Olympics leave town.
So when McDonald's quit its sponsorship three years early, many Olympic observers saw the move as another indication the Olympic brand was losing its value. One marketing expert compared it to a divorce.
Addressing its own business needs
A closer look at the situation suggests the fast food giant's decision is based more on its own business needs and less to do with the diminished Olympic brand.
McDonald's has been part of The Olympic Partner Program since 1976. TOP sponsors, as they are known, have exclusive worldwide marketing rights to use the iconic Olympic rings. McDonald's and the IOC issued a joint news release on June 16 announcing the end of their long relationship.
"As part of our global growth plan, we are reconsidering all aspects of our business and have made this decision in cooperation with the IOC to focus on different priorities," said Silvia Lagnado, McDonald's global chief marketing officer.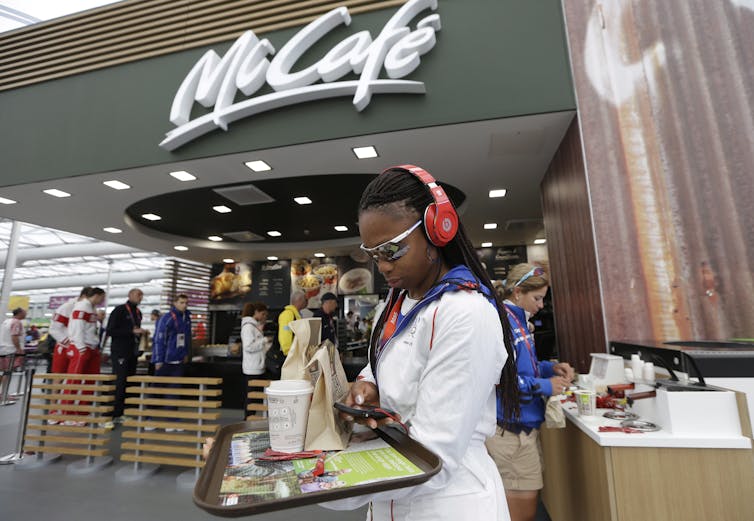 McDonald's has been facing shareholder pressure in recent years. CEO Steve Easterbrook, who has been on the job for two years, has said his No. 1 priority is to "turn around the business." That means "challenging the status quo" if necessary. Specifically, the company said in its latest annual report that it will focus on "decreasing capital expenditures; modernizing restaurants through in-store innovation and mobile technology; and implementing cost-saving initiatives."
Dropping the Olympic sponsorship will be a considerable cost-saving initiative — while the IOC doesn't reveal the revenue of its TOP sponsors, it's estimated the cost is $US100 million for each four-year Olympic cycle. That doesn't include additional marketing and promotional money spent to take advantage of the Olympic rights. Those feel-good TV ads that run during the Olympics cost millions, although many marketing experts suggest companies would get a better return by spending on social media aimed at a younger audience that doesn't watch traditional broadcast television.
Sports sponsorships still growing
Despite the decision by McDonald's to leave the TOP program, sports sponsorship is a growing business. The U.S. research firm IEG states "global sponsorship spending is projected to rise 4.5 per cent in 2017 to $62.8 billion from the $60.1 billion spent in 2016."
But what value brands get from sports sponsorship is a topic that has been researched by academics for years. Marketing professor John A. Meenaghan asked companies to rank the most important reasons when evaluating sponsorships. He used his research to develop a 15-point criteria model for sponsorship selection.
Here are the top five:
The ability to fulfil objectives
Image association potential of the particular sponsorship
Sponsorship choice and company/product compatibility
Media coverage potential
The funding requirement
Beyond the funding requirement, the Olympic sponsorship doesn't measure up well for McDonald's in any of these criteria. The company's objectives are to focus on its core business and new technology, and in terms of compatability, both McDonald's and the Olympics have faced criticism that a fast-food sponsor is not a good fit with the healthy image of Olympic athletes (even celebrity chef Jamie Oliver voiced concerns). When it came to media coverage, other TOP sponsors like Proctor & Gamble got higher marketing ratings and earned media at the Rio Olympics.
In the end, it's likely McDonald's decided it needed to change its overall marketing strategy and the Olympics were no longer a good fit. The Olympic brand, however, still faces its own challenges.