Recent research presented at a maritime archaeology conference has revealed at least 48 shipwrecks - including WWII ships and some post-war vessels - have been illicitly salvaged in Southeast Asia. This figure is an astonishing escalation from the handful of wrecks already known to have been damaged or destroyed.
Japan has lost the most wrecks. Other nations affected include Australia, America, the Netherlands, Britain, Germany and Sweden.
However, sources close to the issue suggest that the figure may be much higher still, with one Chinese company claiming to have salvaged over 1,000 wrecks in the South China Sea.
It is now a race against time to protect these wrecks and preserve the histories they embody. Museums can play a key role. For instance, exhibitions such as the Australian National Maritime Museum's current Guardians of Sunda Strait testify to the continuing resonance of these ships' stories even as the sites themselves are destroyed.
This exhibition, which looks at the WWII loss of HMAS Perth and USS Houston, is made more poignant by the fact that HMAS Perth, in particular, has been heavily salvaged in recent years.
---
Further reading Ghost ships: why are World War II naval wrecks vanishing in Indonesia?
---
The emotional echo of the stories of courage and sacrifice told here – such as that of HMAS Perth veteran Arthur Bancroft, who was shipwrecked not once but twice, and USS Houston's Chaplain Rentz, who insisted a young signalman take his lifejacket after the ship sank – is amplified, not diminished, by the accompanying contemporary tragedy.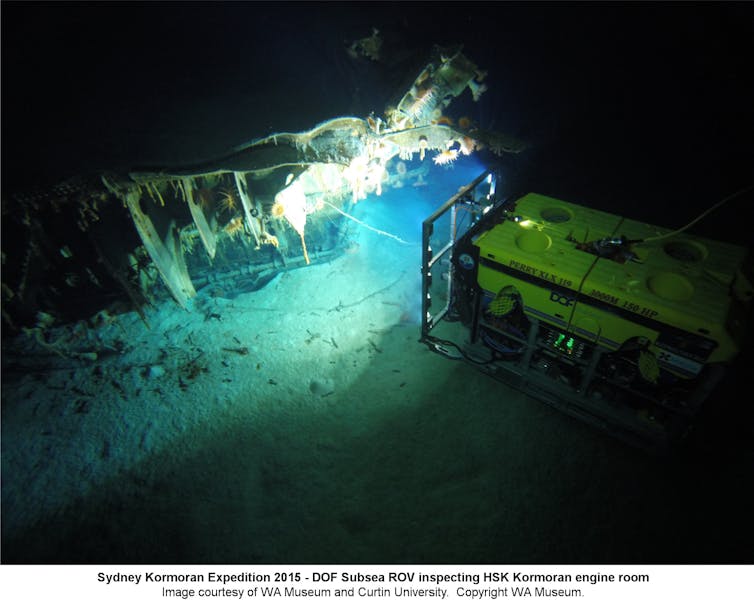 Touchstone objects
Some countries, such as the US, have enacted legislation to protect their sunken military craft, regardless of where they rest.
At an international level, the 1982 UN Law of the Sea states that, unless explicitly abandoned, a flag state (the country where the vessel is registered) is entitled to exclusive jurisdiction over shipwrecks. This is also irrespective of whether the vessel sank in foreign waters or not.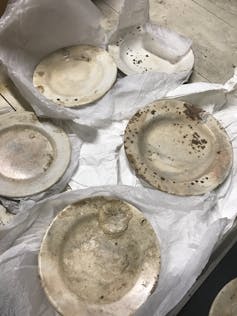 For ships that have not been completely destroyed, there is a strong case to be made for the recovery of "touchstone objects" such as the ship's bell on naval vessels – an item with which every officer and sailor, irrespective of rank, would be familiar.
In 2002, in response to concerns about the illicit salvaging of British wrecks in Malaysian waters, a team of Royal Navy divers oversaw the recovery of the bell from HMS Prince of Wales. This vessel was part of British naval squadron Force Z, established to protect Britain's colonial interests in Southeast Asia. The force was destroyed in 1941 by Japanese aircraft. Reports indicate that the illicit salvage of HMS Prince of Wales, as well as nearby HMS Repulse, is ongoing.
Such strategic recovery initiatives must be the prerogative of the flag state, and strict conditions would need to apply. In many countries, this would require legislative changes. In instances where sunken war vessels are known to be underwater graves, the recovery of objects would also need to be conducted in consultation with survivors and descendants.
Snapping the past
Although we now know that many wrecks have been damaged, there are still some that remain untouched and even unlocated. For instance, the whereabouts of Australia's first submarine, AE1, remains a mystery.
Meanwhile, near Savo Island in the Solomon Islands, HMAS Canberra rests upright and intact at the bottom of "Ironbottom Sound". Scuttled after a damaging encounter with the Japanese in August 1942, the wreck was located in 1992 by Robert Ballard (better known for his discovery of RMS Titanic).
There is also a mystery hanging over the ship: with some suggesting the possibility that it was the victim of friendly fire. It is not known whether HMAS Canberra is at risk from salvagers, but there is no question that the ship will eventually succumb to natural degradation.
Well-preserved wrecks such as HMAS Canberra are prime candidates for one of the most exciting developments in maritime archaeology: digital preservation through photogrammetry. This involves a diver or a remote-operated vehicle taking thousands of photographs of a wreck and its debris field. These images are then digitally "stitched together" to create 3D visualisations, reconstructions and even replicas.
There is significant potential for such technology in a museum environment, not least of all because it enables new audiences to virtually access wreck sites while eliminating the challenges of depth, currents and poor visibility. Photogrammetry also surmounts legal barriers to access.
Curtin University's HIVE facility is using big data, sophisticated algorithms and the processing power of a supercomputer to digitally preserve the wrecks of HMAS Sydney, lost in 1941 with all on board, and the German ship that sank her, HSK Kormoran. These wrecks are protected sites under Australian legislation, and are not accessible by the general public.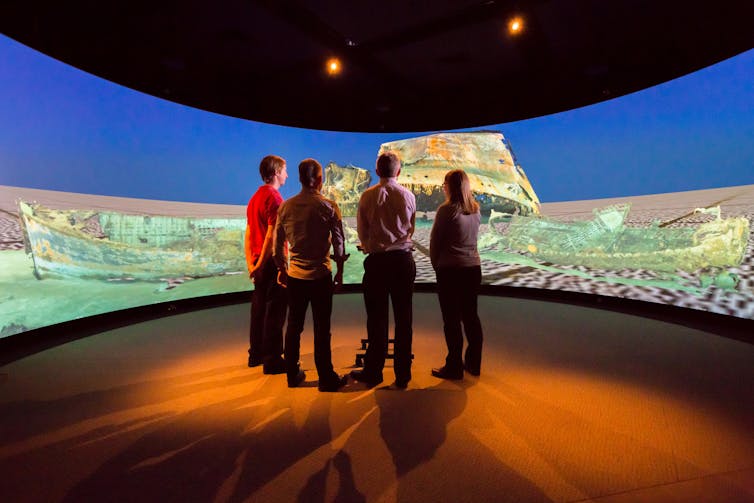 Nor is photogrammetry limited to those with access to a supercomputer. Maritime archaeologist Matt Carter is currently developing a 3D model of the Japanese mini-submarine M-24, located off Sydney's Bungan Head, using little more than high-resolution cameras, off-the-shelf software, and a lot of patience.
Gone, but not forgotten
The responsibilities of museums become more acute the more that heritage is threatened – not just by thieves and pirates, but by climate change, rising sea temperatures, the impact of both coastal and deep-sea development, and natural degradation. And, as with many terrestrial sites, underwater heritage is now increasingly threatened by the effects of tourism.
Heritage objects and sites are not ends in themselves. The real value of these things and places is in how they can be used to make meaning, to reflect on the past, and to translate and interpret it anew for future generations.
For me, the destruction of these 48 ships does not preclude their stories from being told. Illicit salvaging of underwater heritage, particularly the unauthorised disturbance of human remains, warrants strong condemnation.
But our ability to derive meaning from these wrecks is not diminished by their absence. Some scholars even go so far as to propose that the destruction of heritage, as distressing as it is, provides an incentive for more active and conscious forms of remembrance.
---
Guardians of Sunda Strait will be on at the Australian National Maritime Museum until November 19.