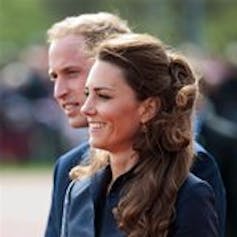 It's been a long time since a princess wore a heavenward reaching conical hat with a gauzy veil streaming from on high. Yet how we conceive of princesses today owes more to our collective cultural fantasies about them than Royal realities.
Today's girls are enamoured of fairy tale princesses, with the spell of puffy dresses and plastic tiaras inspiring gendered apartheid in toy store aisles. The pre-teen phenomenon has been fuelled by the Disney princess franchise, created in 2001 to take advantage of the supposed shared desire of all girls to become princesses. This is not simply child's play. The homogenous pink of more than 26,000 princess lines has increased worldwide profits at Disney Consumer Products from $300 million in 2001 to $4 billion in 2009.
Concerned parents and feminists find much to dislike in the pastel merchandising avalanche. They point to the predominant whiteness of princess culture—Disney only devised its first African American princess in the film The Princess and the Frog in 2009—and the reinforcement of a passive feminine ideal. After all, it is a defining feature of the fairytale princess that she lies in wait for her prince.
Even Shrek's Princess Fiona, who was celebrated as a radical new take on the princess myth, intentionally lies limply waiting for her knight in shining armour to rescue her, desperate to follow the fairy tale script. Though she does fight men in the film to protect her virginity (an important quality for a princess), her ultimate reward in marrying her brave rescuer follows all of the expected conventions.
The omnipresence of princess paraphernalia, encompassing dolls, movies and costumes, implies that the greatest achievement for a girl remains to be considered beautiful enough to attract male attention. You could be forgiven for thinking that the feminist movement was a dream. Or perhaps princess culture is a misguided reaction to some of feminism's gains? The challenges faced by women pursuing careers who still bear the majority of responsibility for parenting and housework may be evoking nostalgia for clearly defined, traditional masculine and feminine roles.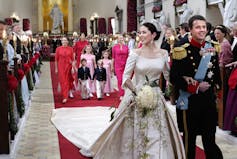 Coinciding with the flowering of princess culture for girls in the twenty first century is a new guard of real world princesses, including Kate Middleton and Crown Princess Mary of Denmark. While neither promises to become the Germaine Greer of the British or Danish monarchy, both represent a transformation in expectations of ideal women and hold out the potential to revise the princess myth that holds a generation of girls in thrall.
The contemporary princess has had life experience prior to her marriage. She has not been whisked away straight from the parental home by her handsome prince, or even from a brief stint as a kindergarten teacher, as in the case Diana Spencer, the future Princess of Wales, who became engaged at nineteen. In contrast, Kate Middleton is the first British princess bride to have earned a university degree.
Other princesses show an international trend toward educated, independent women. Crown Princess Masako of Japan holds a degree in economics from Harvard and worked for the Japanese Ministry of Foreign Affairs, Princess Máxima of the Netherlands has an economics degree from her native Argentina and worked in finance, and Spain's Letizia, Princess of Asturias completed two journalism degrees before becoming a television news anchor.
With greater worldly experience prior to marriage, including Kate and Prince William's history of living together, there is little chance of public declarations of the bride's virginity from family members, as shamefully happened with Princess Diana thirty years ago.
The media and public have nevertheless speculated on Kate's work ambitions, or lack thereof, after she completed her studies. This expectation that a likely princess needs to do something other than contribute her delicate profile to British coins and stamps shows that simply being beautiful is no longer enough for the modern princess.
Princess Catherine will no doubt dutifully fulfil her responsibility to bear heirs to the throne, in the same manner as the mother-of-four Princess Mary. There is, however, a glint of a prospect that she will be more than a decorative figure on the arm of Prince William at charity balls.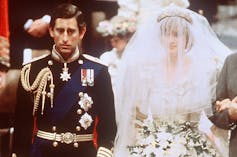 Princess Diana valiantly carved out a public role for herself in charity work despite her inexperience, shyness, and initial powerlessness within her relationship. Modern princesses like Kate and Mary have entered their relationships on comparatively equitable and respectful terms with their husbands, affording them a foundation from which to build public personas that might fulfil their own aspirations as well as their Royal duties.
The princess dream has been inflated with more life than ever with middle-class "commoners" such as Kate and Mary drawing the attention of eligible, young princes, along with Mette-Marit, Crown Princess of Norway, who was a single mother and some-time waitress prior to meeting Crown Prince Haakon at a rock music festival. Any girl might now reasonably aspire to become a real princess.
Suspiciously, we never did learn what "happily ever after" entails. Most princess fairy tales conclude with the bride and groom being showered in confetti. The fantasy princess of fiction suggests to girls that attracting a man and the ensuing spectacle of her wedding will be the pinnacle of her accomplishments. Modern princesses, bolstered by changing expectations of femininity, may be able to rewrite the traditional story by adding several extra chapters about their own life and achievements.