With the modernisation of Jakarta's transportation system, many have predicted that traditional transportation modes will go extinct. The impending operation of Jakarta's MRT and LRT systems is expected to replace Jakarta's many minibuses such as angkot, Metro Mini, Kopaja and bemo.
My study has found that Jakarta's traditional transportation modes are quite resistant to changes. These have existed since the time of the Dutch East Indies until today despite having undergone changes.
Their existence in Jakarta is not simply a matter of meeting the needs of public transportation. Their prolonged existence relates to their social and political functions and the interests of thousands of employers and workers in Jakarta.
Early history
I used the term "minibus" for these traditional transportation modes. Transportation experts often use this term to refer to the smaller-sized buses used as public transport. In Jakarta, a minibus refers to medium-sized buses, such as Kopaja and Metro Mini, and small buses such as angkot and omprengan, along with the three-wheeled bemo. All these vehicles are operated individually on a fixed route.
The minibus first appeared in the form of the oplet by the end of the Dutch East Indies era along the electric tram routes that connected the areas of Kota, Weltevreden (which is now the National Monument), Tanah Abang in Central Jakarta and Jatinegara in East Jakarta.
After independence, oplet started to overtake tram services by offering quicker and more comfortable transport. But the minibus only started to rise to its full glory when the tram was ended in 1960 by the order of President Soekarno who considered it old-fashioned when compared to cars, which symbolised urban modernity.
Afterwards, the New Order regime continued the same urban planning and transportation policy that prioritised cars by building highway networks and widening roads.
At the beginning of 1970, even though Jakarta's governor, Ali Sadikin, planned a public transport scheme that focused on trains and large buses, most efforts were still invested in the development of private vehicles. At that time, the New Order regime had a close relationship with highway and middle-class housing developers, two elements of the city that closely related to the use of cars.
As a result, government-run public transportation could not service the needs of Jakarta's ever-increasing population.
Market opportunity
The lack of mass transportation services became an opportunity for thousands of entrepreneurs to venture into the sector.
The number of minibuses skyrocketed in Jakarta first before they spread to surrounding areas. For Jakarta alone, the number of angkot increased from 5,000 units in 1968 to 13,500 in 2015.
For both angkot and medium-sized buses, the latest data from 2015 show that there are 47,000 operating units in the Greater Jakarta Area (this includes Jakarta, Bogor, Depok, Tangerang and Bekasi). That number excludes vehicles that operate without permission, known as omprengan.
With the increase in demand for minibus services, the automotive industry has also grown. Small and medium-sized buses are usually assembled from the same frame and machine as conventional cars. This segment makes up a strategic market for Asian car brands.
How minibuses have adapted could also be seen from the changes in its operating area, especially for angkot, omprengan and bemo. Such small vehicles can connect large main roads with rural roads or housing complexes.
The existence of such transportation services is made possible because of capital investment by minibus owners, not because of government support – except for road construction.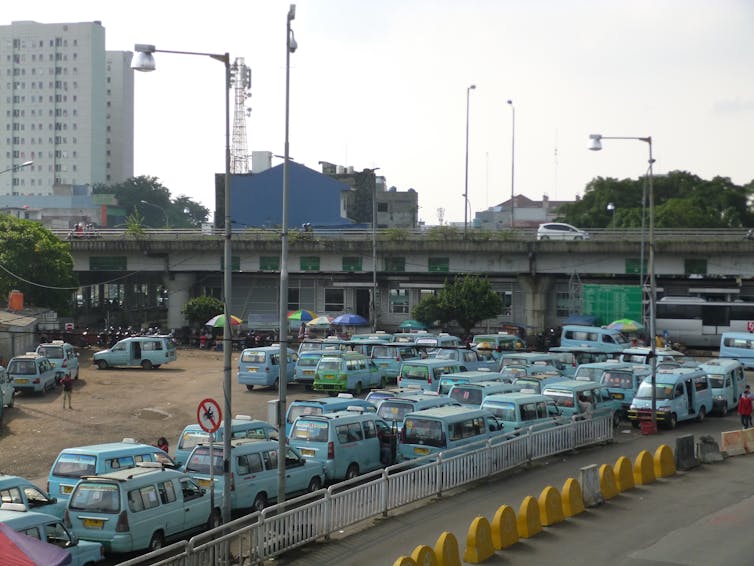 Economic activity is key for marginalised communities
One fact that influenced the fate of angkot in Jakarta is the number of people whose livelihood depends on it.
In the 1960s and 1970s, most of the oplet business were still controlled by Chinese owners who had dozens of vehicles. Now angkot has become a business field for entrepreneurs of various backgrounds.
A few angkot cooperatives were established by members of the police or military officers as most of them use the profit as extra income or additional pension fund.
However, the business of minibuses is not limited to state employees. Anyone who can afford to buy a vehicle can register it as public transport.
For example, Ratih (not a real name) owns two angkot cars while working at a coffee shop at one of Jakarta's main terminals. To protect the identities of my informants, I've hidden the name of the terminal. Ratih's husband controls the gambling world at the same terminal, and the angkot they own provides the family's side income.
From Ratih's story, angkot is an essential part of economic empowerment efforts for the community. However, as it is considered a side income, business owners tend to see them only as a capital investment and fail to pay attention to safety and quality of service.
The angkot business provides employment to tens of thousands of drivers. There is yet to be an official record of the number of minibus drivers in Jakarta. However, from the number of minibuses in the Greater Jakarta Area, it could be estimated that there are around 94,000 drivers in total, based on the assumption that every car is driven by two drivers.
However, that number could be greater, because of the existence of drivers who personally know and collect their own earnings every day who are known as "batangan" drivers. These drivers can reach up to three people per car. The numbers have also not taken into account freelance drivers employed by "batangan" drivers.
Now the majority of minibus business owners do not drive their own vehicles but hire drivers instead. The drivers mostly work as freelance workers without getting wages.
The work relationship is based on a lease system. Drivers rent the car from the owner by paying daily fees taken from their earnings. Drivers also bear the burden of paying for fuel.
That working pattern certainly is not balanced. The drivers' days are exhausting and full of uncertainty. If there are no backup drivers, one person can work 15 hours straight.
From their stories, it is understandable that being an angkot driver is not their first choice for a career. Most of them have changed jobs and experienced unemployment. With such an informal working relationship, being an angkot driver is an accessible option for those who are marginalised from the formal job market, despite receiving no security or protection.
Survival
Although the minibus business is deeply rooted in the space and society of Jakarta, the last two decades have brought changes that question its function and fate.
The first challenge came up in the late 1990s when motorcycle drivers had spread to every layer of society. The percentage of families that have at least one motorcycle rose from 34% in 2002 to 72% in 2010.
From the perspective of business owners and minibus drivers, motorcycles are cars' greatest competitor. This is because motorcycles can overtake the market for minibus drivers that comes from weaker economic positions.
Another challenge is transportation policies in an era of reform that focuses on public transport development.
In the last 15 years, public transport in Jakarta has grown exponentially, from the rapid transit bus, Transjakarta, to the MRT and LRT networks that are predicted to start operation in 2019.
TransJakarta has stripped the minibus of its title as "king of the roads".
TransJakarta mostly threatens Metro Mini and Kopaja as most of their routes are now served by TransJakarta buses. Angkot can still monopolise narrower or rural streets and omprengan can adapt more as they are not tied to a route permit.
The government's attitude towards minibuses has also begun to change.
The waves of protests from drivers and angkot business owners due to the development of the TransJakarta grid have pushed the integration of minibuses with mass transportation networks.
The integration of the Kopaja bus with TransJakarta started in 2015. Such a policy was expanded by the end of former Jakarta governor Basuki "Ahok" Tjahaja Purnama's administration. It was then further extended by the current governor, Anies Baswedan, under his Ok-Trip as well as Jak-Lingko systems. However, those trials are still limited and have met with protests from drivers whose earnings have decreased due to the system.