If Pablo Picasso were still with us he'd be doubly proud – one of his pieces has sold for the highest price ever achieved for a painting: US$179m for his Women of Algiers. Not only that, but he would no doubt take pride his work prompted an art critic to label Fox news as "sexually sick" after they blurred out the breasts in the cubist masterpiece in their coverage of the sale.
It seems only appropriate that this apparently controversial painting is the one that smashed the records. It fetched $30m more than the previous record holder, achieved when Francis Bacon's Three Studies of Lucian Freud sold for $142.4m in 2013.
So does the painting itself deserve all this attention?
Women of Algiers (version 0) is undoubtedly a seminal painting in a number of different ways and so is probably worthy of the top price for art. Aside from the fact that Picasso is the towering figure of 20th-century art the painting is from an important point in the artist's life and creative output. It has been widely shown in major exhibitions including the Picasso Retrospective in New York in 1980 and the great Late Picasso show at Tate Britain in 1988. This has made it highly visible and desirable for collectors.
It's also unusual that such a well-known work comes to the auction room at all – and, as such, it was almost bound to break all previous auction records. But of course, whether it is worth such an astronomical sum of money is open to debate.
A seminal work
The painting is the last – and arguably the best – in a large series of paintings working from the same subject, made over a short time in early 1955. The painting is an interpretation of one of Delacroix's paintings, also called Women of Algiers – Delacroix was one of Picasso's great Masters and an artist to whom he returned again and again throughout his career. The series is also a homage to Matisse, who had recently died.
In this final painting, all of the compositional changes and alterations that Picasso has been working through in the series come to a point of culmination. The painting features four female figures referencing two women in Picasso's life. There's Jacqueline Roque, Picasso's most recent partner, and Francoise Gilot, Picasso's former lover. It is a secluded interior, calm and refined. The space is infused with eroticism, accentuated by the sharpened edges of the limbs, torsos and body parts, the almost upturned gestures and positioning.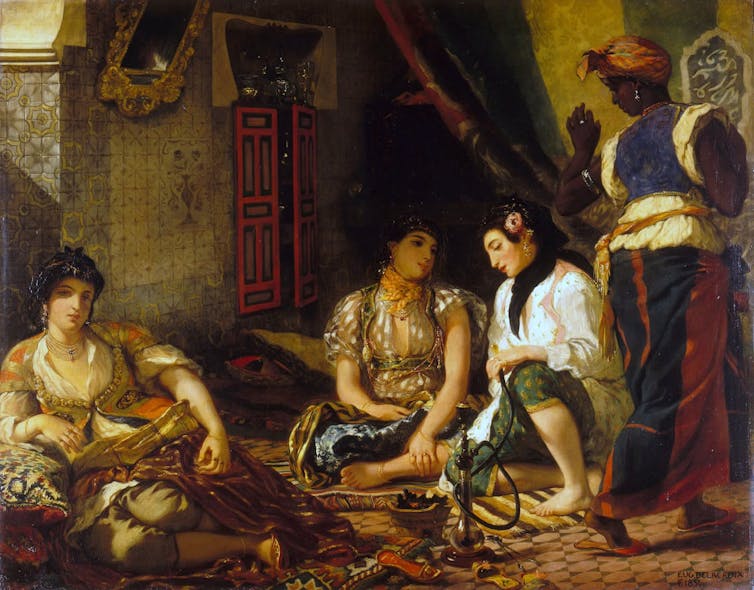 Picasso worked incessantly in series. The absorbed forms, dissolved and recomposed motifs are therefore characteristic of the artist, hinting at his search for new pictorial structure and dynamic.
Jacqueline Roque, who had recently entered Picasso's life, is represented in sensual erotic form. She strikingly resembles the central figure of the Delacroix painting of 1834 (Louvre, Paris). Francoise, on the other hand, stands in the doorway drifting into the background. On the day before this painting was made Picasso's first wife Olga (mother of Paulo) had died in Cannes.
This detail, as well as the historical context of Delacroix's painting – which was made shortly after the French conquest of Algeria and during the autumn of 1954 when Algeria's uprising for independence began – mean that the work contains all the ingredients for a major painting in the history of art.
It is certainly one of the best of the transcriptions – a reworking of a previous subject painting or theme – that Picasso made. In this context it is one of the major works of Picasso's later career, partly because it self-consciously places itself in the history of art, pointing towards his recently deceased friend Matisse and both artists' identification with the continuation and tradition of painting.
Public eyes
The question now remains as to whether or not the painting will be seen in public again. The fact that the buyer is anonymous suggests it probably won't. The sale is therefore a real loss to the art visiting public. The painting will probably disappear from public view to be kept exclusively in a private gallery to be seen by few – or perhaps even sit in a vault somewhere, to be seen by no one and serve no purpose but accrue further value. The painting may not available for loan for decades to come.
As the art visiting public, we can do very little to stop this from happening to more and more works of art. We just need to hope that the art currently held in national public galleries is maintained. As the value of art rockets it will get harder and harder for governments and galleries to ensure that strategies for acquiring works for the public are in place and used effectively.
Recently, a collection of 40 paintings by Frank Auerbach belonging to his friend the painter Lucien Freud who died in 2011 were distributed to about 20 galleries including Cardiff, Aberdeen and Belfast in lieu of a £16m inheritance tax bill. The collection includes some important works and it's encouraging that these have not entered the auction rooms and will remain for public gaze. This shows that there are ways for governments to act on the public's behalf and secure, whenever possible, quality artworks to add to our national collections of art.
For now, for those of us fortunate to have seen Women of Algiers (Version O) first hand, the painting will remain a residual image in our memory until, I hope, sometime in the future it resurfaces via the auction houses once again. Until then, make sure you look at an uncensored image – in all its glory.