WeChat is the most popular social media app in China. Since 2011, it has transformed from a messaging tool to an all-in-one super portal, with more than 900 million monthly active users. Its parent company, Tencent, is one of the most valuable technology companies in the world.
WeChat's success has been powered by the platform's mobile payment service, Wechat Pay, which assists with every aspect of a user's life – from shopping for clothes and hailing taxis, to organising hospital appointments and ordering food deliveries.
Now, demand from Chinese tourists is increasing its uptake in Australia, and Australians are using WeChat too. Here's what you need to know if you plan to use it.
---
Read more: At APEC, Donald Trump and Xi Jinping revealed different ideas of Asia's economic future
---
China is the market leader in mobile payment
A recent study shows that 84% of people in China are willing and able replace cash with mobile payment. In 2016, 38 trillion Yuan (A$7.5 trillion) was exchanged via mobile payment – a sum 50 times larger than the United States, the world's second biggest market.
As Chinese President Xi Jinping vows to make China a cyber superpower, Chinese tech companies are extending their ambitions to build a cash-free economy beyond the border. To date, WeChat has successfully launched its payment service in 15 countries.
Australia is a popular destination for Chinese tourists and students and it was one of the first offshore markets WeChat Pay targeted. In 2016, Chinese tourists spent A$9.2 billion in Australia, and this figure is expected grow to A$13 billion by 2020.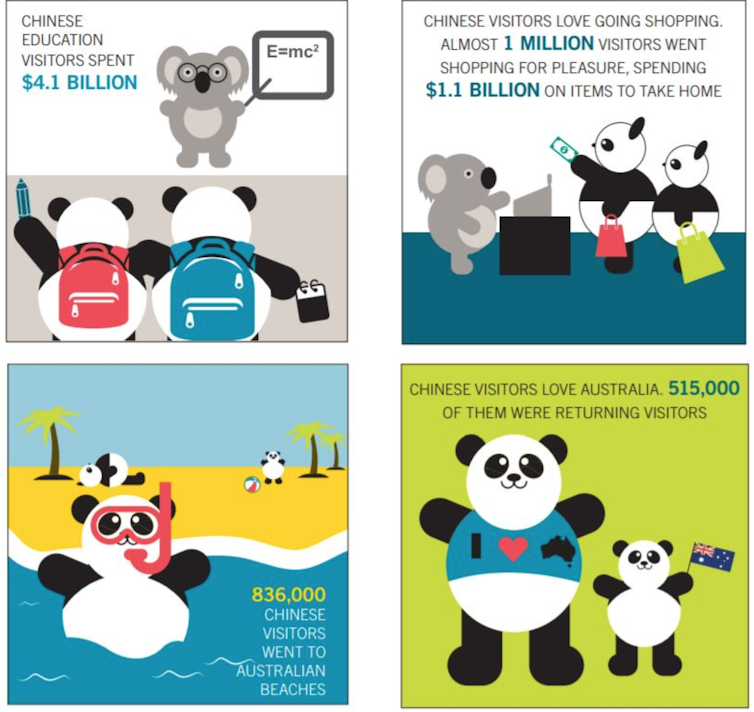 Recently, nine Australian cross-border payment service providers have partnered with WeChat Pay to connect Australian merchants to Chinese consumers. WeChat Pay allows local merchants to receive payments to their Australian accounts within a shorter time frame and at a lower transaction cost than credit cards.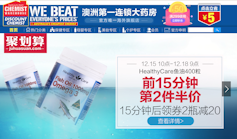 More than 10,000 shops and restaurants in Australia are using the WeChat Pay system. Most early overseas adopters of this service are duty free shops and Chinese restaurants, but in Australia it is also common to see the WeChat pay option available in pharmacies.
Due to the high demand in China for Australian-made baby formula and health supplements, a visit to a pharmacy to stock up is often on a Chinese tourist's "must do list" when visiting Australia.
Exporting mobile payment to the world
At this stage, only customers with Chinese bank accounts can use WeChat to make payments, so the global push still largely relies on Chinese consumers. However, the app's latest venture in Malaysia suggests the company is now planning to target overseas domestic users.
In late November, WeChat obtained an e-payment license in Malaysia that will allow locals to use Malaysian banks to pay. This will make Malaysia WeChat's first offshore market whereby all of the platform services can be made available to local users.
Concerns about censorship and surveillance
Although the Chinese Communist Party urges its firms to expand into global markets, the party's intimate relationship with China's tech sector has made overseas consumers wary.
Tech products from China, such as affordable smartphones, are regularly accused of having security flaws and even claimed to be tools for government spying. In Early December, the Indian government reportedly blacklisted WeChat, together with another 41 apps, categorising them as spyware.
Although there is no firm evidence to prove that these products have actually been used for government spying, such suspicions are not entirely groundless. Beijing has a dark history of pressuring tech companies to assist with information surveillance.
---
Read more: China bans streaming video as it struggles to keep up with live content
---
One famous case was Yahoo's complicity in Beijing's persecution of two dissidents in the early 2000s. More recent reports suggest that private conversations on WeChat are sometimes monitored by the Chinese police.
Lately, under pressure from Beijing, Apple removed 674 VPN applications – tools that can be used to circumvent censorship – from its Chinese app store.
It is not unusual for internet companies to conduct censorship according to local law, but in a country like China the law can be used to persecute dissidents and activists. Arguably, tech companies are as much victims of the system as users. But as long as the party state controls their right to operate in the Chinese market, they will continue to make profit at the cost of users' freedom of speech.
Tips for using WeChat in Australia
According to WeChat's own claims, user data is not monitored or stored by the company, as long as there is no requirement from the Chinese authorities. However, Australian users should keep the following in mind:
Once you register your account in China, your communication on WeChat is always censored – even if you connect your WeChat to an Australian number. The most common method of censorship on WeChat is keyword blocking, which means messages containing sensitive words, such as "Tiananmen June 4" and "free Tibet", won't be received.

WeChat accounts registered outside China as an "overseas account" are not censored according to the same strict standards that apply to Chinese users. However, when you use WeChat to communicate with a Chinese user, it's a different story. A recent study from the Citizen Lab suggests that messages containing censored keywords will still be banned if they are sent to a Chinese account.

In September 2017, China launched new regulations for online chat groups that make the group chat admin liable for the information shared by its group members. Content violation on Wechat can include information identified as rumour by Chinese authorities, messages mentioning politically sensitive topics, and information related to organising protests. Keep this in mind when sending information to a WeChat group hosted by your friend in China.
Until tech companies are willing and able to stand up for the rights of their users, it's important to educate yourself about what you're signing up for.