Images celebrating women's sporting achievements are abundant in Britain this summer with the World Championship Athletics, Cricket World Cup, Euro 2017 and the Rugby World Cup.
The imagery of sporting bodies has expanded in the past two years with Sport England's ubiquitous "This Girl Can" marketing campaign which was designed to "get women and girls moving". Sport England reported that the number of women participating in sport had increased by 250,000 since the campaign was launched. Other countries are taking notice and the This Girl Can Campaign is moving to Australia this summer.
Arguably, London 2012 symbolised a shift in attitudes towards sporting women in Great Britain with sell-out crowds and widespread media attention. Medal contenders including Jessica Ennis, Laura Trott and Ellie Simmonds appeared on billboards, television, social media and – for the winners – postage stamps.
Marketing campaigns such as Nike's "Da Da Ding" and Adidas' "Unleash your Creativity" also present images of sporting women. These show idealised female "hard" bodies, in fierce competition and intense training. Commercial representations like this present sport as an exclusive domain for the best, most competitive and most attractive individuals. The representation of women in sport has shifted to an emphasis on "pretty and powerful", accommodating images of strong, powerful women while maintaining a traditional emphasis on attractiveness.
The "This Girl Can" videos twist this by swapping images of elite sportswomen with women participating in sport "regardless of size, shape or ability". It is a rebranding of women's bodies in sport – and invites those who are less active into sports. The campaign responds to the idea that women feel judged in sports environments and that they lack confidence in their appearance and abilities. The women in the advertisements are resistant and confident with lines such as "I jiggle therefore I am" and "I kick balls – deal with it".
The camera focuses in on participants' wiggling body parts, sweat and smiles as they enthusiastically engage in a range of activities to upbeat music. Some of the typical markers of femininity are included, but the joyful active body is emphasised. The role models in the video represent the target audience of "normal" women, rather than elite athletes. Viewers are encouraged to inspire each other by sharing images, videos, and descriptions on social media of their own experiences of getting involved in sport. The message is that anyone can get active.
Who is getting active?
While the adverts have captured the imagination of many women – and potentially helped to propel some into the gym and on to the playing fields – there is still work to be done. Statistics from StreetGames based on SportEngland's Active People Survey indicate there has been a rise in participation among women, but there are class-based differences. Women from higher classes (NS-SEC 1-4) are more involved, with 36.20% taking part in regular activity compared to only 22.30% from lower classes (NS-SEC 5-8). The NS-SEC classification groups people by their occupation.
This Girl Can focuses on changing individual attitudes toward exercise rather than changing the sports infrastructure. Research and practice indicates that engaging women in sustainable sporting activities means addressing a complex combination of personal, social and environmental factors. This includes individual attitudes, but can't be limited to one factor.
UsGirls is an initiative by StreetGames designed to engage young women from socially disadvantaged backgrounds in sport. Our research with UsGirls showed that making sports participation easier involved investing significant resources, as well as consideration of potential barriers. These barriers are diverse and include family demands, cost, time, location, type of activity and delivery styles.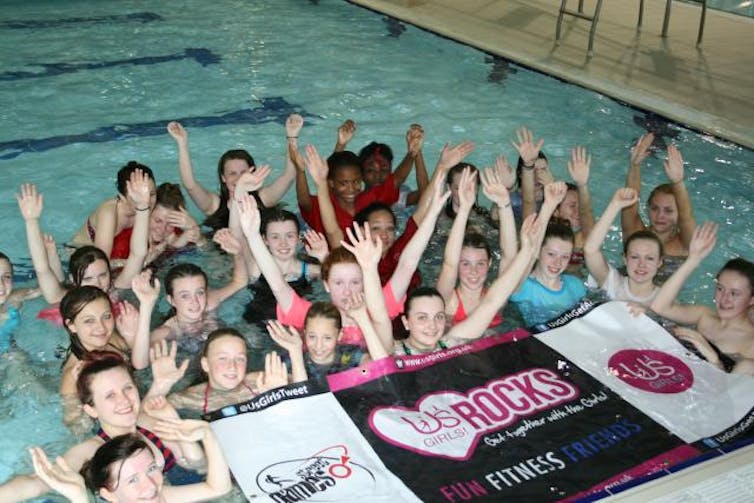 Evidence from charities, government organisations, and local authorities working with the most challenging populations are testament to the work that still needs to be done to create welcoming and supportive sporting spaces and to ensure that people have the material, social and personal resources required to take part.
It is exciting that This Girl Can and other initiatives from the UK are gaining international interest. The UsGirls initiative is collaborating with partners in Europe to share resources – as part of this, UsGirls, UCL and Brunel University will be creating a MOOC (Massive Online Open Course) on engaging disadvantaged women in sport.
Changing people's attitudes is part of the solution – and This Girl Can has provided alternative images of sporting women that have been received enthusiastically. But it's only a partial solution – the challenge of addressing inequalities and providing sporting opportunities for all women continues.