It's reporting season, and over the past few weeks some of Australia's biggest companies have been releasing information on how they're travelling. These reports reflect key themes of how things are going in key sectors of the economy. Over the coming days we're going to report on the results a handful of major companies in key sectors, transport, construction, retail, mining, insurance and banking. Today we look at the transport sector.
---
A slowdown in the global economy and a reduced amount of traffic from Australia's mines are hitting two of the largest companies in the transport and logistics sector, Aurizon and Asciano. However, because the Federal Government is still investing in the coal mining projects that feed the transport sector, larger companies such as these two (with more than 10 percent of the market share) will be able to survive.
Aurizon is the largest coal transporter in Australia, operating in Queensland and the Hunter Valley (NSW). It also operates and manages approximately 2,300 km of rail tracks across Queensland. Asciano also owns and operates a range of transport infrastructure including container terminals in Melbourne, Sydney, Brisbane and Fremantle, and other ports across Australia. It also owns rail freight business Pacific National which is one of the two dominant national rail providers.
Aurizon has a challenging outlook for the next few years. This is especially because its coal and iron ore haulage division will experience a decrease in traffic due to the closure of mine sites such as, Yancoal's Donaldson mine in the Hunter Valley and Peabody's Wilkie Creek mine near Dalby (QLD), resulting in less revenue.
In the company's 2016 half yearly results its CEO, Lance Hockridge, flagged more job cuts and deeper cost cutting as more write downs were recorded on its involvement in the Aquila Resources Project. Aurizon was an co-investor in the development of projects in the West Pilbara in WA (iron ore), Eagle Downs in QLD (coal) and some South African manganese assets. The project has now been halted because, due to sustained low coal and iron ore prices, the project is no longer viable, resulting in total write offs for Aurizon of $426 million.
The only positive outlook is for the 2,300 km rail network, which is Australia's largest coal export network, delivering nearly two-thirds of group earnings for Aurizon over the years. The company's strategy of keeping to rail clients who are well established international businesses, enables it to survive a long-term slump in the coal price. Combined with its focus on cost containment (helped by lower fuel costs) it remains resilient.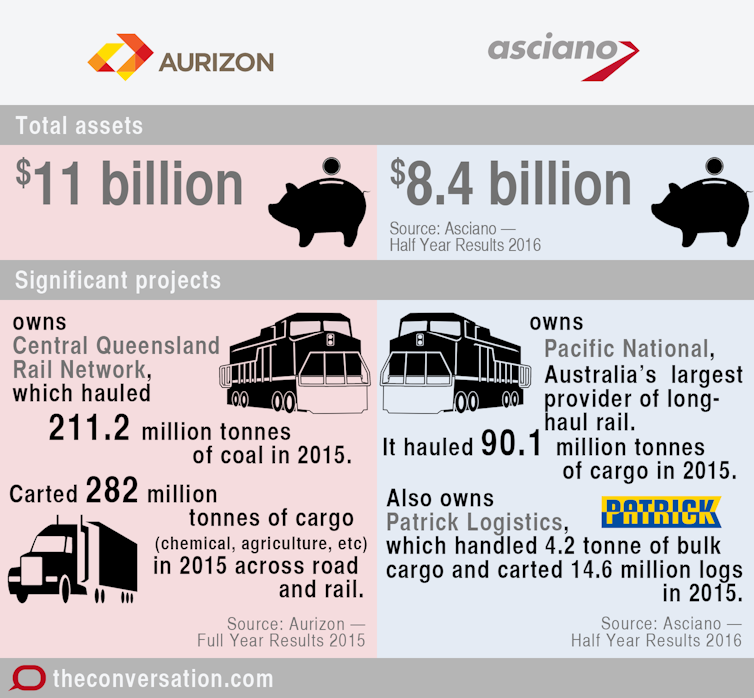 When Asciano published its half yearly results its CEO John Mullen commented that the economic outlook was for a flat or slightly positive growth for volumes in the container terminals as well as in intermodal transport (freight moved by rail).
Mr Mullen said that the decline in the West Australian economy and resource project work translates into less revenue from these sources. For the Pacific National division he noted that strong volume growth in the transport of Queensland coal was offset by not as much volumes in other areas.
Asciano has just confirmed a $9.05 billion combined take-over bid by Canadian owned infrastructure investor Brookfield Infrastructure Partners and Qube Holdings, an Australian owned company established in 2010.
Initially each company (in conjunction with a number of overseas investors) made a stand alone offer for Asciano. However after high level talks between the parties, it was decided to jointly lob an all cash bid of $9.28 per Asciano share which is likely to be accepted by the Asciano board (subject to Foreign Investment Review Board and Australian Competition and Consumer Commission approval).
This shows that there is still continued interest by global investors in transport and logistics businesses in Australia. They see a mature and steady market with little sovereign risk and the ability to park their money safely where it is able to earn a reasonable return.
The transport sector in Australia, and globally, is struggling with a slow down in economic growth. Container volumes trough Australian ports only grew 2% in calendar year 2015. Export coal volumes through Australian ports were down 0.9% for the fiscal year till the end of February. A slow down in growth means less goods to transport, meaning less revenue for transport companies.
The long term outlook for the haulage and export of coal in Australia is difficult to predict, as 26% of mines which Aurizon services are currently unprofitable, this number could increase if the AUD/USD exchange rate improves. Fortunately Australia is able to supply quality coal at a competitive cost in the global market, due lower shipping costs to its markets in Asia, and this may assist mines and haulage companies in being able to maintain their market share.
The global growth outlook for container volumes has also slowed recently to approximately 1% to 3% per year (previously in excess of 5% per annum). The Australian container market can expect similar subdued growth figures.
The Federal Government still has a positive long-term outlook for coal, as was reinforced by Resources Minister Josh Frydenberg at a National Press Club lunch where he indicated a rising demand for coal in India. To demonstrate this, both the Federal Government and the Queensland Government have thrown their support behind the proposed Adani Group's Carmichael coal mine project in Queensland.
Aurizon and Asciano (annual turnover each of approximately $4 billion) are large players in the Australian transport and logistics sector, which accounts for 15% of GDP and generated revenue of approximately $200 billion in 2014. The companies will be able to ride out the global economic downturn for the next few years with stringent cost control and reduced capital expenditure to be the order of the day. However some of the the smaller players might find the going tough and exit the industry.